As one of the few spots in Canada where you can find year-round golf, British Columbia's southwestern golf regions are ideal for a winter golf getaway. The temperate climate of this area of the province's coast allows many golf courses to stay open through the winter, making it a desirable destination for those looking to play lush golf courses and enjoy exceptional amenities and a plethora of après-golf enjoyment. Take a look at Golf in BC's top destinations for a winter golf escape.
Golf in BC Visual Story
Click the graphic to learn more about BC golf courses via a visual story, or keep scrolling for more information.
Vancouver Island
Located on British Columbia's picturesque west coast, discover 250 km of year-round golf paradise and some truly fantastic après-golf activities and attractions. Travelers can fly to 3 major airports in Comox, Nanaimo or Victoria, or enjoy a scenic ferry ride from Vancouver to either Victoria or Nanaimo. While you're certainly welcome to challenge yourself to play all ten golf courses that are open through winter, you can also focus on the tracks and amenities offered by each sub-region to suit your golf vacation preferences:
Greater Victoria
Considered the most temperate of Canada's golf destinations, Victoria and the surrounding area are not only home to some incredible golf courses, but also is a place where you can take in a myriad of metropolitan delights. Tour gardens, historic houses, and don't miss the extensive culinary & craft drink scenes where you can find everything from tasty pub food (and brews) to fine dining at unique, locally-owned restaurants.
While you're here, play:
Highland Pacific: Carved into the highland wilderness, featuring lush fairways that thread through the majestic landscape of West Coast forest, rock, fescue and natural water features.
Olympic View: With picturesque views of the Olympic Mountains, this tranquil spot features a 40ft waterfall on the 17th hole and some of the Island's most scenic golf.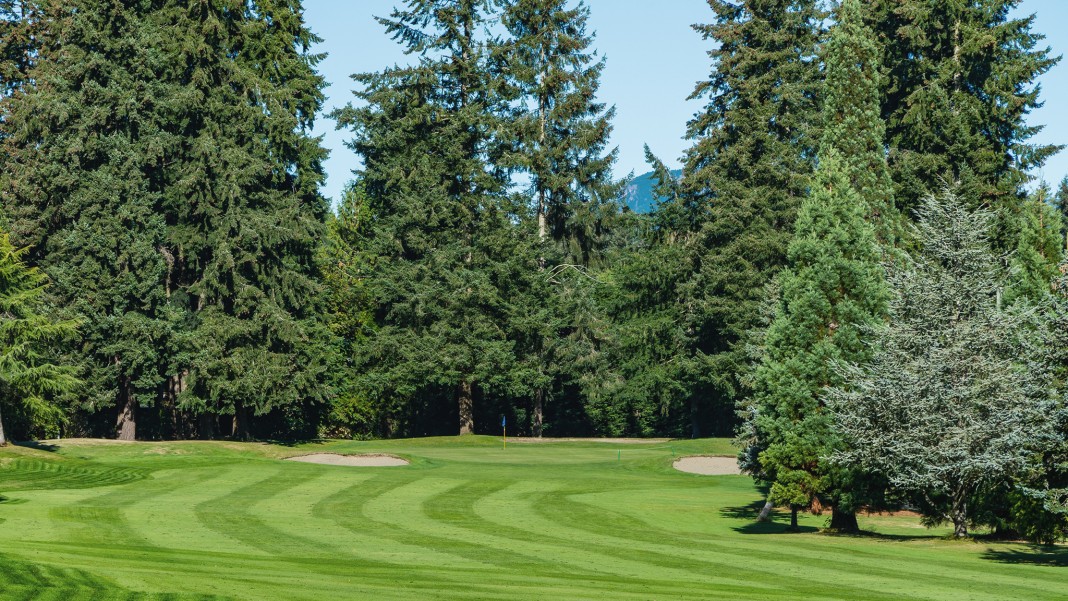 Cowichan
Approximately 60 minutes north of Victoria is the lush Cowichan region, where you'll find verdant golf courses as well as a burgeoning wine region. If you like to pair your 18-holes with a crisp glass of Pinot Grigio or aromatic Gewürztraminer, heading to one of the many local vineyards after your round will be just the ticket for a memorable winter golf getaway. Better yet, take the stress out of planning and simply book a golf and wine getaway.
Traveller tip: on your way from Victoria to discover the Cowichan region, stop off at the Malahat Skywalk - BC's newest visitor destination. Located where the forested mountains drop away to the Pacific Ocean, this remarkable and accessible experience features a 600m elevated walk through the forest canopy leading to a 32m sightseeing tower offering breathtaking views as far as the eye can see. Constructed on the traditional territory of the Malahat Nation, Indigenous stories are embedded throughout the experience for visitors to learn and enjoy.
While you're here, play:
Arbutus Ridge Golf Club: Offering a fantastic course combined with a dedication to sustainable tourism, golfers will enjoy the front nine weaving next to the seaside community of Cobble Hill and then the back nine which climbs to overlook the Satellite Channel.
Cowichan Golf Club: Features idyllic scenery overlooking coastal mountain ranges and Cowichan Bay, combined with challenging holes and a friendly atmosphere. Head to the clubhouse to refresh after your round or continue exploring the area.
Parksville & Qualicum Beach
Nothing beats a winter walk on the beach to clear your head and let you fully immerse yourself in a golf vacation. The idyllic oceanside communities of Parksville and Qualicum Beach have miles of sandy spots to explore, complete with small-town charm and quaint spots to relax at after a round on one of the local golf courses.
While you're here, play:
Morningstar: Offers unparalleled service and a variety of holes that will have you itching for a return visit.
Fairwinds: Steeped in natural beauty, play this beautiful golf course but also consider tuning up your golf game on their 18-stall driving range and green-side bunker, plus knowledgeable instruction should you wish to improve further.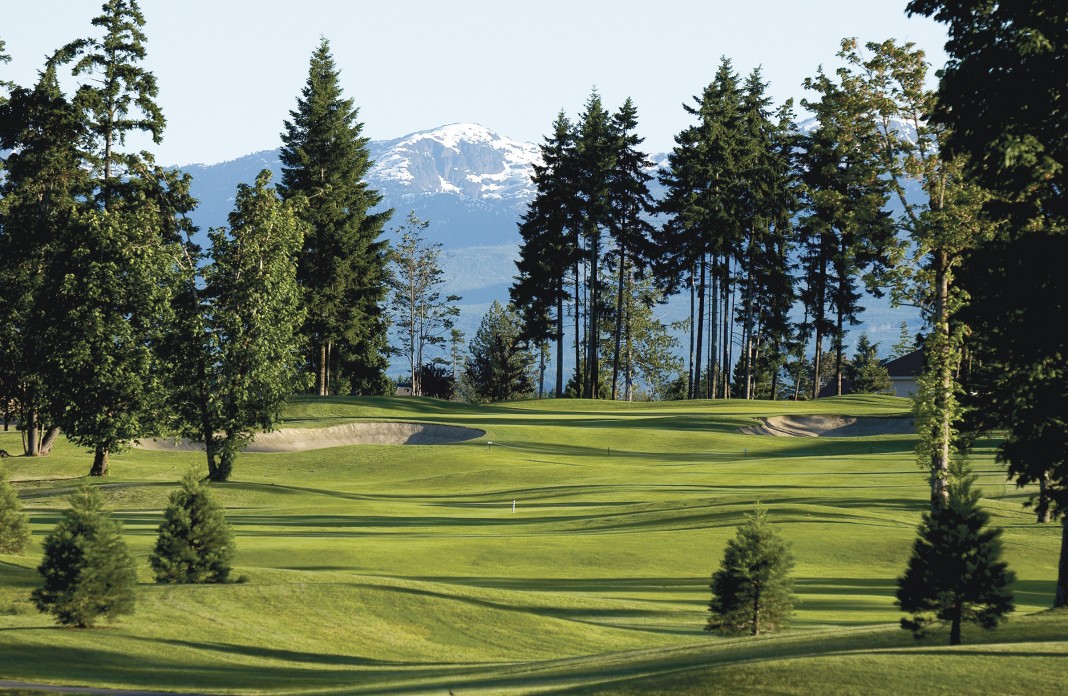 Comox Valley & Campbell River
Head to a place where you'll have the chance to see everything from bald eagles to migrating and local orca pods. Comprised of three pocket communities - Comox, Courtenay, and Cumberland - the rugged beauty of Comox Valley is complemented by luxury accommodations, delicious farm-to-table fare, and endless trails exploring the wilderness.
Less than an hour north lies Campbell River, where you can explore waterfalls and emerald green old-growth forests and end the day at a seaside cafe, craft brewery, or world-class establishment offering locally sourced fare.
Unique Experience: Ski & golf in the same day - pack an extra big bag and bring your board(s) and clubs to ski Mt. Washington in the morning and play a round of golf in the afternoon.
While you're here, play:
Campbell River Golf Club: Offering an innovative, modern and fun approach to golf on the recently redesigned golf course, where you can also head to Velocity Lounge for a pre-round warmup or après enjoyment.
Crown Isle: Perfect for a golf stay and play that will ensure you arrive for your tee time promptly from your fairway-side villa overlooking the Comox Glacier.
Storey Creek: A course in nature where local deer frequent the fairways, so you'll have to let them "play" through the course that winds around the old-growth and second-growth forest.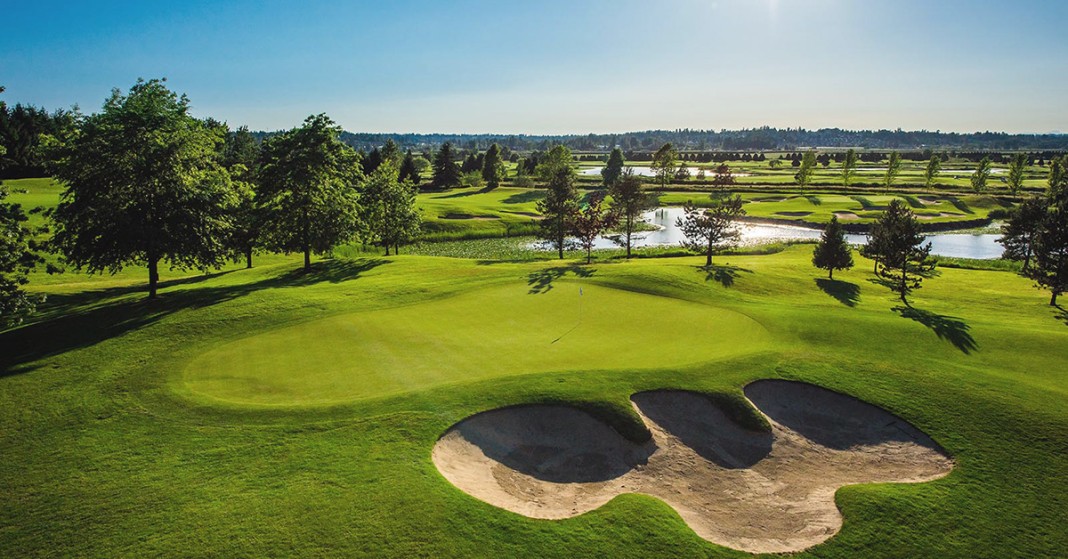 Greater Vancouver (BC's Lower Mainland)
The Greater Vancouver region is comprised of cities including Surrey, Richmond, and Vancouver and nearby communities, the Lower Mainland (as it's known locally) offers a host of year-round golf courses as well as a wide variety of activities and experiences appealing to all types of travellers. Experiences abound here - from downtown sights, sounds, and tastes; to parks, mountains, pathways and beaches.
While you're here, play: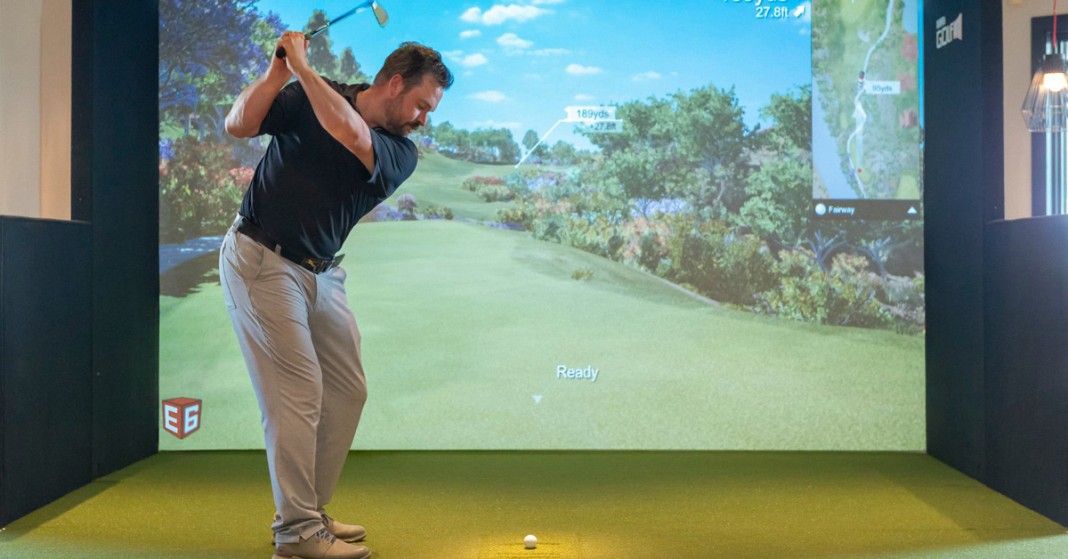 Golf Simulators
On top of incredible golf destinations offering year-round golf, if you really need to stay on top of your golf game there are golf simulators located throughout so you can maintain your swing and have some fun. In fact, visiting BC golf courses off-season to view their amenities while you keep your form fresh is a fantastic way to get to know an area so you can make a return visit in the spring! Here are a selection of golf courses throughout the province offering golf simulators over the winter: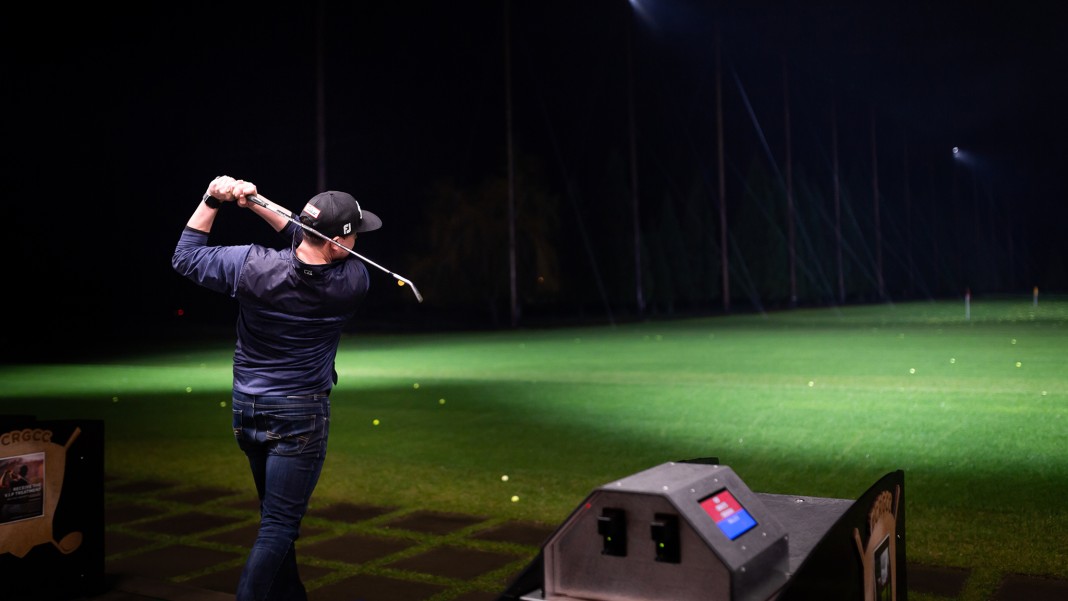 Winter Golf Tips
Now, while the weather in southwestern British Columbia is fairly mild, it still pays to pack a few items to ensure you are comfortable no matter what the weather and consider the following tips:
Book afternoon rounds to avoid frost delays
Pack gloves, toque, and rain gear - just in case
Ensure a comfortable round by layering your clothes
Warm up before your round
Balls won't fly as far in cooler weather (cold air is heavier), so consider clubbing up and planning for 5-10 fewer yards on irons and wedges, and 10-20 yards on woods and driver.
If covering the distance is still an issue, move up a tee box (or two)
Consider walking the golf course (if allowed) to stay warm between holes
Switch to a firmer ball that will fly farther
Keep your golf balls warm by keeping them in your pocket - they'll go further
Ready to plan a winter golf trip to British Columbia? Browse packages to the Lower Mainland and Vancouver Island, or get in touch to create a custom winter golf package.