All across the globe, golf is a game that can be played anywhere. While we are currently staying close to home to adhere to travel restrictions, that doesn't mean that golfers can't plan to visit and play top golf destinations the world over. To help facilitate your golf travel planning, GolfPass' staff of experienced writers compiled a list of the world's Top 100 golf destinations, based on each destination's attraction to golfers, publicly-accessible courses as well as the destination's history, après-golf activities, and more (see the full list of criteria here).
British Columbia is not only home to some of the world's most fantastic golf courses, together these golf courses rank as some of the top golf destinations in the world, as evidenced by GolfPass' recognition in their Top 100. The overall list provides the first 50 golf destinations in order, with the second 50 presented alphabetically and by region. As pent-up golf travel demand reaches an all-time high, consider some of these top BC golf destinations for your next golf vacation: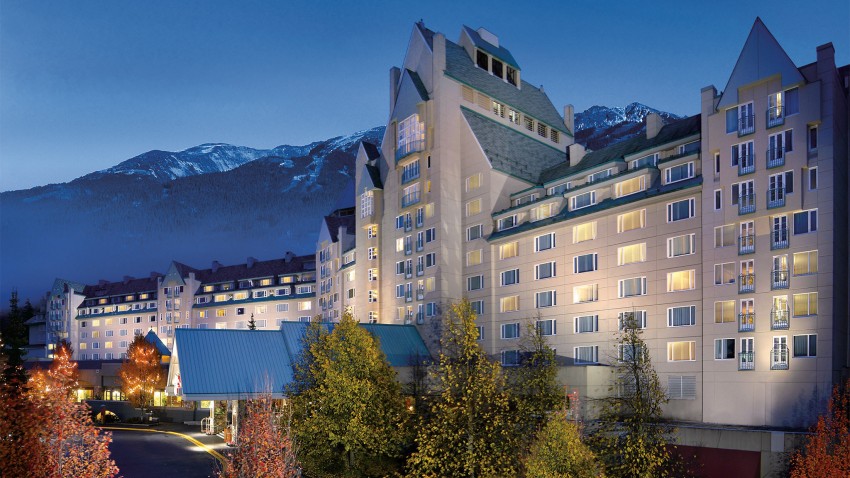 Top BC Golf Destination: Whistler BC
Coming in at #48 on the list of the World's Top 100 Golf Destinations, Whistler has long been renowned for its reputation as an incredible place to golf, stay, and play. Also rated Canada's number one golf destination by Golf Digest, the destination's four championship, designer courses provide an unparalleled mountain golf experience.
A gorgeous drive north from Vancouver along the inland passage, you'll pass one of the locations for the movie Happy Gilmore (Furry Creek) before ultimately arriving in Whistler, the mountainous Winter Olympics host that has become a summer playground in recent years. There is a fab four of golf courses highlighted by Nicklaus North and Fairmont Chateau Whistler that showcase the spectacular Coast mountains and abundant wildlife. At a lower elevation, its golf season is also longer than Alberta's Rocky Mountains.
Embark on a memorable Whistler Golf Week or check out the Sea-to-Sky Golf Loop for further inspiration.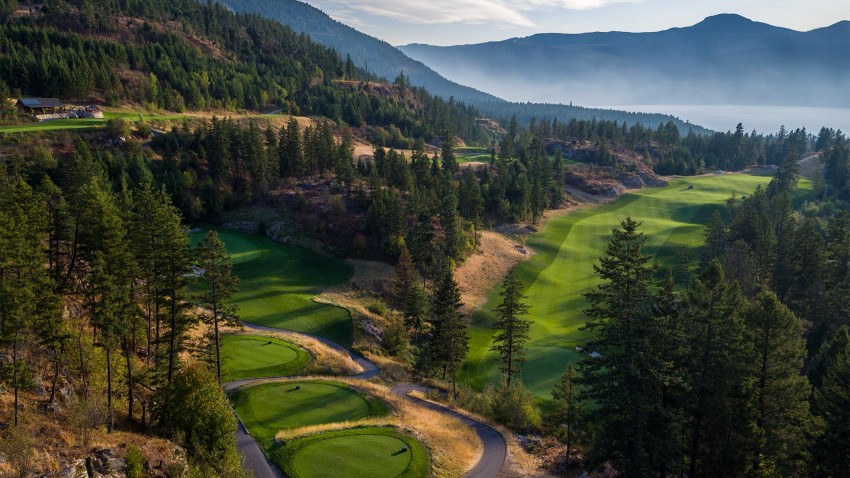 Interior British Columbia
Listed in the 50-100 alphabetical portion of the list, GolfPass recognized the interior of BC (comprised of Kamloops, Shuswap, Okanagan Valley's Vernon and Kelowna, as well as the Kootenay Rockies) for its variety of top golf courses, resorts and things to do.
Mountains and vineyards showcase the varied landscapes that attract golfers to this scenic part of western Canada. Kamloops markets five courses, including the you-have-to-see-it-to-believe-it Tobiano. Talking Rock at Quaaout Lodge is sneaky great for a course left off of Canada's annual Top 100 lists. The 36-hole Predator Ridge Golf Resort anchors the Okanagan Valley. Don't leave without playing the remote Greywolf Golf Club in the aptly named town of Panorama on the edge of the Canadian Rockies.
The accolades from GolfPass cover a pretty large swath of BC golf courses, however, you can play a handful of top golf courses in each area with golf packages including an Okanagan Golf Week, Kamloops Golf Week, Shuswap Golf Week and Invermere-Panorama Golf Getaway, or create a custom golf itinerary and play them all!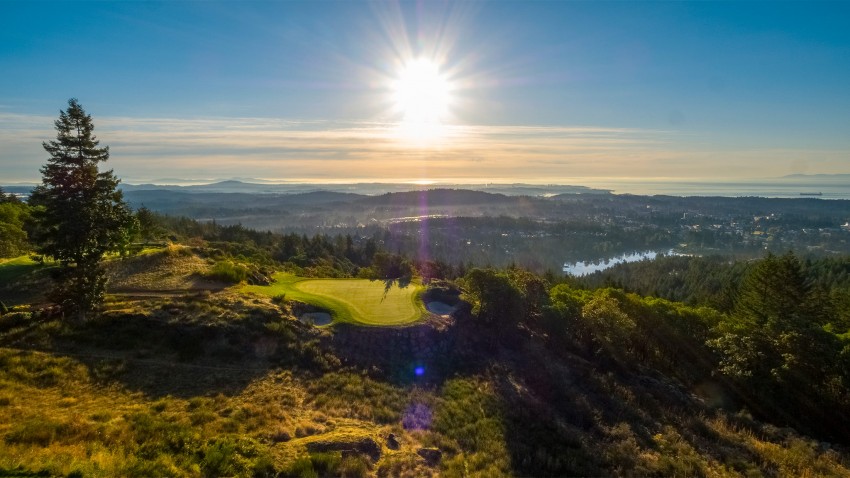 Vancouver & Vancouver Island Golf
The combination of Vancouver and Vancouver Island as a golf destination is one often overlooked - but where else can you experience two of British Columbia's top metropolitan cities as well as a diverse range of golf courses and après-golf activities - from gondola rides followed breakfast with bears to whale watching and wine tours?
Separated by a simple ferry ride, but worlds apart in feel and appeal, the combo of Vancouver/Vancouver Island is as good a contrast as city-rural golf gets. After a day or two on the mainland, exploring downtown and suburban courses like Morgan Creek and Westwood Plateau, head to the island. Victoria is as charming as any city in Canada with strong courses at the 36-hole Bear Mountain Golf Resort and Olympic View. Up island, life slows down and turns back the clock. Storey Creek and Crown Isle will make the remote trek worthwhile.
Landing at Vancouver International Airport (YVR), you can be on the tee within the hour in Richmond, or take a slightly longer drive to other top Vancouver golf courses. A relaxing 1h 35 min ferry ride across the Strait of Georgia will have you on Vancouver Island and ready to explore the Vancouver Island Golf Trail at your leisure. Regardless of your point of origin or length of stay, a golf vacation to one of these top golf destinations as compiled by GolfPass should be on the top of your list!