Your next golf vacation can be as relaxed as can be when you add in a world-class spa! Whether you start your day with a treatment and spend an afternoon on the green, or golf solo while your significant other takes some time to pamper themselves, you can have it all with these terrific golf and spa vacation destinations.
Golf in BC Visual Story
Click the graphic to learn more about BC golf courses via a visual story, or keep scrolling for more information.
Tip: These popular spas tend to book up fast! We recommend booking your spa appointments at the same time as you confirm your golf trip to ensure you have access to your preferred treatments.
Golf & Spa in Whistler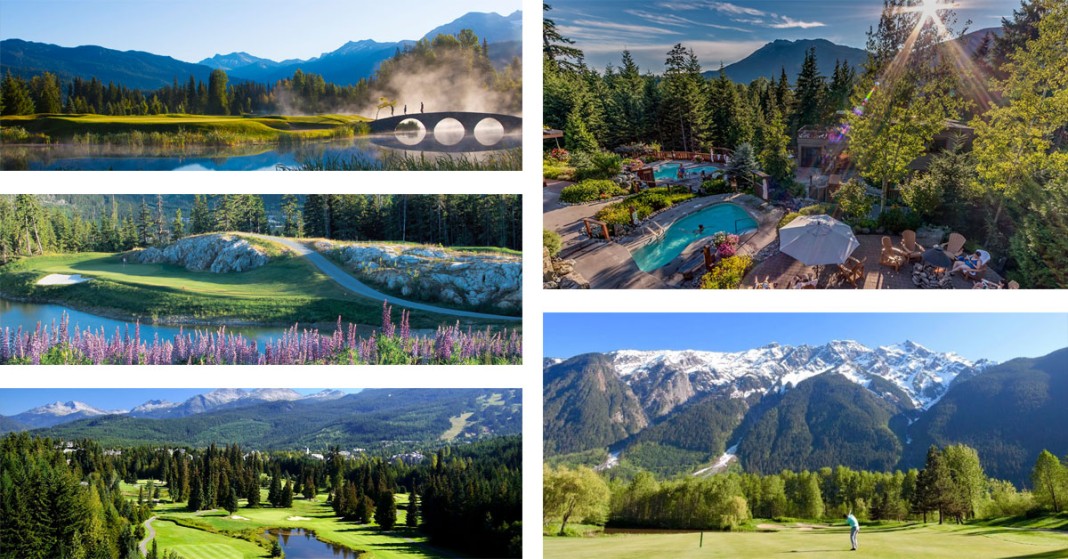 Golf: Whistler Golf
It's a player's choice when it comes to golf and spa in Whistler, with three courses located near Whistler Village and another just minutes away. Start at Pemberton's Big Sky Golf Club, with epic mountain views and fabulous play on the Robert Cupp-designed course. Next, discover the incredible terrain at the Fairmont Chateau Whistler Golf Club, where the Robert Trent Jones design climbs from the hotel 400 ft up the side of Blackcomb Mountain – offering amazing views of Whistler Valley.
Enjoy the scenery at Nicklaus North Golf Course with snow-capped peaks and majestic firs while you engage in the course's challenging par threes and unique bunkering. Finish up with a round at the Whistler Golf Club, the first course Arnold Palmer chose to design in Canada, which includes lakes, creeks, and rolling greens with dramatic views of both Whistler and Blackcomb mountains as well as frequent bear sightings.
Spa: Scandinave Spa
Find yourself in a completely immersive, relaxing experience at Scandinave Spa, offering a traditional Scandinavian bath experience in a peaceful and natural environment. Enjoy the spa's rustic installations nestled on the edge of the Lost Lake Park spruce and cedar forest for a relaxing and invigorating experience. Begin with hot hydrotherapy to relax muscles & release tension in the Spa's saunas, then move on to cold therapy with a Nordic waterfall and cold plunge baths. Complete your treatment with relaxation around the outdoor fireplace or at the yoga studio. After your Scandinavian Spa experience, enhance your peaceful state with a deep tissue massage for the ultimate post-golf rejuvenation.
Golf & Spa in Parksville & Area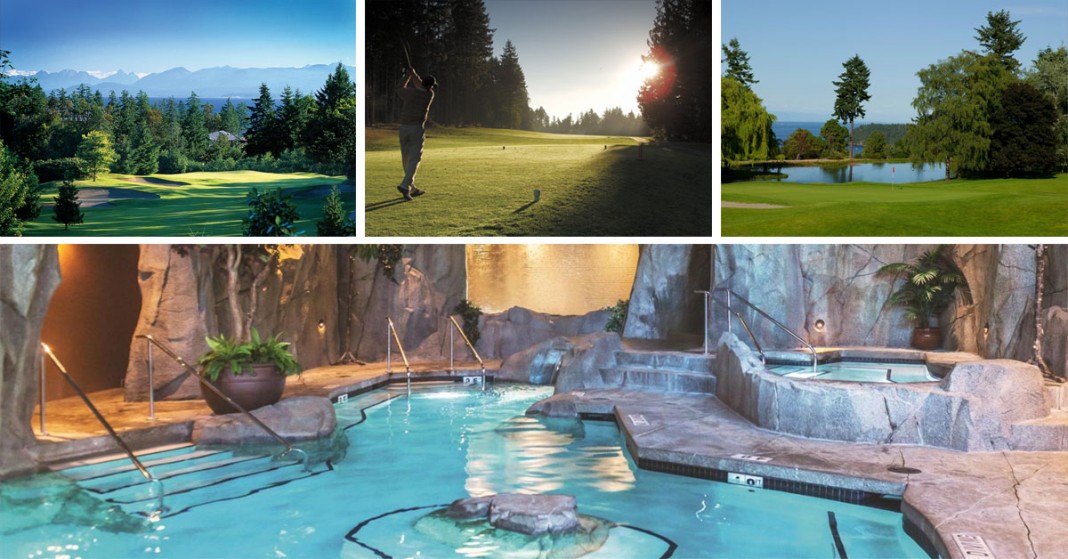 Golf: Parksville & Area Golf
In central Vancouver Island, you'll have some terrific golf and spa pairing options. Fairwinds Golf Club is uniquely situated on a spectacular piece of land with dense forest, ocean views, and dramatic elevation changes to entice golfers of all levels. Nearby Pheasant Glen is "Nature's Golf Course" with rewarding par threes set amongst a natural setting. Just down the road, you can finish off at Nanaimo Golf Club, a spectacular all-season offering inclusive play for all golfers.
Spa: Tigh-Na-Mara's Grotto Spa
Voted the #1 Spa in Western Canada, the Grotto Spa at Tigh-Na-Mara Seaside Spa Resort offers exceptional experiences including facials, body wraps, body glows, massages, manicures and pedicures, many with a focus on West Coast natural ingredients. After your treatment, enjoy a soothing dip in the Grotto Mineral Pool, plus invigorating cool-splash waterfall and whirlpool. Designed to emulate a natural stone grotto, the warm water pool is infused with natural minerals and trace elements to detoxify the body and rejuvenate the spirit.
Golf & Spa Vernon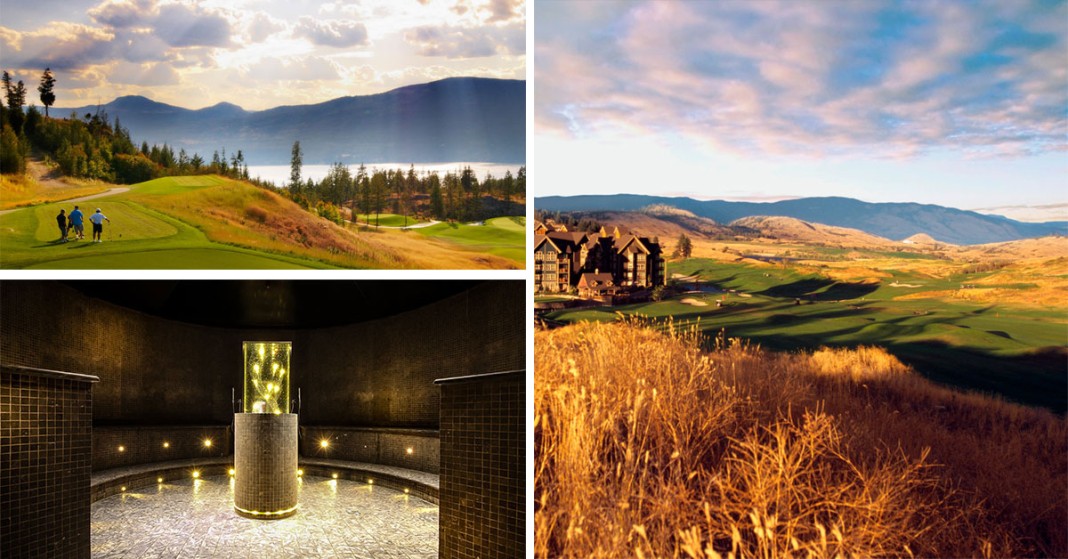 Golf: Predator Ridge
Offering two championship courses, The Ridge Course & The Predator Course, Predator Ridge is an ideal golf and spa getaway. The Les Furber-designed Predator Course includes rolling mounds and hills featuring contrasting fescue for scenic play. Meanwhile, the Doug Carrick-designed Ridge Course takes full advantage of the natural topography, boasting expansive views of Okanagan Lake for a memorable round of golf.
Spa: KurSpa at Sparkling Hill
Just a few minutes away from Predator Ridge Resort (and accessible by free shuttle) sits KurSpa at Sparkling Hill Resort. As one of the largest among luxury spas in Canada, this unique 40,000 sq. ft. oasis is dialled in to create a peaceful state of mind. KurSpa offers a full range of exclusive packages to promote whole-body wellness including unlimited access to 7 uniquely themed steams and saunas, 4 nature-themed experience showers, and outdoor infinity pool, indoor saltwater pool, and hot pool, plus Kneipp hydrotherapy. From relaxing massages, revitalizing or curative facials, services for couples and detoxifying treatments such as their signature Fango treatment, KurSpa has something for everyone.
Region: Kootenay Rockies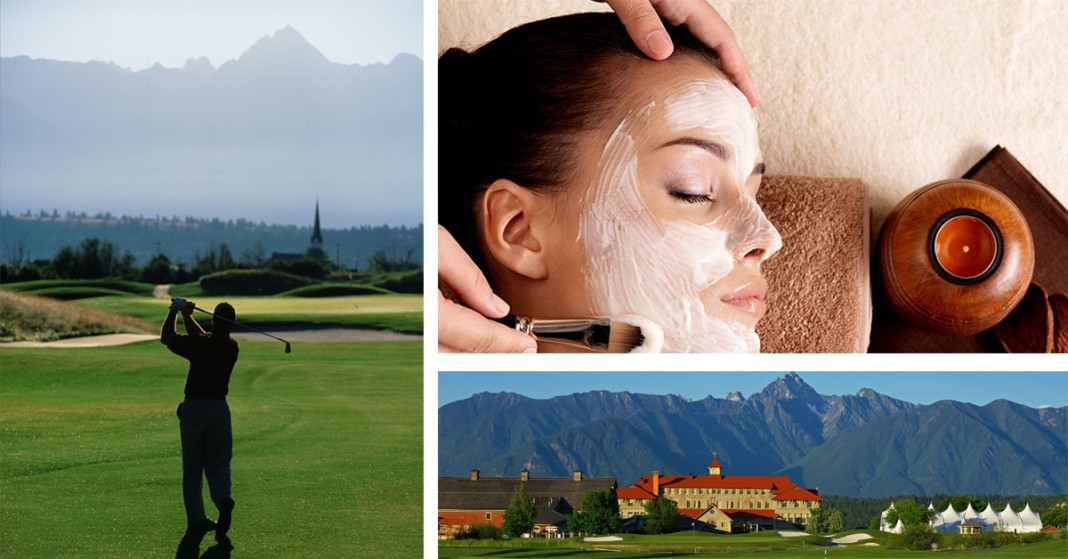 Golf: St. Eugene Golf Resort & Casino
Engage in a piece of history at the former St. Eugene Mission, now a renowned resort, golf course, and casino. The Les Furber-designed St. Eugene Golf Course offers incredible views of Fisher Peak amidst the Rocky Mountains, while the golf features open links and rolling woodlands, providing a spectacular Kootenay Rockies golf and spa experience that's sure to be memorable!
Spa: Silver Water Spa
The Blush MediSpa at St. Eugene lets you immerse yourself in holistic wellness, anti-aging treatments and healthy relaxation and rejuvenation. Specialized beauty practitioners and massage therapists use the latest protocols and only the finest quality natural ingredients for a customized treatment solution.
Region: Columbia Valley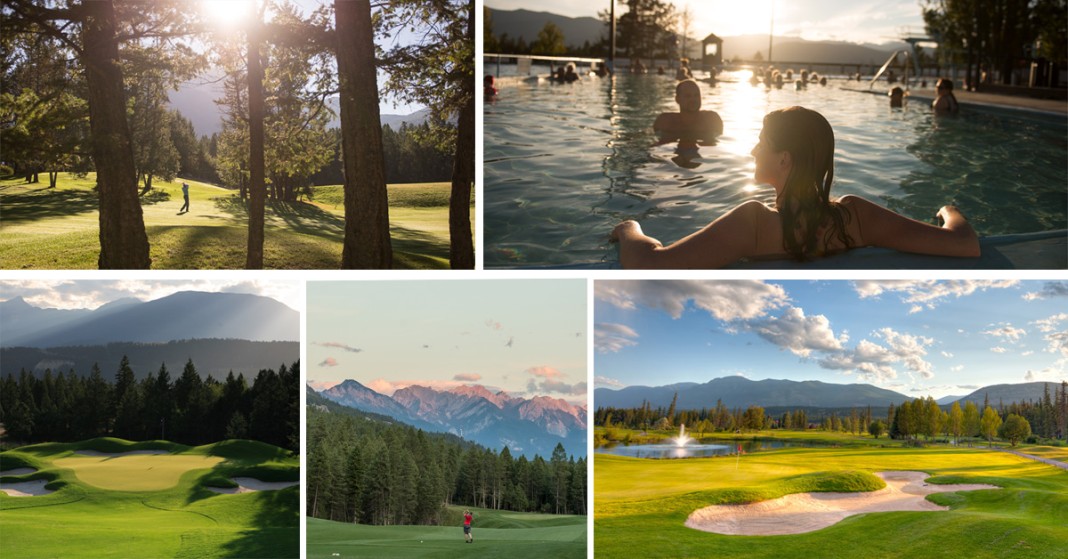 Golf: Columbia Valley
The Kootenay Rockies region boasts a plethora of natural hot springs, so you can soak and relax between rounds or on your travels. One top spot to visit is the Columbia Valley Golf Trail, where you'll find a selection of stellar golf courses including three tracks at Fairmont Hot Springs Resort so you can get the best of both worlds!
Spa: Fairmont Hot Springs & Natural Springs Spa
Immerse yourself after a round or two on local golf courses in Canada's largest natural mineral hot springs at Fairmont Hot Springs Resort and let the mineral-rich waters soak those sore muscles while enjoying panoramic mountain views. For even more relaxation, book a treatment at Natural Springs Spa and pamper yourself!
Read our Golf Swings & Hot Springs Blog for great tips on more locales to visit during your golf vacation to further your relaxation!
This is only a sampling of some of the top golf and spa destinations in British Columbia. If you would like more information on amazing golf destinations in BC, please check out our variety of golf packages.