Ben Hogan once said, "The only thing a golfer needs is more daylight." It's a fair point and for the most part we couldn't agree more with him. With one exception: we can't imagine Ben Hogan ever played golf in beautiful British Columbia during the Fall. Because while daylight hours may indeed be starting to fade slightly earlier in the evening, the beauty of the surroundings, the crispness of the air, and the beautiful Fall light before, during and after your round more than make up for it.
It's a magical time in BC - as anyone who has ever been here - and more specifically golfed here - during the season of plenty can attest to. And make no mistake, there is still plenty of great golf to be played during the season of plenty here in BC. Especially if you're smart about it and stay right on the course at one of the BC golf resorts featured below. That way you don't waste a minute of the daylight hours you do have, going from room to tee in mere seconds. Don't let the sun go down on your golf season without one last hurrah - take advantage of one of these Fall golf resort getaways and go down swinging.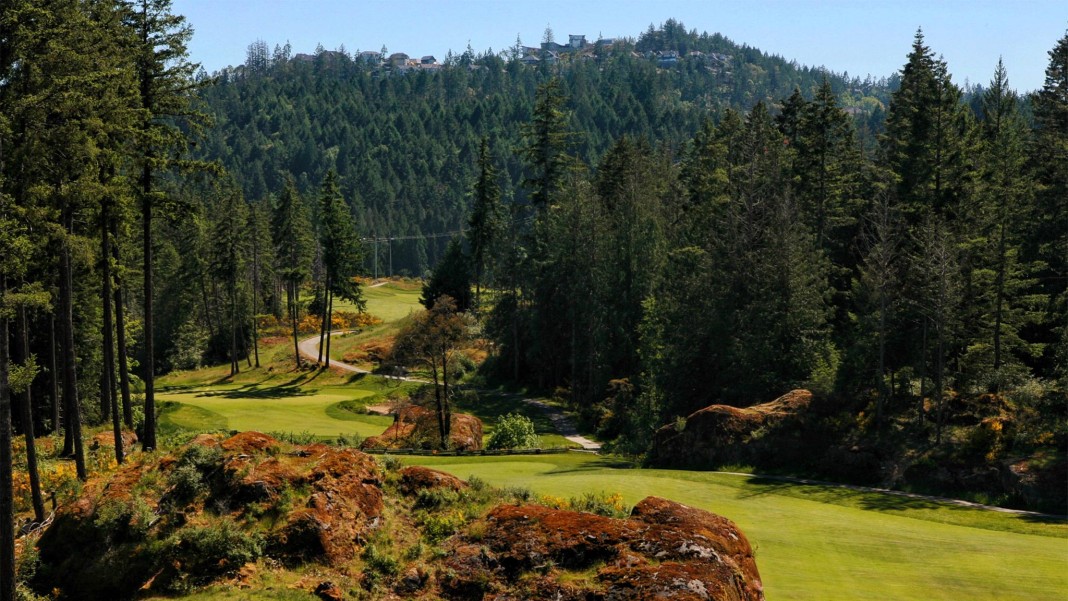 Vancouver Island Golf Resorts
Vancouver Island, named in the top North American Islands by Condé Nast Traveler Magazine for the last 10 years, is home to two world-class destination golf resorts.
Enjoy a day of golfing at Canada's first and only 36-hole Nicklaus-designed golf course, a short drive from downtown Victoria's beautiful inner harbour and surrounded by beautiful scenery plus hiking and biking trails.
The Getaway Deal: A two-night stay at the hotel plus one round of golf at each of the award-winning Bear Mountain golf courses.
Crown Isle Golf Resort and Community is an 831-acre, master-planned golf course - a 7,024-yard platinum-rated Graham Cooke design - and resort community located in the heart of the beautiful Comox Valley. Everything you need for a luxury getaway - fine dining, a cognac room (!) and more, is never further away from the tee than a 3 wood.
The Getaway Deal: One night at Crown Isle Golf Resort and one round of golf.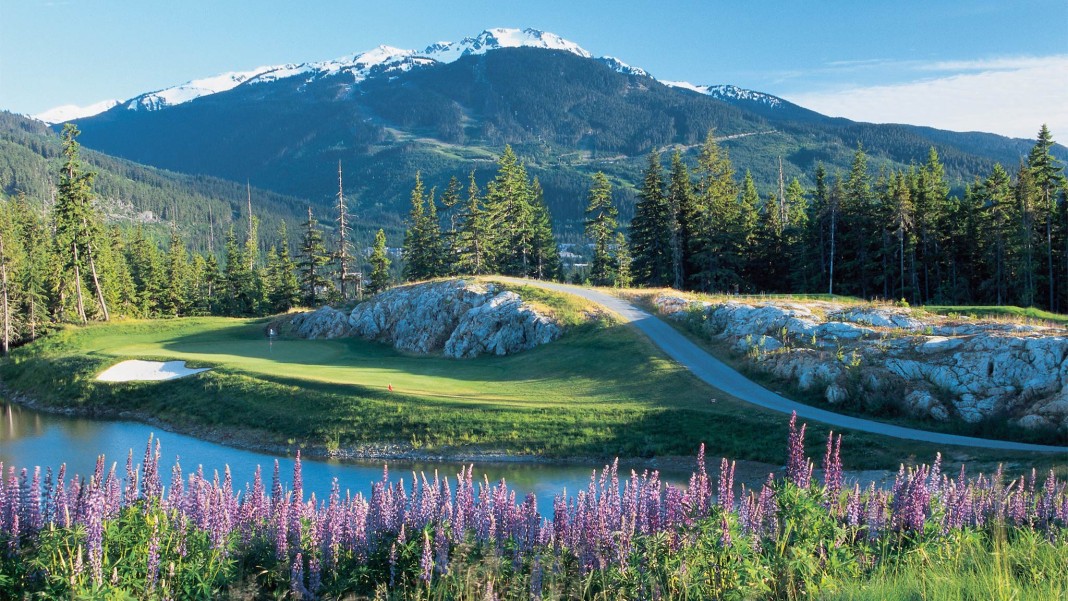 Whistler Golf Resorts
Rated Canada's number one golf resort by Golf Digest, Whistler's four championship, designer courses provide an unparalleled mountain golf experience and possibly some of the best golf on the continent.
The readers of Condé Nast Traveler have voted the Fairmont Chateau Whistler one of the top 10 golf resorts in the world. Not least because of the golf course itself: a Robert Trent Jones design which climbs up more than 400 feet from the level of the hotel to a benchland on the side of Blackcomb Mountain with spectacular views of Whistler Valley.
The Getaway Deal: Two nights at the Fairmont Chateau Whistler Resort; one round on the Chateau Whistler Course; one round on Nicklaus North.

Kamloops Golf Resorts
Kamloops golf courses lie on the northern tip of the Sonoran desert, a location yielding warmer temperatures - even through the Fall - and a longer golf season than most... You're looking at eight months plus of hot golf! Little wonder that the two golf resorts in the region are busy late into the year.
Sun Peaks Resort offers a one-of-a-kind BC golf vacation opportunity with the greens located at 1,200 metres above sea level, making the Golf Course at Sun Peaks Resort British Columbia's highest elevation course. It's also a fantastic all-season playground with hiking, biking and activities galore for the whole family.
The Getaway Deal: Two nights of accommodation at the Sun Peaks Hotel; two rounds of golf at your choice of Kamloops courses.
This is a truly unique BC golf resort getaway. "Hear the legend…feel the spirit" at Talking Rock Resort and Quaaout Lodge. Owned by the Little Shuswap Indian Band, the culturally rich Talking Rock Resort blends age-old Indigenous traditions with classic hotel-style amenities, golf and gourmet dining.
Unfortunately, Quaaout Lodge & Spa at Talking Rock Golf Resort lost most of their guest rooms to a structural fire on Sunday, May 22, 2022. Fortunately, no one was injured and a large part of the facility was preserved, including golf shop, restaurant and spa. Fortunately, the Band will be rebuilding the lodge as "the heart of the community." In the meantime, we ask that you consider supporting the community by booking a round of golf either directly or as part of your packaged golf vacation. Kukstsémc (thank you).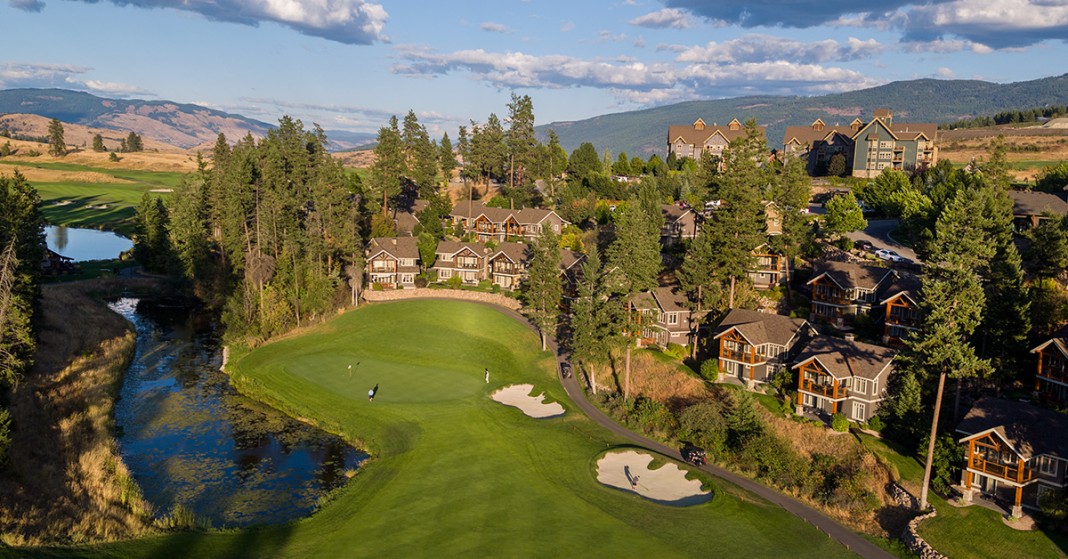 Okanagan Golf Resorts
Located in the heart of British Columbia's ultimate all-season playground - the Okanagan Valley - here you will find world-class golfing and more après golf activity than you'll find time for! Wine tasting, Fall food and wine festivals, harvest activities and fairs, hiking, biking, view gazing and more await.
Considered one of Canada's premier golf resorts, the 1,200-acre award-winning Predator Ridge Golf Resort boasts miles of natural wooded preserves ideal for hiking and biking, as well as 36 holes of Championship golf. One of its two courses - The Ridge Course - was named Best New Course in Canada by SCOREGolf on opening and both golf courses are regularly featured on rankings of Canada's top golf courses.
The Getaway Deal: Two nights in a Queen Lodge Studio at Predator Ridge Resort; one round of golf on the Predator Course – Les Furber Design; one round of golf on the Ridge Course – Doug Carrick Design.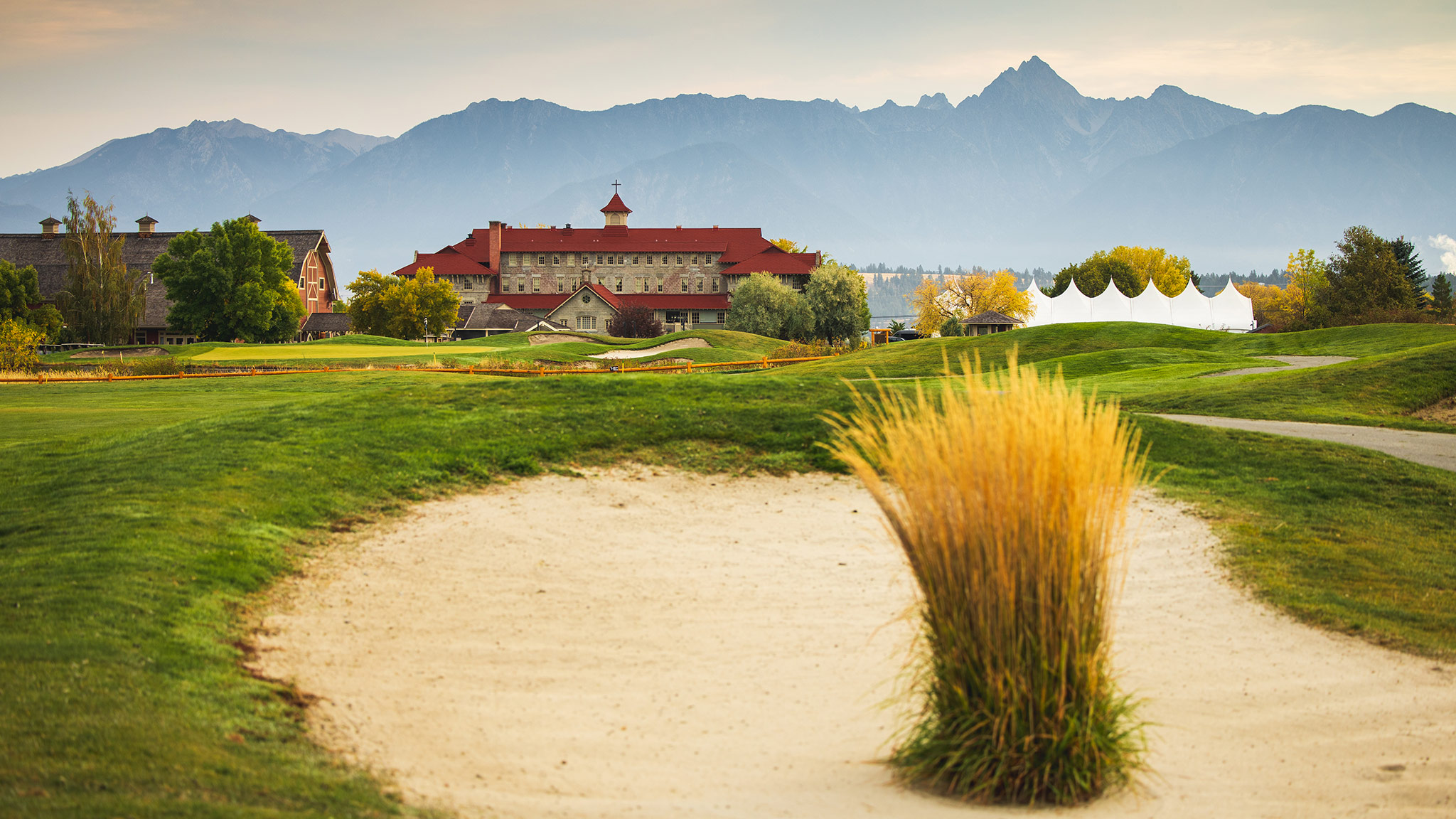 Kootenay Rockies Golf Resorts
There's something special about playing golf in the mountains. Dramatic elevation changes, bragging rights on a drive off the tee that flies further, spectacular scenery, wildlife, natural hot springs (and boy do those feel good in the cooler, crisper Fall air), the feeling of getting away from it all - something you really can do at not one but four spectacular Kootenay Rockies golf resorts.
Through partnerships with the Ktunaxa Nation, Chippewas of Rama First Nation, and Samson Cree Nation, the St. Eugene Golf Resort & Casino has become an entertainment destination for people across North America. When you visit St. Eugene, not only can you expect world-class, Les Furber-designed golf, you can also expect luxury, Indigenous history (at the Ktunaxa Interpretive Centre), and pure entertainment (at the onsite casino).
The Getaway Deal: Two nights at the St. Eugene Golf Resort; two rounds of golf, one at St. Eugene and one at Shadow Mountain.
The 4½ star Trickle Creek Lodge is only a 3 wood away from the 18th tee. Prepare yourself for premier resort luxury and one of the most thrilling golf courses you'll ever play. Woven through the rugged alpine environment, crossing creeks and diving with the slopes of North Star Mountain, Trickle Creek delivers the mountain wows at every shot.
The Getaway Deal: Two nights at the Trickle Creek Lodge; two rounds of golf, one at Trickle Creek and one at Bootleg Gap.
Located amid the rugged, unspoiled splendour of BC's Columbia Valley, Eagle Ranch immerses you in unique experiences including the stunning Eagle Ranch Golf Course: eighteen magical holes of golf perched along bluffs overlooking the Columbia River. Stay in the magnificent Headwaters Cabin for private, group-friendly golf accommodations, or book your room at the Headwaters Lodge for a more traditional setting.
The Getaway Deal: Two nights at the luxurious Headwaters Lodge or Headwaters Cabin and Eagle Ranch Resort plus two rounds of exceptional golf at Eagle Ranch and Greywolf.
Discover a quiet mixture of casual elegance and relaxation for those desiring peace and tranquillity on the over 425 acres of pristine natural landscape overlooking Kootenay Lake. Kokanee Springs Resort is a sanctuary of fresh mountain air and quiet, idyllic charm, offering 60 spacious guest rooms and 12 course-side villas for an intimate setting to experience the beauty and serenity of the Kokanee Springs Golf Course and surrounding area.
Please contact the resort directly to book.
Situated amidst the breathtaking scenery of British Columbia's Rocky Mountains, Fairmont Hot Springs a full spectrum golf experience amongst some of the province's most picturesque golf terrain. This peaceful, curative backdrop is home to a family ski area, dining venues, shopping and three golf courses as well as their renowned hot springs. A variety of rooms, suites and cabins are available to suit your next golf getaway.
The Getaway Deal: Two nights and two rounds in beautiful Fairmont Hot Springs, playing the Mountainside and Riverside golf courses.
Ready to start planning your fall golf vacation? Download or order our golf map today, or contact us for a custom quote!