Hot summer golf calls for cool British Columbia golf destinations - whether at higher elevations, lower average temperatures, or something that stands out to make your next golf vacation that much more memorable. So which British Columbia golf destinations are topping the cool charts?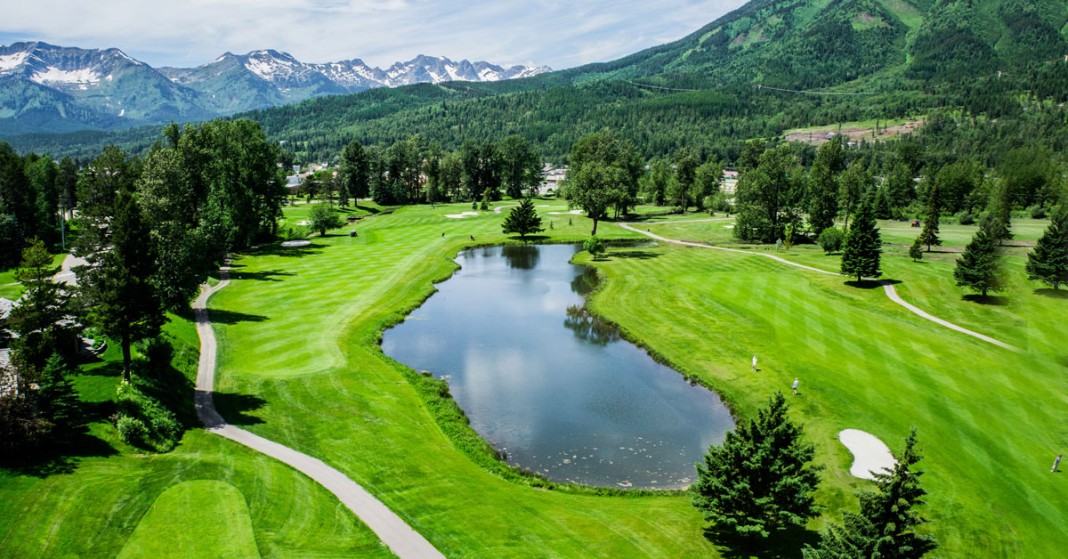 BC's Kootenay Rockies "Peak" Interest
It's always a wise choice to head for the hills, so to speak when the heat is on. Higher elevation golf destinations offer cooler weather, fantastic views, and as an added bonus, further ball flight through the thinner atmosphere! Tee it up higher in British Columbia's Kootenay Rockies during the hot summer golf season, easily accessed via Calgary International Airport (YYC) or the Canadian Rockies International Airport (YXC) in Cranbrook. St. Eugene Golf Resort & Casino provides a great base for a Kootenay Rockies golf vacation with fantastic views of Fisher Peak in the Canadian Rockies, then discover mountain highs at Fernie Golf Club (elevation: 1,011 meters or 3317 feet).
From there it's a fun golf road trip to a variety of mountain-hugging golf courses including Trickle Creek Golf Resort (1,249 meters or 4,099 feet at its highest point), Bootleg Gap Golf (932m or 3,057 feet), and Shadow Mountain Golf Course (863m or 2831 feet) to complete your elevated golf experience.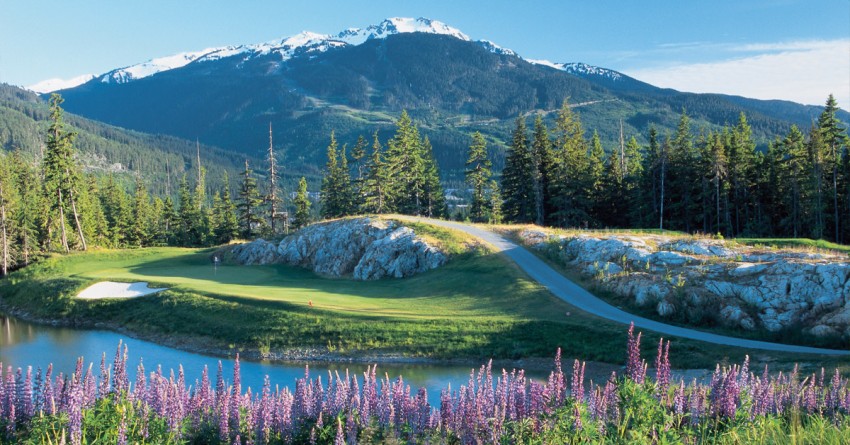 Whistler
A golf trip to Whistler should be on every golfer's bucket list. Not only will you find four marquee golf courses from some of the world's best designers (Jack Nicklaus and Arnold Palmer, to name a few) but also a variety of bucket list activities (think Peak-to-Peak Gondola between Blackcomb and Whistler, and ziplining), five star restaurants, and unique Scandinave Spa experiences to elevate your golf vacation! S
tay at the Fairmont Chateau Whistler - the International Golf Tour Operator's North American Golf Resort of the Year, golf Fairmont Chateau Whistler Golf Club (topping out at 792 meters or 2600 feet) and enjoy a winding layout through ancient Douglas fir forests - plus the opportunity to see some of Whistler's most famous residents - the bears! From there you can cap off your experience with two other excellent golf courses - Nicklaus North Golf Course and Whistler Golf Club.
Bonus: Head 30 minutes north of Whistler to Pemberton, BC for something really unique at Big Sky Golf Club. Fly with Blackcomb Helicopters from Big Sky to their "19th hole" high on spectacular Mt. Currie (2,591 m or 8500 ft) for some tee practice (with biodegradable golf balls) before returning to the course to finish the round. Heli Golf - now that's an elevated golf game!
British Columbia from Sea-to-Sky
Turn your Whistler golf trip into a week-long cool adventure by heading south towards Vancouver on the Sea-to-Sky highway, where ocean breezes will keep you cool while your game is hot. Stop in Squamish for some lunch and an afternoon round at Squamish Valley Golf Club. Take your time to explore Vancouver at your leisure, as it is one cool city, with its happening summer concert series, trendy neighbourhoods and gastro experiences, including an elevated Breakfast with the Bears at Grouse Mountain. Be sure to add golf at University Golf Club in Vancouver - just a few minutes from Spanish Banks Beach or Jericho Beach, where you can watch the action in and along English Bay and admire the skyline. Nearby Mayfair Lakes in Richmond is also a prime choice for keeping cool, where if the multitude of lakes doesn't do the job, the harbour at Steveston is 20 minutes away for your enjoyment complete with craft food, historic boats, and even the opportunity to embark on a whale-watching excursion.
Take a Sea-to-Sky Golf Vacation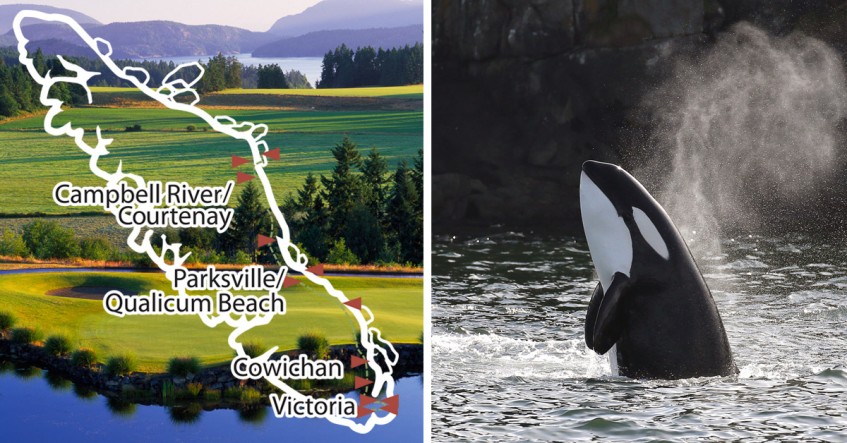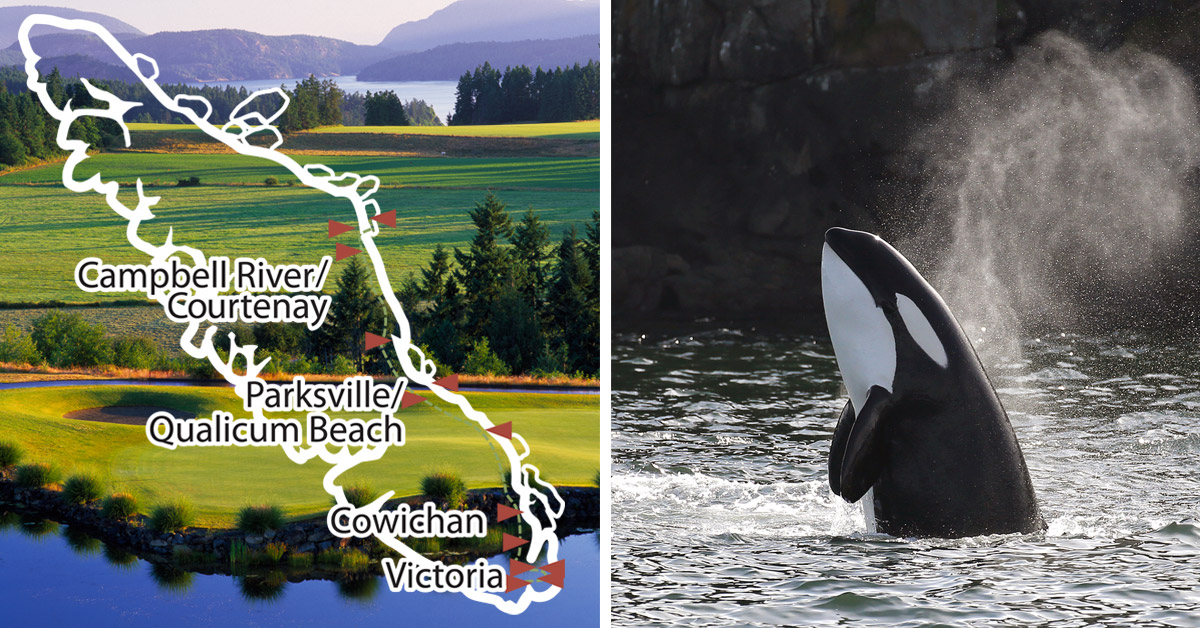 Play on Island Time
Continue to ocean breeze on over to the Vancouver Island Golf Trail, stretching 250 km (150 mi) from Victoria in the south to Campbell River in the north. Anchoring Mile 0 of the Vancouver Island Golf Trail is the provincial capital of Victoria in all her famed Inner Harbour splendour. Add a little mountain to your ocean at Bear Mountain Resort Golf Course's Mountain Course, offering a summit of 270 meters (886 feet) that provides panoramic views of the Strait of Juan de Fuca as you take on the Nicklaus Design course that never fails to please. Meander up the Trail to visit any (or all) of the thirteen golf courses contained thereon. On your way, you can take in cool summer pursuits including a day at the beach, visit a winery or two, or a marine wildlife & whale watching tour to get in even more ocean time. Probably the best pursuit for an "elevated" golf trip (of pure bragging rights anyway) is to add some fins to your skins - combining golf with a fishing excursion from one of Vancouver Island's fishing operators.
Explore the Vancouver Island Golf Trail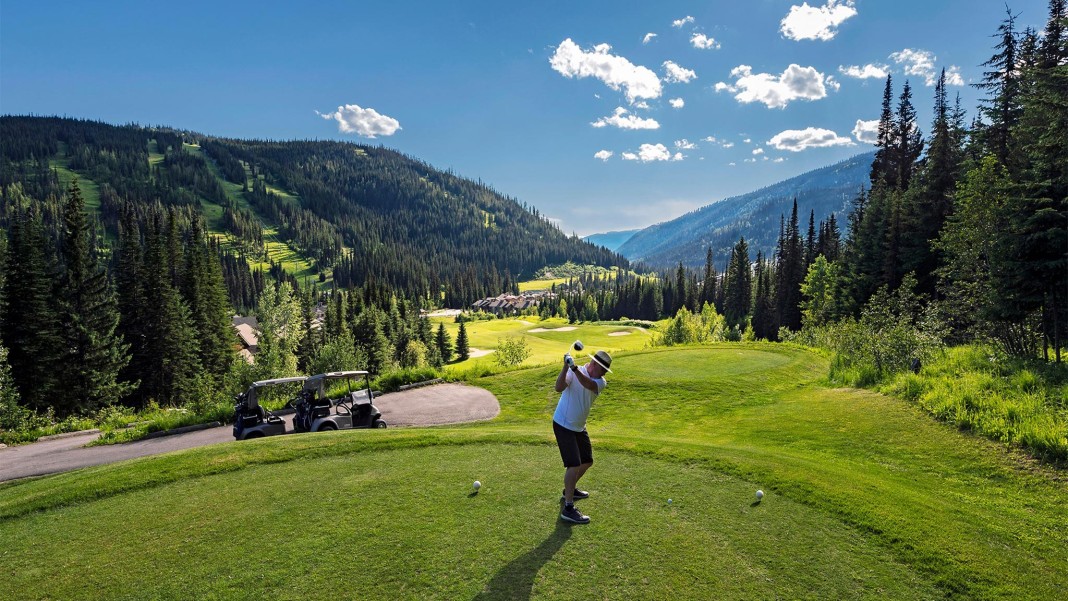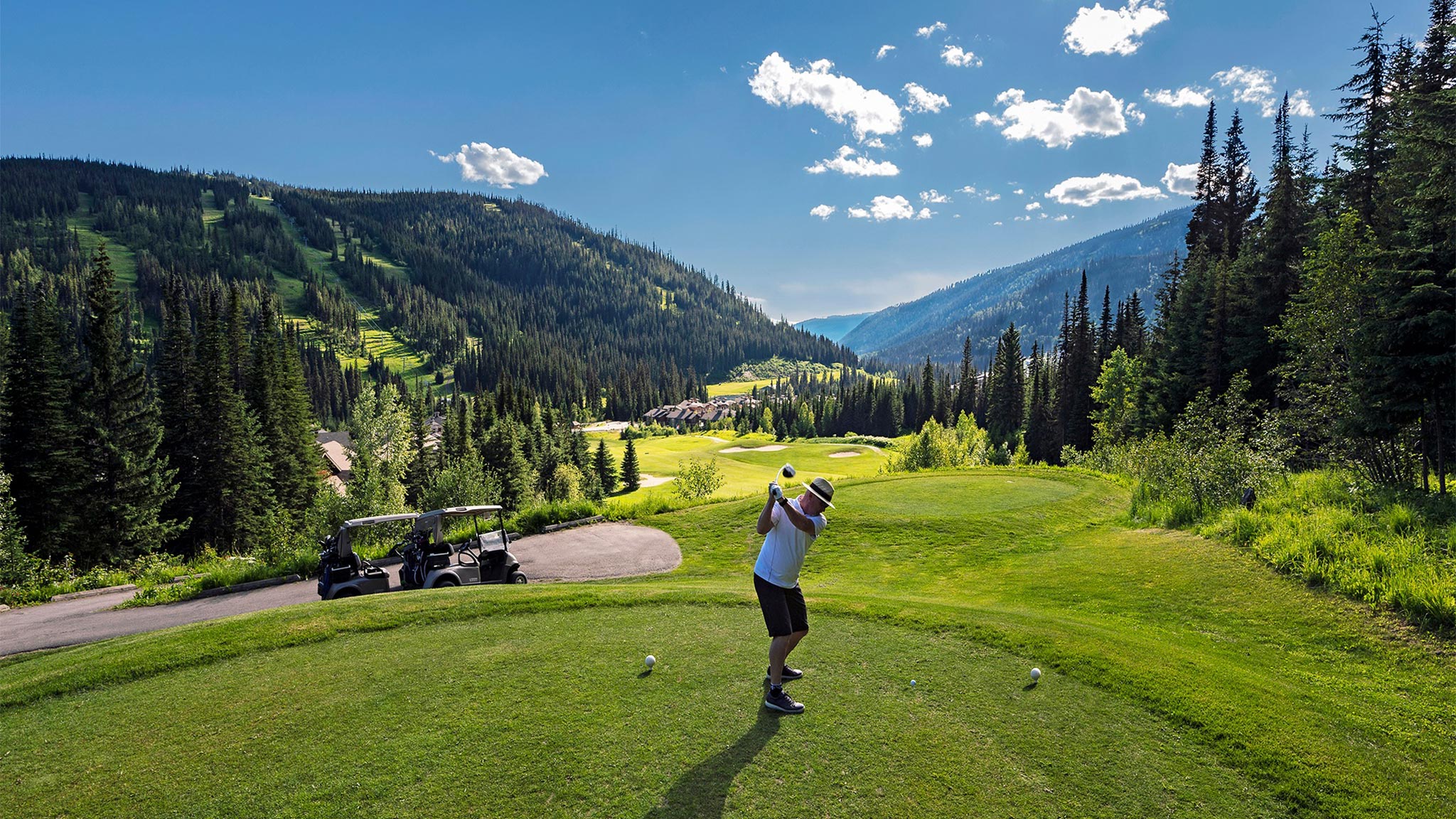 Head to the Top
Play British Columbia's highest elevation golf course at The Golf Course at Sun Peaks Resort just north of Kamloops, where the greens located at 1,200 metres above sea level! Surrounded by natural foliage and panoramic mountain views, the challenging 18-hole par 72 Graham Cooke is centred along the valley floor amongst the three surrounding mountains, Tod, Sundance, and Morrisey. The bonus of higher elevation on this mountain golf course is that not only are the temperatures cooler (up to 10 degree over nearby Kamloops), but you can expect your ball to fly further!
Add a little hiking, mountain biking, fly fishing, kayaking or canoeing to complement your golf game, and find ample accommodation options at Sun Peaks Resort.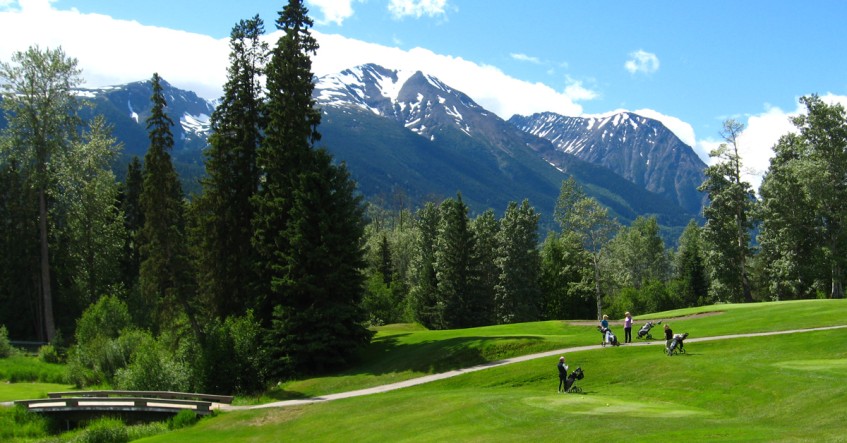 British Columbia's North is Calling
For an elevated golf trip of a different pace, check out the Northern BC Golf Corridor, where you'll discover cooler temperatures, pristine scenery, and one of BC's best-kept golf secrets. In between golf courses, find winding, serene roads that meander through plateaus and climb mountains, but pay attention as you may find deer, bear and moose wanting to play through! With ten northern BC golf courses to choose from, this is one BC golf region that is worth a golf road trip adventure. After your round, wherever it may be, you'll likely want to take a break, recharge, and enjoy some delicious culinary experiences - so check out a few Patio Pleasures at BC Golf Courses for recommendations.
So where will you be elevating your golf game? Check out a selection of cool golf packages and start planning!