There are 80+ world-class golf courses in British Columbia, spread across nine unique regions. You can spend a week in any one of them and play the golf of your life. Whether you prefer to golf in temperate coastal climes, mountain air or desert heat, British Columbia is your golfing mecca. The options are endless, but all have one theme in common: great golf at unbeatable value. For example, did you know that British Columbia has si, week-long golf vacation packages available, from just $865pp? That's six, week-long golf vacations of a lifetime for less than your average suit. Speaking of suits, why not shrug yours off and head out on one of these golf vacation weeks?
Imagine 150 miles / 250 km of Pacific paradise. Now add golf. Vancouver Island has been ranked as the Top North American Island by Condé Nast Traveler Magazine for 10 years in a row; we like to credit the golf. With this getaway, you get to experience the very best of both the island and the golf. Spend two nights in beautiful downtown Victoria, British Columbia's capital, Canada's most walkable city, and more restaurants per capita than any other city in Canada. Then head north two hours for two nights on Parksville's famous beach. Finally, spend two nights fairway-side at the Crown Isle Golf Resort in Courtenay BC, one-time home to the fearsome toothy prehistoric elasmosaur, and current home to awesome championship golf.  
Golf at: Highland Pacific, Olympic View, Fairwinds, Morningstar, Crown Isle, Storey Creek.
Get there: Plane - Gateway airports are Victoria (YYJ), Nanaimo (YCD) and Comox (YQQ), with direct flights from Vancouver, Calgary, Edmonton, Toronto, Seattle & SFO; 
Boat: BC Ferries and the Victoria Clipper from Seattle is expected to return soon.
Insider tip: Throw in some Fins & Skins for a truly unique island experience.
Regional Tourism & Golf Info: Golf Vancouver Island
Price: 6 nights / 6 rounds – from USD$863 / CDN$1,125
view Vancouver island golf trail package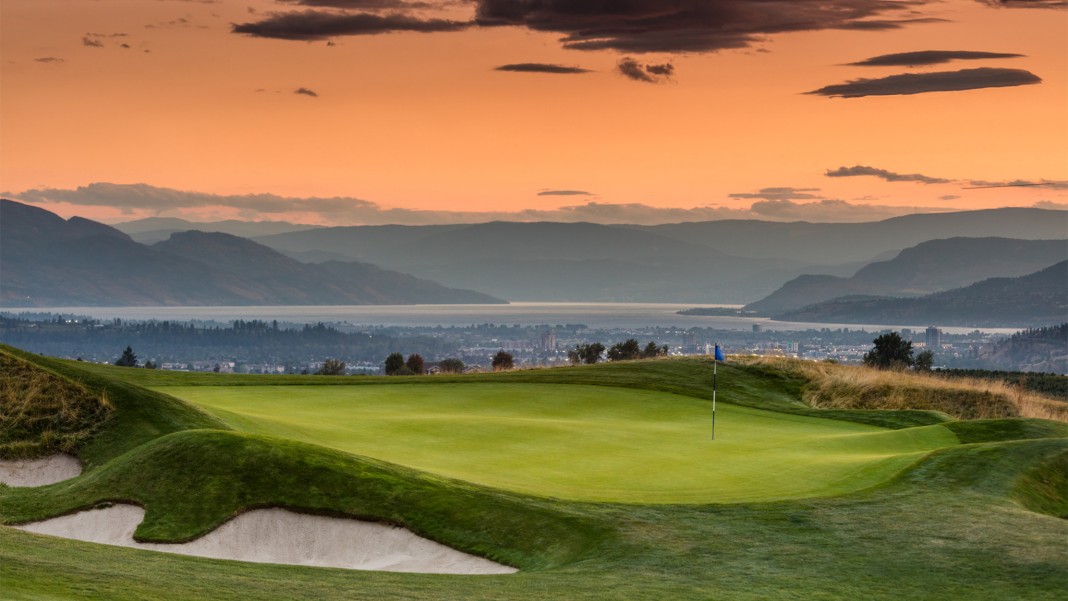 Golf. Swim. Wine. Repeat. Did you know that 65 vineyards surround the 18 epic golf courses found in the Kelowna & Vernon region? Spend seven nights in a region known for not only being the birthplace of British Columbia wine, but also for a lake (Okanagan Lake) which extends almost 90 miles (135kms); the mythical creature which calls that lake home - the Ogopogo (spot him from your tee-box viewpoints at a number of local golf courses); and, increasingly, for the golf courses dotted along its length. Welcome to Canada's summer playground.
Golf at: Black Mountain, Gallagher's Canyon, Harvest, Okanagan – Bear / Quail, Predator Ridge – Predator / Ridge, Tower Ranch* (*Choose 6 from listed courses.)
Get there: Gateway airport is Kelowna (YLW), with direct flights from Calgary, Edmonton, Vancouver, Victoria, Toronto and more locations returning soon.
Insider tip: The Okanagan is often referred to as the Napa of the North. Take in some wine tasting on one of the eight wine trails and 186 wineries in the area.
Regional Tourism & Golf Info: Golf Kelowna
Price: 7 nights / 6 rounds – From USD$959 / CDN$1,249
View the okanagan golf week package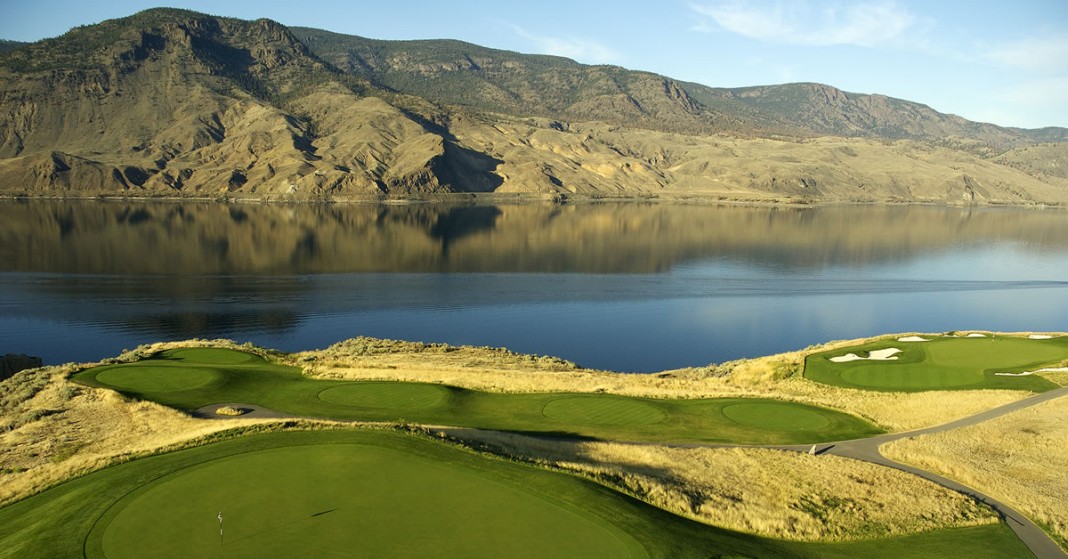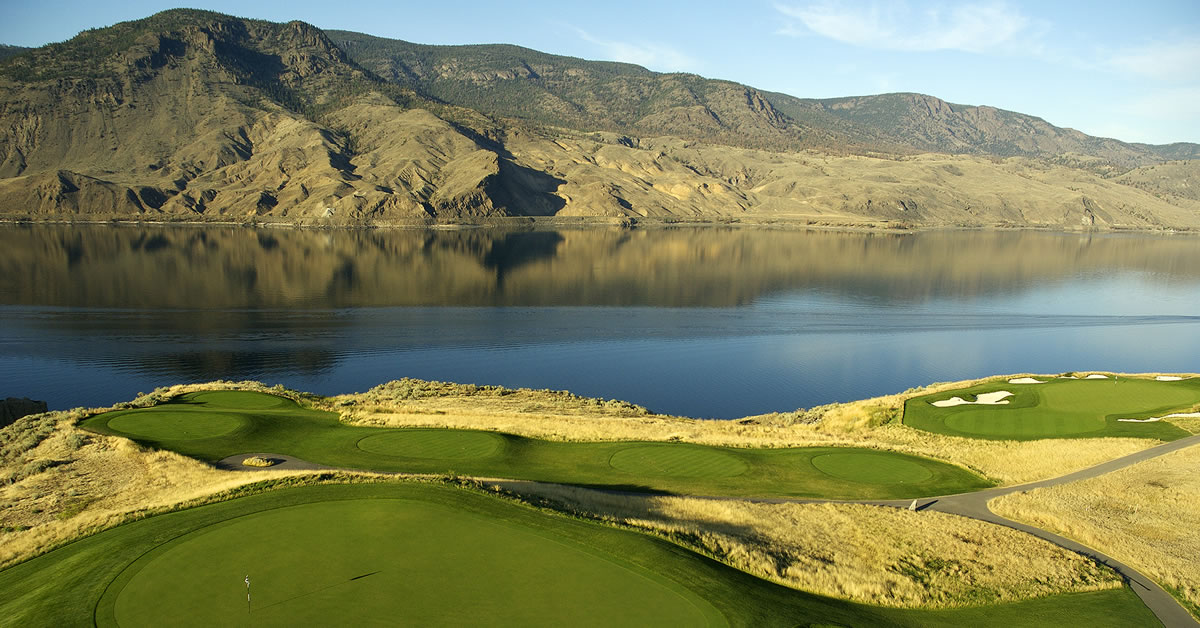 Visit "the hottest market in Canadian golf" - a literal nod to its location on the northern tip of the Sonoran desert, and a figurative nod to the amazing golf. A week golfing in Kamloops will deliver exactly what you might expect from a semi-desert region: long, hot days perfect for extra hours of golfing long into the evening, at golf courses where dramatic design comes standard. It will also deliver a thriving cultural, foodie and craft brewery scene, and a population known for being "BC's friendliest city."
Golf at: Tobiano, Talking Rock, Eaglepoint, Rivershore, The Dunes, Kamloops Golf & CC, Bighorn.
Get there: Gateway airport is Kamloops (YKA), with direct flights from Vancouver, Calgary and Prince George.
Insider tip: Come prepared to keep busy pre- and post-golf. With 107 things to do in and around the city - including having tea with a monk - you certainly won't be at a loss for things to do. This is small-town, big-heart British Columbia at its very best.
Regional Tourism & Golf Info: Golf Kamloops
Price: 7 nights / 6 rounds – From USD$728 / CDN$949
View Kamloops golf week package
Houseboating in the Shuswap and haven't found your sea legs yet? Dock your boat and step onto dry, green land for a round or three of golf. At least one golf course in this area boasts their own dock. Welcome to the Shuswap: British Columbia's best-kept secret. For those who have heard of the Shuswap, it's probably been in relation to the legendary houseboating. Increasingly though, golfers are beginning to discover this hidden gem of a region - and with good reason: stunning views, mild conditions, and championship golf.
Golf at: Mara Hills Golf Resort, Salmon Arm, Shuswap Lake Golf Course at Blind Bay, Talking Rock, Shuswap National.
Get there: Gateway airports are Kamloops (YKA) and Kelowna (YLW),with direct flights from Calgary, Edmonton, Vancouver, Victoria, Toronto and other locations including Seattle returning soon.
Insider tip: For a unique pairing of golf and Indigenous tourism don't miss out on the cultural experiences at the First-Nations owned Quaaout Lodge & Spa at Talking Rock Golf Resort in the "Land of the Great Spirit".
Regional Tourism & Golf Info: Shuswap Tourism
Price: 6 nights / 5 rounds – USD$664 / CDN$865
View shuswap Golf Week Package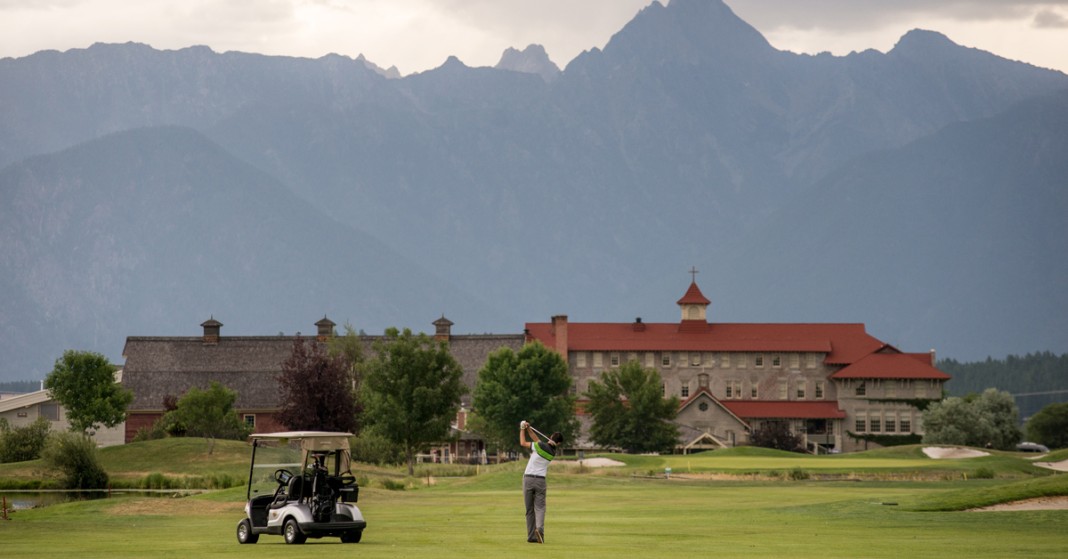 High altitude, low attitude... The Kootenay Rockies are well known for being laid back. The pace of life is slower, the people stop to talk to you on the street - perhaps even the course, and even your swing can take it down a notch. High altitude means you have to club down and watch your balls go further. It's true: your ball flies further in the mountains. A week of unforgettable mountain golf, plus extra-distance bragging rights on your tee shot. Are you in?  
Golf at: Bootleg Gap, Eagle Ranch, Greywolf, Shadow Mountain, St. Eugene, Trickle Creek.
Get there: Gateway airports are Calgary (YYC) (direct flights internationally and locally) and Cranbrook (Canadian Rockies International YXC) with direct flights from Vancouver and Calgary.
Insider tip: You know what goes well with well-used golfing muscles? Golf swings and hot springs. In the Kootenay Rockies you can't swing a club without running into one.
Regional Tourism & Golf Info: Golf Kimberley Cranbrook
Price: 7 nights / 6 rounds – From USD$1,195 / CDN$917
VIEW KOOTENAY ROCKIES GOLF TRAIL PACKAGE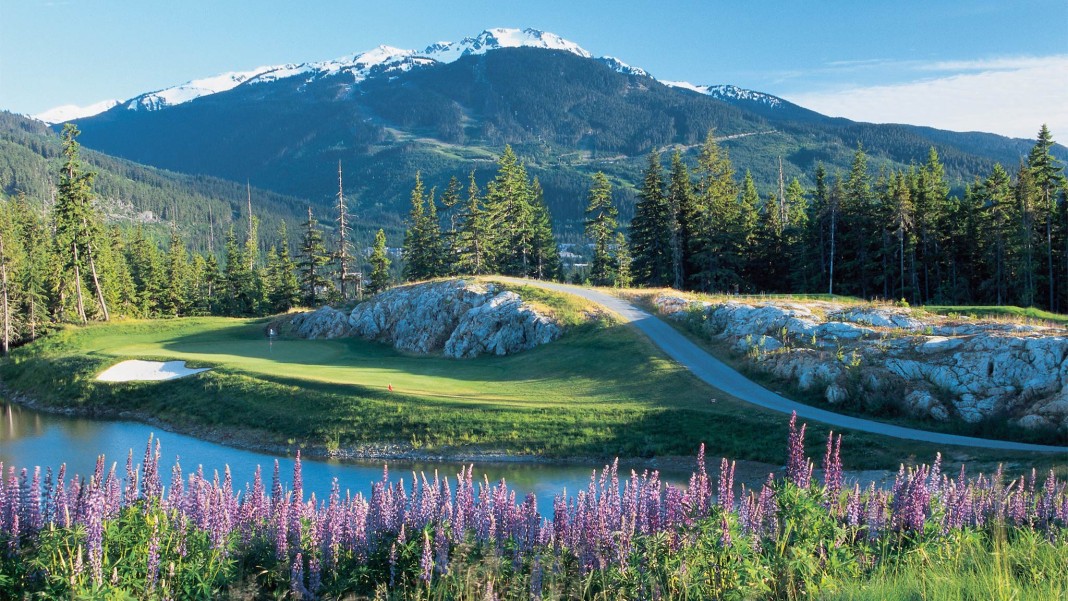 Whistler Golf Week
Take a drive along the scenic Sea-to-Sky highway as you head to Canada's top golf destination, complete with rugged Coast Mountain surroundings, world-famous golf course architects and a vibrant village atmosphere.  Experience the very best of BC golf with a week exploring exceptional golf along with outdoor cafes, world-class restaurants and thrilling off-course pursuits.

Golf at: Squamish Valley, Big Sky, Fairmont Chateau Whistler, Nicklaus North, Whistler Golf Club.

Get there: Arrive through Vancouver (YVR) and Victoria (YYJ) with direct flights from Calgary, Edmonton, Toronto, Seattle, SFO and beyond.

Insider tip: Keep an eye out for bears in the woods and on the fairways in Whistler! You can also take a bear viewing tour to find more (April/May & Sept/Oct).

Regional Tourism & Golf Info: Golf Whistler  

Price: 7 nights / 5 rounds – From USD $955 / CDN$1,245

view whistler golf week package

Of course, you're welcome to create your very own custom golf week to explore one or more of these top BC golf regions and add on your apres-golf activities as you see fit. Simply contact our golf travel experts to get started!  

*Please note all quoted USD prices are subject to exchange rate fluctuations. Package prices are current as of summer 2022.

{"dataset":[{"class":"Region","title":"Kamloops","image":"\/assets\/locale\/BCGMA_Kamloops_Sunrise2-2048x1152__FillMaxWzY0LDY0XQ.jpg"},{"class":"Region","title":"Kelowna","image":"\/assets\/locale\/BCGMA_Kelowna_Wine_Summerhill_1-2048x1152__FillMaxWzY0LDY0XQ.jpg"},{"class":"Region","title":"Kootenay Rockies","image":"\/assets\/region\/BCGMA_Fernie_KariMedig-2048x1152__FillMaxWzY0LDY0XQ.jpg"},{"class":"Region","title":"Northern BC","image":"\/assets\/region\/BCGMA_HirschCreek_2022_NBC_MartyClemen148234_web__FillMaxWzY0LDY0XQ.jpg"},{"class":"Region","title":"Shuswap","image":"\/assets\/region\/BCGMA_Shuswap_Sicamous_DarrenRobinson-ShuswapTourism_29336-2048x1152__FillMaxWzY0LDY0XQ.jpg"},{"class":"Region","title":"Vancouver","image":"\/assets\/locale\/BCGMA_Vancouver-Aerial-Albert-Normandin-2011-2048x1152__FillMaxWzY0LDY0XQ.jpg"},{"class":"Region","title":"Vancouver Island","image":"\/assets\/region\/BCGMA_VancouverIsland_Whale_Watching_3-2048x1152__FillMaxWzY0LDY0XQ.jpg"},{"class":"Region","title":"Vernon","image":"\/assets\/partners\/BCGMA_Predator-Ridge-Resort-from-Commonage-Colin-Jewell-2048x1152__FillMaxWzY0LDY0XQ.jpg"},{"class":"Region","title":"Whistler","image":"\/assets\/partners\/BCGMA_Fairmont_Chateau_Whistler_1-2048x1152__FillMaxWzY0LDY0XQ.jpg"},{"class":"Locale","title":"Chase","region":"Kamloops","image":null},{"class":"Locale","title":"Kamloops","region":"Kamloops","image":"\/assets\/locale\/BCGMA_Kamloops_Sunrise2-2048x1152__FillMaxWzY0LDY0XQ.jpg"},{"class":"Locale","title":"Kelowna","region":"Kelowna","image":"\/assets\/locale\/BCGMA_Kelowna_Wine_Summerhill_1-2048x1152__FillMaxWzY0LDY0XQ.jpg"},{"class":"Locale","title":"West Kelowna","region":"Kelowna","image":null},{"class":"Locale","title":"Columbia Valley Golf Trail","region":"Kootenay Rockies","image":null},{"class":"Locale","title":"Cranbrook","region":"Kootenay Rockies","image":null},{"class":"Locale","title":"Crawford Bay","region":"Kootenay Rockies","image":null},{"class":"Locale","title":"Fernie","region":"Kootenay Rockies","image":null},{"class":"Locale","title":"Golden","region":"Kootenay Rockies","image":null},{"class":"Locale","title":"Golf Kimberley Cranbrook","region":"Kootenay Rockies","image":null},{"class":"Locale","title":"Invermere","region":"Kootenay Rockies","image":null},{"class":"Locale","title":"Kimberley","region":"Kootenay Rockies","image":null},{"class":"Locale","title":"Panorama","region":"Kootenay Rockies","image":null},{"class":"Locale","title":"Revelstoke","region":"Kootenay Rockies","image":null},{"class":"Locale","title":"Kitimat","region":"Northern BC","image":null},{"class":"Locale","title":"Prince George","region":"Northern BC","image":null},{"class":"Locale","title":"Prince Rupert","region":"Northern BC","image":null},{"class":"Locale","title":"Smithers","region":"Northern BC","image":null},{"class":"Locale","title":"Terrace","region":"Northern BC","image":null},{"class":"Locale","title":"Blind Bay","region":"Shuswap","image":null},{"class":"Locale","title":"Chase","region":"Shuswap","image":null},{"class":"Locale","title":"Salmon Arm","region":"Shuswap","image":null},{"class":"Locale","title":"Sicamous","region":"Shuswap","image":null},{"class":"Locale","title":"Furry Creek","region":"Vancouver","image":null},{"class":"Locale","title":"Richmond","region":"Vancouver","image":null},{"class":"Locale","title":"Vancouver","region":"Vancouver","image":"\/assets\/locale\/BCGMA_Vancouver-Aerial-Albert-Normandin-2011-2048x1152__FillMaxWzY0LDY0XQ.jpg"},{"class":"Locale","title":"Campbell River","region":"Vancouver Island","image":null},{"class":"Locale","title":"Cobble Hill","region":"Vancouver Island","image":null},{"class":"Locale","title":"Courtenay","region":"Vancouver Island","image":null},{"class":"Locale","title":"Cowichan","region":"Vancouver Island","image":null},{"class":"Locale","title":"Duncan","region":"Vancouver Island","image":null},{"class":"Locale","title":"Langford","region":"Vancouver Island","image":null},{"class":"Locale","title":"Nanoose Bay","region":"Vancouver Island","image":null},{"class":"Locale","title":"Parksville","region":"Vancouver Island","image":null},{"class":"Locale","title":"Quadra Island","region":"Vancouver Island","image":null},{"class":"Locale","title":"Qualicum Beach","region":"Vancouver Island","image":null},{"class":"Locale","title":"Victoria","region":"Vancouver Island","image":"\/assets\/locale\/BCGMA_Victoria_TylerCave_TMC04991-2048x1152__FillMaxWzY0LDY0XQ.jpg"},{"class":"Locale","title":"Spallumcheen","region":"Vernon","image":null},{"class":"Locale","title":"Vernon","region":"Vernon","image":null},{"class":"Locale","title":"Furry Creek","region":"Whistler","image":null},{"class":"Locale","title":"Pemberton","region":"Whistler","image":null},{"class":"Locale","title":"Squamish","region":"Whistler","image":null},{"class":"Locale","title":"Whistler","region":"Whistler","image":"\/assets\/locale\/BCMGA_The-Crystal-Lodge-2048x1152__FillMaxWzY0LDY0XQ.jpg"},{"class":"Partner","title":"Bighorn Golf & Country Club","type":"Golf Course","region":"Kamloops","locale":["Kamloops"],"image":"\/assets\/partners\/BCGMA_Bighorn_Signature_2048x1152_new__FillMaxWzY0LDY0XQ.jpg"},{"class":"Partner","title":"Eaglepoint Golf Resort","type":"Golf Course","region":"Kamloops","locale":["Kamloops"],"image":"\/assets\/partners\/BCGMA_Eaglepoint_GolfKamloops_2018_JaredPutnam_0356-7-2048x1152__FillMaxWzY0LDY0XQ.jpg"},{"class":"Partner","title":"Kamloops Golf & Country Club","type":"Golf Course","region":"Kamloops","locale":["Kamloops"],"image":"\/assets\/partners\/BCGMA_KamloopsGolfCC_Hole9-2048x1152__FillMaxWzY0LDY0XQ.jpg"},{"class":"Partner","title":"Quaaout Lodge & Spa at Talking Rock Golf Resort","type":"Resort","region":"Kamloops","locale":["Chase"],"image":"\/assets\/BCGMA_QuaaoutTalkingRock_Lodge-entrance-full-moon-1531_2048x1152__FillMaxWzY0LDY0XQ.jpg"},{"class":"Partner","title":"Rivershore Estates & Golf Links","type":"Golf Course","region":"Kamloops","locale":["Kamloops"],"image":"\/assets\/partners\/BCGMA_RivershoreGolf_Rivershore-Golf-dji-MPutnam-0961_2020_GK_MaryPutnam-2048x1152__FillMaxWzY0LDY0XQ.jpg"},{"class":"Partner","title":"Sun Peaks Resort","type":"Resort","region":"Kamloops","locale":["Kamloops"],"image":"\/assets\/partners\/BCGMA_Sun_Peaks-Grand_Hotel-2048x1152__FillMaxWzY0LDY0XQ.jpg"},{"class":"Partner","title":"Talking Rock Golf Course","type":"Golf Course","region":"Kamloops","locale":["Chase"],"image":"\/assets\/BCGMA_TalkingRock_IMG12_2048x1152__FillMaxWzY0LDY0XQ.jpg"},{"class":"Partner","title":"The Dunes at Kamloops","type":"Golf Course","region":"Kamloops","locale":["Kamloops"],"image":"\/assets\/partners\/BCGMA_Dunes_NewParallel_0099-3-2048x1152__FillMaxWzY0LDY0XQ.jpg"},{"class":"Partner","title":"The Golf Course at Sun Peaks Resort","type":"Golf Course","region":"Kamloops","locale":["Kamloops","Sun Peaks"],"image":"\/assets\/partners\/BCGMA_Sun_Peaks_2020_Hole16-2048x1152__FillMaxWzY0LDY0XQ.jpg"},{"class":"Partner","title":"Tobiano Golf Course","type":"Golf Course","region":"Kamloops","locale":["Kamloops"],"image":"\/assets\/partners\/BCGMA_Tobiano_PJK_8975_2019_GK_PatrickKoenig-2048x1152_new__FillMaxWzY0LDY0XQ.jpg"},{"class":"Partner","title":"Black Mountain Golf Club","type":"Golf Course","region":"Kelowna","locale":["Kelowna"],"image":"\/assets\/Uploads\/2020\/05\/Golf-in-BC-Moment-Kelowna-Black-Mountain-1-Horizontal__FillMaxWzY0LDY0XQ.jpg"},{"class":"Partner","title":"Gallagher's Canyon Golf & CC","type":"Golf Course","region":"Kelowna","locale":["Kelowna"],"image":"\/assets\/partners\/BCGMA_GallaghersCanyon_Hole6b-2048x1152__FillMaxWzY0LDY0XQ.jpg"},{"class":"Partner","title":"Harvest Golf Club","type":"Golf Course","region":"Kelowna","locale":["Kelowna"],"image":"\/assets\/partners\/BCGMA_Harvest-Beauty_IMG_2349-01-2048x1152__FillMaxWzY0LDY0XQ.jpg"},{"class":"Partner","title":"Kelowna Golf & CC","type":"Golf Course","region":"Kelowna","locale":["Kelowna"],"image":"\/assets\/partners\/BCGMA_KelownaGCC_Hole5_Amen-Corner-2048x1152__FillMaxWzY0LDY0XQ.jpg"},{"class":"Partner","title":"Kelowna Springs Golf Club","type":"Golf Course","region":"Kelowna","locale":["Kelowna"],"image":"\/assets\/BCGMA_KelownaSpring_TourismKelowna_5__FillMaxWzY0LDY0XQ.jpg"},{"class":"Partner","title":"Michaelbrook Golf Course","type":"Golf Course","region":"Kelowna","locale":["Kelowna"],"image":"\/assets\/partners\/MichaelBrook-Golf-Course-Fairway_2048x1152__FillMaxWzY0LDY0XQ.jpg"},{"class":"Partner","title":"Mission Creek Golf Club","type":"Golf Course","region":"Kelowna","locale":["Kelowna"],"image":"\/assets\/partners\/Mission_Creek_Golf__FillMaxWzY0LDY0XQ.jpg"},{"class":"Partner","title":"Okanagan Golf Club - Bear Course","type":"Golf Course","region":"Kelowna","locale":["Kelowna"],"image":"\/assets\/partners\/BCGMA_Okanagan_Golf_Club_Bear_Course_-br_13-2048x1152__FillMaxWzY0LDY0XQ.jpg"},{"class":"Partner","title":"Okanagan Golf Club - Quail Course","type":"Golf Course","region":"Kelowna","locale":["Kelowna"],"image":"\/assets\/partners\/BCGMA_OkanaganGolfClub_Quail_hole2-2048x1152__FillMaxWzY0LDY0XQ.jpg"},{"class":"Partner","title":"Shadow Ridge Golf Club","type":"Golf Course","region":"Kelowna","locale":["Kelowna"],"image":"\/assets\/BCGMA_ShadowRidgeGolf_TV_9-1200x628__FillMaxWzY0LDY0XQ.jpg"},{"class":"Partner","title":"Shannon Lake Golf Club","type":"Golf Course","region":"Kelowna","locale":["Kelowna","West Kelowna"],"image":"\/assets\/Uploads\/2020\/02\/BCGMA-Shannon-Lake-1200x628-1__FillMaxWzY0LDY0XQ.jpg"},{"class":"Partner","title":"Sunset Ranch Golf & Country Club","type":"Golf Course","region":"Kelowna","locale":["Kelowna"],"image":"\/assets\/partners\/BCGMA_SunsetRanch_Hole3-2048x1152__FillMaxWzY0LDY0XQ.jpg"},{"class":"Partner","title":"The Pinnacle Course at Gallagher's Canyon","type":"Golf Course","region":"Kelowna","locale":["Kelowna"],"image":"\/assets\/partners\/BCGMA_GallaghersCanyon_Pinnacle_Hole3-2048x1152__FillMaxWzY0LDY0XQ.jpg"},{"class":"Partner","title":"Tower Ranch Golf & CC","type":"Golf Course","region":"Kelowna","locale":["Kelowna"],"image":"\/assets\/partners\/BCGMA_TowerRanch_1011_large-2048x1152__FillMaxWzY0LDY0XQ.jpg"},{"class":"Partner","title":"Two Eagles Golf Course & Academy","type":"Golf Course","region":"Kelowna","locale":["West Kelowna"],"image":"\/assets\/partners\/BCGMA_two_eagles-FB__FillMaxWzY0LDY0XQ.jpg"},{"class":"Partner","title":"Bootleg Gap Golf","type":"Golf Course","region":"Kootenay Rockies","locale":["Golf Kimberley Cranbrook","Kimberley"],"image":"\/assets\/partners\/BCGMA_Bootleg-Gap-02_2020_TK_Colby_Johannson-2048x1152__FillMaxWzY0LDY0XQ.jpg"},{"class":"Partner","title":"Copper Point Golf Club - The Point Course","type":"Golf Course","region":"Kootenay Rockies","locale":["Columbia Valley Golf Trail","Invermere"],"image":"\/assets\/partners\/BCGMA_CopperPoint_DBC-KeriMedig_4-3664_2048x1152__FillMaxWzY0LDY0XQ.jpg"},{"class":"Partner","title":"Copper Point Golf Club - The Ridge Course","type":"Golf Course","region":"Kootenay Rockies","locale":["Columbia Valley Golf Trail","Invermere"],"image":"\/assets\/BCGMA_CopperPoint_DBC-KeriMedig_4-3663_2048x1152__FillMaxWzY0LDY0XQ.jpg"},{"class":"Partner","title":"Cranbrook Golf Club","type":"Golf Course","region":"Kootenay Rockies","locale":["Cranbrook","Golf Kimberley Cranbrook"],"image":"\/assets\/BCGMA_Cranbrook-15_2020_TK_Colby_Johannson-2048x1152__FillMaxWzY0LDY0XQ.jpg"},{"class":"Partner","title":"Eagle Ranch Golf Course","type":"Golf Course","region":"Kootenay Rockies","locale":["Columbia Valley Golf Trail","Invermere"],"image":"\/assets\/partners\/BCGMA_Eagle-Ranch_4-3668-Credit-DBC_KeriMedig-2048x1152__FillMaxWzY0LDY0XQ.jpg"},{"class":"Partner","title":"Eagle Ranch Resort","type":"Resort","region":"Kootenay Rockies","locale":["Columbia Valley Golf Trail","Invermere"],"image":"\/assets\/BCGMA_CVGT_EagleRanch_18P2-2048x1152__FillMaxWzY0LDY0XQ.jpg"},{"class":"Partner","title":"Fairmont Hot Springs Golf Resort","type":"Resort","region":"Kootenay Rockies","locale":["Columbia Valley Golf Trail","Fairmont Hot Springs"],"image":"\/assets\/Uploads\/BCGMA_FairmontHotSprings_DBC-KariMedig-2048x1152__FillMaxWzY0LDY0XQ.jpg"},{"class":"Partner","title":"Fairmont Hot Springs Resort - Creekside","type":"Golf Course","region":"Kootenay Rockies","locale":["Columbia Valley Golf Trail","Fairmont Hot Springs"],"image":"\/assets\/partners\/BCGMA_Fairmont_Creekside-Golf-Course_2048x1152__FillMaxWzY0LDY0XQ.jpg"},{"class":"Partner","title":"Fairmont Hot Springs Resort - Mountainside","type":"Golf Course","region":"Kootenay Rockies","locale":["Columbia Valley Golf Trail","Fairmont Hot Springs"],"image":"\/assets\/BCGMA_Fairmont-Mountainside_DBC_KariMedig_4-3665-2048x1152__FillMaxWzY0LDY0XQ.jpg"},{"class":"Partner","title":"Fairmont Hot Springs Resort - Riverside","type":"Golf Course","region":"Kootenay Rockies","locale":["Columbia Valley Golf Trail","Fairmont Hot Springs"],"image":"\/assets\/partners\/BCGMA_Fairmont_Riverside3P-2048x1152-v2__FillMaxWzY0LDY0XQ.jpg"},{"class":"Partner","title":"Fernie Golf Club","type":"Golf Course","region":"Kootenay Rockies","locale":["Fernie"],"image":"\/assets\/partners\/BCGMA_Fernie_Clubhouse-2048x1152__FillMaxWzY0LDY0XQ.jpg"},{"class":"Partner","title":"Golden Golf Club","type":"Golf Course","region":"Kootenay Rockies","locale":["Golden"],"image":"\/assets\/partners\/BCGMA_Golden_BestImpressions_00655-2048x1152__FillMaxWzY0LDY0XQ.jpg"},{"class":"Partner","title":"Greywolf Golf Course","type":"Golf Course","region":"Kootenay Rockies","locale":["Columbia Valley Golf Trail","Panorama"],"image":"\/assets\/highlightscollections\/BCGMA_Greywolf_Hole6_2021_Andrew_Penner_3-greywolf-cliffhanger-from-forward-tee-2-2048x1152__FillMaxWzY0LDY0XQ.jpg"},{"class":"Partner","title":"Kokanee Springs Golf Course","type":"Golf Course","region":"Kootenay Rockies","locale":["Crawford Bay"],"image":"\/assets\/partners\/BCGMA_kokanee-springs-course-lake-drone_2048x1152__FillMaxWzY0LDY0XQ.jpg"},{"class":"Partner","title":"Kokanee Springs Resort","type":"Resort","region":"Kootenay Rockies","locale":["Crawford Bay"],"image":"\/assets\/mediacollections\/BCGMA_Kokanee_Springs_pond_4583_2048x1152__FillMaxWzY0LDY0XQ.jpg"},{"class":"Partner","title":"Purcell Golf","type":"Golf Course","region":"Kootenay Rockies","locale":["Golf Kimberley Cranbrook","Kimberley"],"image":"\/assets\/partners\/BCGMA_Kimberley-01_2020_TK_Colby_Johannson-2048x1152__FillMaxWzY0LDY0XQ.jpg"},{"class":"Partner","title":"Radium Golf Group - Radium Course","type":"Golf Course","region":"Kootenay Rockies","locale":["Columbia Valley Golf Trail","Radium Hot Springs"],"image":"\/assets\/partners\/BCGMA_Radium_RadiumCourse_1_2048x1152__FillMaxWzY0LDY0XQ.jpg"},{"class":"Partner","title":"Radium Golf Group - Springs Course","type":"Golf Course","region":"Kootenay Rockies","locale":["Columbia Valley Golf Trail","Radium Hot Springs"],"image":"\/assets\/partners\/BCGMA_Radium_SpringsCourse_17P_2048x1152__FillMaxWzY0LDY0XQ.jpg"},{"class":"Partner","title":"Revelstoke Golf Club","type":"Golf Course","region":"Kootenay Rockies","locale":["Revelstoke"],"image":"\/assets\/partners\/BCGMA_Revelstoke_Golf_SSP_REVELSTOKEGOLF_AERIAL_20160913_0173-Edit-2048x1152__FillMaxWzY0LDY0XQ.jpg"},{"class":"Partner","title":"Shadow Mountain Golf Course","type":"Golf Course","region":"Kootenay Rockies","locale":["Cranbrook","Golf Kimberley Cranbrook"],"image":"\/assets\/partners\/BCGMA_Shadow-Mountain-10_2020_TK_Colby_Johannson-2048x1152__FillMaxWzY0LDY0XQ.jpg"},{"class":"Partner","title":"Spur Valley Greens Golf Resort","type":"Golf Course","region":"Kootenay Rockies","locale":["Columbia Valley Golf Trail","Edgewater","Radium Hot Springs"],"image":"\/assets\/partners\/BCGMA_SpurValley_2048x1152__FillMaxWzY0LDY0XQ.jpg"},{"class":"Partner","title":"St. Eugene Golf Course","type":"Golf Course","region":"Kootenay Rockies","locale":["Cranbrook","Golf Kimberley Cranbrook"],"image":"\/assets\/BCGMA_St-Eugene-07_2020_TK_Colby_Johannson-2048x1152__FillMaxWzY0LDY0XQ.jpg"},{"class":"Partner","title":"St. Eugene Golf Resort & Casino","type":"Resort","region":"Kootenay Rockies","locale":["Cranbrook","Golf Kimberley Cranbrook"],"image":"\/assets\/BCGMA_St-Eugene-04_2020_TK_Colby_Johannson-2048x1152__FillMaxWzY0LDY0XQ.jpg"},{"class":"Partner","title":"Trickle Creek Golf Resort","type":"Golf Course","region":"Kootenay Rockies","locale":["Golf Kimberley Cranbrook","Kimberley"],"image":"\/assets\/partners\/BCGMA_Trickle-Creek-01_2020_TK_Colby_Johannson-2048x1152__FillMaxWzY0LDY0XQ.jpg"},{"class":"Partner","title":"Trickle Creek Lodge","type":"Resort","region":"Kootenay Rockies","locale":["Golf Kimberley Cranbrook","Kimberley"],"image":"\/assets\/Uploads\/2020\/06\/BCGMA-Images-Contest-KootRocks-TrickleCreekLodge-1200x628-1__FillMaxWzY0LDY0XQ.jpg"},{"class":"Partner","title":"Wildstone Golf Course","type":"Golf Course","region":"Kootenay Rockies","locale":["Cranbrook","Golf Kimberley Cranbrook"],"image":"\/assets\/partners\/BCGMA_Wildstone-13_2020_TK_Colby_Johannson-2048x1152__FillMaxWzY0LDY0XQ.jpg"},{"class":"Partner","title":"Windermere Valley Golf Course","type":"Golf Course","region":"Kootenay Rockies","locale":["Columbia Valley Golf Trail","Windermere"],"image":"\/assets\/partners\/BCGMA_Windermere_1-1030x425__FillMaxWzY0LDY0XQ.jpg"},{"class":"Partner","title":"Mara Hills Golf Resort","type":"Golf Course","region":"Shuswap","locale":["Sicamous"],"image":"\/assets\/partners\/BCGMA_Hyde_Mountain_18th_Green_Chris_Wheeler-Media-2048x1152__FillMaxWzY0LDY0XQ.jpg"},{"class":"Partner","title":"Quaaout Lodge & Spa at Talking Rock Golf Resort","type":"Resort","region":"Shuswap","locale":["Chase"],"image":"\/assets\/BCGMA_QuaaoutTalkingRock_Lodge-entrance-full-moon-1531_2048x1152__FillMaxWzY0LDY0XQ.jpg"},{"class":"Partner","title":"Salmon Arm Golf Club - Champions Course","type":"Golf Course","region":"Shuswap","locale":["Salmon Arm"],"image":"\/assets\/partners\/BCGMA_Salmon-Arm-Golf-Club_Hole-18_Chris-Wheeler-Media-2048x1152__FillMaxWzY0LDY0XQ.jpg"},{"class":"Partner","title":"Shuswap Lake Golf Course at Blind Bay","type":"Golf Course","region":"Shuswap","locale":["Blind Bay"],"image":"\/assets\/partners\/BCGMA_Shuswap-Lake-Estates-2-Chris-Wheeler-Media-2048x1152__FillMaxWzY0LDY0XQ.jpg"},{"class":"Partner","title":"Shuswap National","type":"Golf Course","region":"Shuswap","locale":["Salmon Arm"],"image":"\/assets\/partners\/BCGMA_Shuswap-National-Golf-Course-1-Chris-Wheeler-Media-2048x1152__FillMaxWzY0LDY0XQ.jpg"},{"class":"Partner","title":"Talking Rock Golf Course","type":"Golf Course","region":"Shuswap","locale":["Chase"],"image":"\/assets\/BCGMA_TalkingRock_IMG12_2048x1152__FillMaxWzY0LDY0XQ.jpg"},{"class":"Partner","title":"Mayfair Lakes Golf & CC","type":"Golf Course","region":"Vancouver","locale":["Richmond"],"image":"\/assets\/partners\/BCGMA_Mayfair-Lakes-Golf-Country-Club-Hole-9-18-2048x1152__FillMaxWzY0LDY0XQ.jpg"},{"class":"Partner","title":"Morgan Creek Golf Course","type":"Golf Course","region":"Vancouver","locale":["Surrey"],"image":"\/assets\/partners\/BCGMA_MorganCreek_aerial-2048x1152__FillMaxWzY0LDY0XQ.jpg"},{"class":"Partner","title":"Squamish Valley Golf Club","type":"Golf Course","region":"Vancouver","locale":["Squamish"],"image":"\/assets\/partners\/BCGMA_SquamishValley_FB-2048x1152__FillMaxWzY0LDY0XQ.jpg"},{"class":"Partner","title":"University Golf Club","type":"Golf Course","region":"Vancouver","locale":["Vancouver"],"image":"\/assets\/partners\/BCGMA_University-Golf-CLub-thirteen-feature-2048x1152__FillMaxWzY0LDY0XQ.jpg"},{"class":"Partner","title":"Arbutus Ridge Golf Club","type":"Golf Course","region":"Vancouver Island","locale":["Cobble Hill","Island - South"],"image":"\/assets\/partners\/BC_Golf_Arbutus_Ridge_Hole_18a-2048x1152__FillMaxWzY0LDY0XQ.jpg"},{"class":"Partner","title":"Bear Mountain Resort - Mountain Course","type":"Golf Course","region":"Vancouver Island","locale":["Island - South","Langford","Victoria"],"image":"\/assets\/partners\/BC_Golf_Bear_Mountain_Resort_Mtn_1809_M1-0032-2048x1152__FillMaxWzY0LDY0XQ.jpg"},{"class":"Partner","title":"Bear Mountain Resort - Valley Course","type":"Golf Course","region":"Vancouver Island","locale":["Island - South","Langford","Victoria"],"image":"\/assets\/partners\/BCGMA_Bear-Mountain-Golf-Resort-Valley_18_JoshStrukoff_0946-Hole8-2048x1152__FillMaxWzY0LDY0XQ.jpg"},{"class":"Partner","title":"Campbell River Golf & Country Club","type":"Golf Course","region":"Vancouver Island","locale":["Campbell River"],"image":"\/assets\/partners\/BCGMA_CRGCC_1909_DP_13-2048x1152__FillMaxWzY0LDY0XQ.jpg"},{"class":"Partner","title":"Cowichan Golf & Country Club","type":"Golf Course","region":"Vancouver Island","locale":["Cowichan","Duncan","Island - South"],"image":"\/assets\/partners\/BCGMA_Cowichan_DPalmer_6-2048x1152__FillMaxWzY0LDY0XQ.jpg"},{"class":"Partner","title":"Crown Isle Golf Resort","type":"Golf Course","region":"Vancouver Island","locale":["Courtenay"],"image":"\/assets\/partners\/BCGMA_CrownIsle_DPalmer_70-2048x1152__FillMaxWzY0LDY0XQ.jpg"},{"class":"Partner","title":"Crown Isle Resort & Golf Community","type":"Resort","region":"Vancouver Island","locale":["Courtenay"],"image":"\/assets\/partners\/BCGMA_CrownIsle_DPalmer_70-2048x1152__FillMaxWzY0LDY0XQ.jpg"},{"class":"Partner","title":"Fairwinds Golf Club","type":"Golf Course","region":"Vancouver Island","locale":["Island - Central","Nanoose Bay"],"image":"\/assets\/partners\/BCGMA_Fairwinds_DSC0536-2048x1152__FillMaxWzY0LDY0XQ.jpg"},{"class":"Partner","title":"Highland Pacific Golf","type":"Golf Course","region":"Vancouver Island","locale":["Island - South","Victoria"],"image":"\/assets\/partners\/BCGMA_Highland-Pacific-Higland-Nine-Lead-Image-2048x1152__FillMaxWzY0LDY0XQ.jpg"},{"class":"Partner","title":"Morningstar Golf Club","type":"Golf Course","region":"Vancouver Island","locale":["Island - Central","Parksville"],"image":"\/assets\/BCGMA_GVI_Morningstar_2021_DarrylPalmer_00022-2048x1152__FillMaxWzY0LDY0XQ.jpg"},{"class":"Partner","title":"Olympic View Golf Club","type":"Golf Course","region":"Vancouver Island","locale":["Island - South","Victoria"],"image":"\/assets\/partners\/BCGMA_OV_Hole17_AndrewPenner_4-2048x1152__FillMaxWzY0LDY0XQ.jpg"},{"class":"Partner","title":"Quadra Island Golf Club","type":"Golf Course","region":"Vancouver Island","locale":["Quadra Island"],"image":"\/assets\/partners\/BCGMA_QIGC_Aerial_M1_R00237-2048x1152__FillMaxWzY0LDY0XQ.jpg"},{"class":"Partner","title":"Storey Creek Golf Club","type":"Golf Course","region":"Vancouver Island","locale":["Campbell River"],"image":"\/assets\/partners\/BCGMA_StoreyCreek_1810_M1_0829-2048x1152__FillMaxWzY0LDY0XQ.jpg"},{"class":"Partner","title":"Predator Ridge Golf Resort","type":"Resort","region":"Vernon","locale":["Vernon"],"image":"\/assets\/partners\/BCGMA_Predator-Ridge-Resort-from-Commonage-Colin-Jewell-2048x1152__FillMaxWzY0LDY0XQ.jpg"},{"class":"Partner","title":"Predator Ridge Golf Resort - Predator Course","type":"Golf Course","region":"Vernon","locale":["Vernon"],"image":"\/assets\/partners\/BCGMA_PredatorRidge_Predator-PAN25_Valley-2048x1152-v2__FillMaxWzY0LDY0XQ.jpg"},{"class":"Partner","title":"Predator Ridge Golf Resort - Ridge Course","type":"Golf Course","region":"Vernon","locale":["Vernon"],"image":"\/assets\/partners\/BCGMA_Predator_Ridge_Pred-0330-RVD-2048x1152__FillMaxWzY0LDY0XQ.jpg"},{"class":"Partner","title":"Spallumcheen Golf & Country Club","type":"Golf Course","region":"Vernon","locale":["Spallumcheen","Vernon"],"image":"\/assets\/partners\/BCGMA_Spallumcheen_TorrieSilverthorn_2-2048x1152__FillMaxWzY0LDY0XQ.jpg"},{"class":"Partner","title":"The Rise","type":"Golf Course","region":"Vernon","locale":["Vernon"],"image":"\/assets\/BCGMA_TheRise_5738-2048x1152__FillMaxWzY0LDY0XQ.jpg"},{"class":"Partner","title":"Vernon Golf & Country Club","type":"Golf Course","region":"Vernon","locale":["Vernon"],"image":"\/assets\/partners\/BCGMA_VGCC_0P0A6266_2048x1152__FillMaxWzY0LDY0XQ.jpg"},{"class":"Partner","title":"Big Sky Golf Club","type":"Golf Course","region":"Whistler","locale":["Pemberton"],"image":"\/assets\/partners\/BC_Golf_BigSky-731-2048x1152__FillMaxWzY0LDY0XQ.jpg"},{"class":"Partner","title":"Fairmont Chateau Whistler Golf Club","type":"Golf Course","region":"Whistler","locale":["Whistler"],"image":"\/assets\/partners\/BCGMA_Fairmont_Chateau_Whistler_1-2048x1152__FillMaxWzY0LDY0XQ.jpg"},{"class":"Partner","title":"Fairmont Chateau Whistler Golf Resort","type":"Resort","region":"Whistler","locale":["Whistler"],"image":"\/assets\/partners\/BCGMA_Fairmont_Chateau_Whistler_Resort_Hi_CWR_24412888_CWR-275-2048x1152__FillMaxWzY0LDY0XQ.jpg"},{"class":"Partner","title":"Nicklaus North Golf Course","type":"Golf Course","region":"Whistler","locale":["Whistler"],"image":"\/assets\/partners\/BCGMA_Nicklaus_North_Golf_Course_Hole_12-2048x1152__FillMaxWzY0LDY0XQ.jpg"},{"class":"Partner","title":"Squamish Valley Golf Club","type":"Golf Course","region":"Whistler","locale":["Squamish"],"image":"\/assets\/partners\/BCGMA_SquamishValley_FB-2048x1152__FillMaxWzY0LDY0XQ.jpg"},{"class":"Partner","title":"Whistler Golf Club","type":"Golf Course","region":"Whistler","locale":["Whistler"],"image":"\/assets\/partners\/BCGMA_Whistler_Golf_Club_15-16-2048x1152__FillMaxWzY0LDY0XQ.jpg"},{"class":"Package","title":"Elite British Columbia Bucket List","price":"$3 PP","partners":["Bear Mountain Resort - Mountain Course","Big Sky Golf Club","Fairmont Chateau Whistler Golf Club","Nicklaus North Golf Course","Olympic View Golf Club","Predator Ridge Golf Resort - Ridge Course","Talking Rock Golf Course","Tobiano Golf Course"],"image":"\/assets\/partners\/BCGMA_Predator-Ridge-Resort-from-Commonage-Colin-Jewell-2048x1152__FillMaxWzY0LDY0XQ.jpg"},{"class":"Package","title":"Kamloops Golf Escape - 2 nights & 3 rounds","price":"$435 PP","partners":["Kamloops Golf & Country Club","Rivershore Estates & Golf Links","Talking Rock Golf Course","Tobiano Golf Course"],"image":"\/assets\/Uploads\/BCGMA_TalkingRock_Hole7_IMG_2848-2048x1152__FillMaxWzY0LDY0XQ.jpg"},{"class":"Package","title":"Kamloops Golf Getaway - 3 nights \/ 4 rounds","price":"$599 PP","partners":["Bighorn Golf & Country Club","Rivershore Estates & Golf Links","Talking Rock Golf Course","Tobiano Golf Course"],"image":"\/assets\/Uploads\/BCGMA_TOBIANO-5-2048x1152__FillMaxWzY0LDY0XQ.jpg"},{"class":"Package","title":"Kamloops Golf Special","price":"$399 PP","partners":["Bighorn Golf & Country Club","Rivershore Estates & Golf Links","The Dunes at Kamloops"],"image":"\/assets\/BCGMA-Images-Bighorn-Slider_1200x628__FillMaxWzY0LDY0XQ.jpg"},{"class":"Package","title":"Kamloops Golf Vacation - 4 nights \/ 5 rounds","price":"$1 PP","partners":["Bighorn Golf & Country Club","Rivershore Estates & Golf Links","The Dunes at Kamloops","Tobiano Golf Course"],"image":"\/assets\/Uploads\/BCGMA_TOBIANO-10-2048x1152__FillMaxWzY0LDY0XQ.jpg"},{"class":"Package","title":"Kamloops Golf Week - 7 nights \/ 6 rounds","price":"$1 PP","partners":["Bighorn Golf & Country Club","Eaglepoint Golf Resort","Kamloops Golf & Country Club","Rivershore Estates & Golf Links","Talking Rock Golf Course","The Dunes at Kamloops","Tobiano Golf Course"],"image":"\/assets\/Uploads\/BCGMA_Tobiano_NewParallel_2019-07-25-7992-2048x1152__FillMaxWzY0LDY0XQ.jpg"},{"class":"Package","title":"Thompson-Shuswap Golf Getaway","price":"$1 PP","partners":["Bighorn Golf & Country Club","Mara Hills Golf Resort","Salmon Arm Golf Club - Champions Course","Tobiano Golf Course"],"image":"\/assets\/BCGMA_TalkingRock_NewParallel_2018-09-18-4587-10_2048x1152__FillMaxWzY0LDY0XQ.jpg"},{"class":"Package","title":"Elite British Columbia Bucket List","price":"$3 PP","partners":["Bear Mountain Resort - Mountain Course","Big Sky Golf Club","Fairmont Chateau Whistler Golf Club","Nicklaus North Golf Course","Olympic View Golf Club","Predator Ridge Golf Resort - Ridge Course","Talking Rock Golf Course","Tobiano Golf Course"],"image":"\/assets\/partners\/BCGMA_Predator-Ridge-Resort-from-Commonage-Colin-Jewell-2048x1152__FillMaxWzY0LDY0XQ.jpg"},{"class":"Package","title":"Kelowna Best of the Valley Golf Getaway Special","price":"$1 PP","partners":["Gallagher's Canyon Golf & CC","Predator Ridge Golf Resort - Predator Course","Predator Ridge Golf Resort - Ridge Course","Tower Ranch Golf & CC"],"image":"\/assets\/partners\/BCGMA_TowerRanch_1011_large-2048x1152__FillMaxWzY0LDY0XQ.jpg"},{"class":"Package","title":"Kelowna Golf Getaway \u2013 3 Nights \/ 4 Rounds","price":"$1 PP","partners":["Gallagher's Canyon Golf & CC","Harvest Golf Club","Kelowna Golf & CC","Okanagan Golf Club - Bear Course","Okanagan Golf Club - Quail Course","Predator Ridge Golf Resort - Predator Course","Predator Ridge Golf Resort - Ridge Course","Tower Ranch Golf & CC"],"image":"\/assets\/partners\/BCGMA_Okanagan_Golf_Club_Bear_Course_-br_13-2048x1152__FillMaxWzY0LDY0XQ.jpg"},{"class":"Package","title":"Kelowna Golf Steal-Away Special","price":"$399 PP","partners":["Kelowna Springs Golf Club","Shannon Lake Golf Club","Sunset Ranch Golf & Country Club"],"image":"\/assets\/partners\/BCGMA_SunsetRanch_Hole3-2048x1152__FillMaxWzY0LDY0XQ.jpg"},{"class":"Package","title":"Kelowna Golf Weekend - 2 Nights \/ 3 Rounds","price":"$1 PP","partners":["Gallagher's Canyon Golf & CC","Harvest Golf Club","Kelowna Golf & CC","Okanagan Golf Club - Bear Course","Okanagan Golf Club - Quail Course","Predator Ridge Golf Resort - Predator Course","Predator Ridge Golf Resort - Ridge Course","Tower Ranch Golf & CC"],"image":"\/assets\/BCGMA_TowerRanch_tv_1_2048x1152__FillMaxWzY0LDY0XQ.jpg"},{"class":"Package","title":"Okanagan Golf Week \u2013 7 Nights \/ 6 Rounds","price":"$1 PP","partners":["Black Mountain Golf Club","Gallagher's Canyon Golf & CC","Harvest Golf Club","Okanagan Golf Club - Bear Course","Okanagan Golf Club - Quail Course","Predator Ridge Golf Resort - Predator Course","Predator Ridge Golf Resort - Ridge Course","Tower Ranch Golf & CC"],"image":"\/assets\/partners\/BCGMA_PredatorRidge_Predator-PAN25_Valley-2048x1152-v2__FillMaxWzY0LDY0XQ.jpg"},{"class":"Package","title":"Fairmont Hot Springs Golf Resort","price":"$449 PP","partners":["Fairmont Hot Springs Golf Resort","Fairmont Hot Springs Resort - Mountainside","Fairmont Hot Springs Resort - Riverside"],"image":"\/assets\/BCGMA_Fairmont-Mountainside_DBC_KariMedig_4-3665-2048x1152__FillMaxWzY0LDY0XQ.jpg"},{"class":"Package","title":"Golf Cranbrook ","price":"$459 PP","partners":["Purcell Golf","Shadow Mountain Golf Course","St. Eugene Golf Course","Trickle Creek Golf Resort"],"image":"\/assets\/partners\/BCGMA_Wildstone_0101-2048x1152-v2__FillMaxWzY0LDY0XQ.jpg"},{"class":"Package","title":"Invermere-Panorama Golf Getaway","price":"$499 PP","partners":["Copper Point Golf Club - The Point Course","Eagle Ranch Golf Course","Greywolf Golf Course"],"image":"\/assets\/partners\/BCGMA_Greywolf_Hole6_Pano2-2048x1152__FillMaxWzY0LDY0XQ.jpg"},{"class":"Package","title":"Kimberley Weekend Golf Special","price":"$385 PP","partners":["Bootleg Gap Golf","Purcell Golf","Trickle Creek Golf Resort","Trickle Creek Lodge"],"image":"\/assets\/partners\/BCGMA_Bootleg-Gap-02_2020_TK_Colby_Johannson-2048x1152__FillMaxWzY0LDY0XQ.jpg"},{"class":"Package","title":"Kootenay Rockies Golf Trail","price":"$1 PP","partners":["Bootleg Gap Golf","Eagle Ranch Golf Course","Greywolf Golf Course","Shadow Mountain Golf Course","Trickle Creek Golf Resort"],"image":"\/assets\/partners\/BCGMA_Eagle-Ranch_4-3668-Credit-DBC_KeriMedig-2048x1152__FillMaxWzY0LDY0XQ.jpg"},{"class":"Package","title":"St. Eugene Golf Resort Package","price":"$179 PP","partners":["St. Eugene Golf Course","St. Eugene Golf Resort & Casino"],"image":"\/assets\/partners\/BCGMA_StEugene_DBC_Credit_Kari-Medig-4-3651-2048x1152__FillMaxWzY0LDY0XQ.jpg"},{"class":"Package","title":"Trickle Creek Golf Resort Package","price":"$315 PP","partners":["Bootleg Gap Golf","Trickle Creek Golf Resort","Trickle Creek Lodge"],"image":"\/assets\/partners\/BCGMA_TrickleCreek_Hole12_Huxdotnet_8947-2048x1152__FillMaxWzY0LDY0XQ.jpg"},{"class":"Package","title":"Elite British Columbia Bucket List","price":"$3 PP","partners":["Bear Mountain Resort - Mountain Course","Big Sky Golf Club","Fairmont Chateau Whistler Golf Club","Nicklaus North Golf Course","Olympic View Golf Club","Predator Ridge Golf Resort - Ridge Course","Talking Rock Golf Course","Tobiano Golf Course"],"image":"\/assets\/partners\/BCGMA_Predator-Ridge-Resort-from-Commonage-Colin-Jewell-2048x1152__FillMaxWzY0LDY0XQ.jpg"},{"class":"Package","title":"Kamloops Golf Week - 7 nights \/ 6 rounds","price":"$1 PP","partners":["Bighorn Golf & Country Club","Eaglepoint Golf Resort","Kamloops Golf & Country Club","Rivershore Estates & Golf Links","Talking Rock Golf Course","The Dunes at Kamloops","Tobiano Golf Course"],"image":"\/assets\/Uploads\/BCGMA_Tobiano_NewParallel_2019-07-25-7992-2048x1152__FillMaxWzY0LDY0XQ.jpg"},{"class":"Package","title":"Shuswap Golf Week - 6 nights \/ 5 rounds","price":"$1 PP","partners":["Mara Hills Golf Resort","Salmon Arm Golf Club - Champions Course","Shuswap Lake Golf Course at Blind Bay","Shuswap National","Talking Rock Golf Course"],"image":"\/assets\/partners\/BCGMA_Hyde_Mountain_18th_Green_Chris_Wheeler-Media-2048x1152__FillMaxWzY0LDY0XQ.jpg"},{"class":"Package","title":"Shuswap Golf Weekend - 2 Nights \/ 3 Rounds","price":"$449 PP","partners":["Mara Hills Golf Resort","Salmon Arm Golf Club - Champions Course","Shuswap Lake Golf Course at Blind Bay","Shuswap National","Talking Rock Golf Course"],"image":"\/assets\/partners\/BCGMA_Salmon-Arm-Golf-Club_Hole-18_Chris-Wheeler-Media-2048x1152__FillMaxWzY0LDY0XQ.jpg"},{"class":"Package","title":"Thompson-Shuswap Golf Getaway","price":"$1 PP","partners":["Bighorn Golf & Country Club","Mara Hills Golf Resort","Salmon Arm Golf Club - Champions Course","Tobiano Golf Course"],"image":"\/assets\/BCGMA_TalkingRock_NewParallel_2018-09-18-4587-10_2048x1152__FillMaxWzY0LDY0XQ.jpg"},{"class":"Package","title":"Elite British Columbia Bucket List","price":"$3 PP","partners":["Bear Mountain Resort - Mountain Course","Big Sky Golf Club","Fairmont Chateau Whistler Golf Club","Nicklaus North Golf Course","Olympic View Golf Club","Predator Ridge Golf Resort - Ridge Course","Talking Rock Golf Course","Tobiano Golf Course"],"image":"\/assets\/partners\/BCGMA_Predator-Ridge-Resort-from-Commonage-Colin-Jewell-2048x1152__FillMaxWzY0LDY0XQ.jpg"},{"class":"Package","title":"Sea-To-Sky Golf Loop - Vancouver Victoria Whistler","price":"$1 PP","partners":["Big Sky Golf Club","Fairmont Chateau Whistler Golf Club","Highland Pacific Golf","Nicklaus North Golf Course","Olympic View Golf Club"],"image":"\/assets\/partners\/BCGMA_Fairmont_Chateau_Whistler_1-2048x1152__FillMaxWzY0LDY0XQ.jpg"},{"class":"Package","title":"Vancouver Luxury Golf Getaway","price":"$1 PP","partners":["Mayfair Lakes Golf & CC","Morgan Creek Golf Course","University Golf Club"],"image":"\/assets\/partners\/BCGMA_MorganCreek_aerial-2048x1152__FillMaxWzY0LDY0XQ.jpg"},{"class":"Package","title":"Bear Mountain Resort Golf Package","price":"$529 PP","partners":["Bear Mountain Resort - Mountain Course","Bear Mountain Resort - Valley Course"],"image":"\/assets\/partners\/BC_Golf_Bear_Mountain_Resort_Mtn_1809_M1-0032-2048x1152__FillMaxWzY0LDY0XQ.jpg"},{"class":"Package","title":"British Columbia Bucket List Golf Trip","price":"$3 PP","partners":["Bear Mountain Resort - Mountain Course","Big Sky Golf Club","Fairmont Chateau Whistler Golf Club","Gallagher's Canyon Golf & CC","Nicklaus North Golf Course","Olympic View Golf Club","Predator Ridge Golf Resort - Ridge Course","Talking Rock Golf Course","Tobiano Golf Course"],"image":"\/assets\/Uploads\/BCGMA_Talking-Rock_-15th-fescue-green-2048x1152__FillMaxWzY0LDY0XQ.jpg"},{"class":"Package","title":"Courtenay - Campbell River Golf Weekend Special","price":"$475 PP","partners":["Campbell River Golf & Country Club","Crown Isle Golf Resort","Storey Creek Golf Club"],"image":"\/assets\/partners\/BCGMA_CRGCC_1909_DP_13-2048x1152__FillMaxWzY0LDY0XQ.jpg"},{"class":"Package","title":"Cowichan Waterfront Golf Escape","price":"$325 PP","partners":["Arbutus Ridge Golf Club","Cowichan Golf & Country Club"],"image":"\/assets\/partners\/BC_Golf_Arbutus_Ridge_Hole_18a-2048x1152__FillMaxWzY0LDY0XQ.jpg"},{"class":"Package","title":"Crown Isle Golf Resort Package","price":"$199 PP","partners":["Crown Isle Golf Resort","Crown Isle Resort & Golf Community"],"image":"\/assets\/partners\/BCGMA_CrownIsle_DPalmer_70-2048x1152__FillMaxWzY0LDY0XQ.jpg"},{"class":"Package","title":"Elite British Columbia Bucket List","price":"$3 PP","partners":["Bear Mountain Resort - Mountain Course","Big Sky Golf Club","Fairmont Chateau Whistler Golf Club","Nicklaus North Golf Course","Olympic View Golf Club","Predator Ridge Golf Resort - Ridge Course","Talking Rock Golf Course","Tobiano Golf Course"],"image":"\/assets\/partners\/BCGMA_Predator-Ridge-Resort-from-Commonage-Colin-Jewell-2048x1152__FillMaxWzY0LDY0XQ.jpg"},{"class":"Package","title":"North \/ South Golf Resort Getaway 4 Nights \/ 4 Rounds","price":"$1 PP","partners":["Bear Mountain Resort - Mountain Course","Bear Mountain Resort - Valley Course","Crown Isle Golf Resort","Storey Creek Golf Club"],"image":"\/assets\/partners\/BCGMA_StoreyCreek_1810_M1_0829-2048x1152__FillMaxWzY0LDY0XQ.jpg"},{"class":"Package","title":"North Vancouver Island Golf and Fishing","price":"$629 PP","partners":["Campbell River Golf & Country Club","Crown Isle Golf Resort","Storey Creek Golf Club"],"image":"\/assets\/Uploads\/BCGMA_Painters-Lodge-2048x1152__FillMaxWzY0LDY0XQ.jpg"},{"class":"Package","title":"Parksville Beach and Golf Vacation - 2 Nights \/ 2 Rounds","price":"$399 PP","partners":["Fairwinds Golf Club","Morningstar Golf Club"],"image":"\/assets\/Uploads\/BCGMA_Fairwinds_Hole9Fall_086-2048x1152__FillMaxWzY0LDY0XQ.jpg"},{"class":"Package","title":"Sea-To-Sky Golf Loop - Vancouver Victoria Whistler","price":"$1 PP","partners":["Big Sky Golf Club","Fairmont Chateau Whistler Golf Club","Highland Pacific Golf","Nicklaus North Golf Course","Olympic View Golf Club"],"image":"\/assets\/partners\/BCGMA_Fairmont_Chateau_Whistler_1-2048x1152__FillMaxWzY0LDY0XQ.jpg"},{"class":"Package","title":"Vancouver - Whistler - Victoria Luxury Golf Loop Special","price":"$1 PP","partners":["Bear Mountain Resort - Mountain Course","Bear Mountain Resort - Valley Course","Big Sky Golf Club","Fairmont Chateau Whistler Golf Club","Nicklaus North Golf Course"],"image":"\/assets\/partners\/BCGMA_Bear-Mountain-Golf-Resort-Valley_18_JoshStrukoff_0946-Hole8-2048x1152__FillMaxWzY0LDY0XQ.jpg"},{"class":"Package","title":"Vancouver Island Golf Trail","price":"$1 PP","partners":["Crown Isle Golf Resort","Fairwinds Golf Club","Highland Pacific Golf","Morningstar Golf Club","Olympic View Golf Club","Storey Creek Golf Club"],"image":"\/assets\/partners\/BCGMA_Fairwinds_DSC0536-2048x1152__FillMaxWzY0LDY0XQ.jpg"},{"class":"Package","title":"Vancouver Island Golf Trail - The Suite Life Special","price":"$1 PP","partners":["Bear Mountain Resort - Valley Course","Crown Isle Golf Resort","Fairwinds Golf Club","Morningstar Golf Club","Olympic View Golf Club","Storey Creek Golf Club"],"image":"\/assets\/partners\/BCGMA_BMR_Resort_Property_M1_0010-2048x1152__FillMaxWzY0LDY0XQ.jpg"},{"class":"Package","title":"Victoria Golf Getaway","price":"$499 PP","partners":["Bear Mountain Resort - Valley Course","Highland Pacific Golf","Olympic View Golf Club"],"image":"\/assets\/partners\/BCGMA_Highland-Pacific-Higland-Nine-Lead-Image-2048x1152__FillMaxWzY0LDY0XQ.jpg"},{"class":"Package","title":"Victoria Golf Week","price":"$1 PP","partners":["Arbutus Ridge Golf Club","Bear Mountain Resort - Mountain Course","Bear Mountain Resort - Valley Course","Highland Pacific Golf","Olympic View Golf Club"],"image":"\/assets\/partners\/BC_Golf_Bear_Mountain_Resort_Mtn_1809_M1-0032-2048x1152__FillMaxWzY0LDY0XQ.jpg"},{"class":"Package","title":"Victoria Luxury Golf Weekend","price":"$1 PP","partners":["Bear Mountain Resort - Mountain Course","Bear Mountain Resort - Valley Course","Highland Pacific Golf","Olympic View Golf Club"],"image":"\/assets\/partners\/BCGMA_OV_Hole17_AndrewPenner_4-2048x1152__FillMaxWzY0LDY0XQ.jpg"},{"class":"Package","title":"Kelowna Best of the Valley Golf Getaway Special","price":"$1 PP","partners":["Gallagher's Canyon Golf & CC","Predator Ridge Golf Resort - Predator Course","Predator Ridge Golf Resort - Ridge Course","Tower Ranch Golf & CC"],"image":"\/assets\/partners\/BCGMA_TowerRanch_1011_large-2048x1152__FillMaxWzY0LDY0XQ.jpg"},{"class":"Package","title":"Okanagan Golf Week \u2013 7 Nights \/ 6 Rounds","price":"$1 PP","partners":["Black Mountain Golf Club","Gallagher's Canyon Golf & CC","Harvest Golf Club","Okanagan Golf Club - Bear Course","Okanagan Golf Club - Quail Course","Predator Ridge Golf Resort - Predator Course","Predator Ridge Golf Resort - Ridge Course","Tower Ranch Golf & CC"],"image":"\/assets\/partners\/BCGMA_PredatorRidge_Predator-PAN25_Valley-2048x1152-v2__FillMaxWzY0LDY0XQ.jpg"},{"class":"Package","title":"Vernon Golf Super Steal - 2 Nights \/ 2 Rounds","price":"$375 PP","partners":["Spallumcheen Golf & Country Club","Vernon Golf & Country Club"],"image":"\/assets\/partners\/BCGMA_Spallumcheen_TorrieSilverthorn_2-2048x1152__FillMaxWzY0LDY0XQ.jpg"},{"class":"Package","title":"Vernon Golf Vacation - 4 Nights \/ 5 Rounds","price":"$1 PP","partners":["Predator Ridge Golf Resort - Predator Course","Predator Ridge Golf Resort - Ridge Course","Spallumcheen Golf & Country Club","The Rise","Vernon Golf & Country Club"],"image":"\/assets\/partners\/BCGMA_PredatorRidge_Predator-PAN25_Valley-2048x1152__FillMaxWzY0LDY0XQ.jpg"},{"class":"Package","title":"Vernon Golf Weekend - 2 Nights \/ 3 Rounds","price":"$495 PP","partners":["Predator Ridge Golf Resort - Predator Course","Predator Ridge Golf Resort - Ridge Course","Vernon Golf & Country Club"],"image":"\/assets\/partners\/BCGMA_Predator-Ridge-Resort-from-Commonage-Colin-Jewell-2048x1152__FillMaxWzY0LDY0XQ.jpg"},{"class":"Package","title":"British Columbia Bucket List Golf Trip","price":"$3 PP","partners":["Bear Mountain Resort - Mountain Course","Big Sky Golf Club","Fairmont Chateau Whistler Golf Club","Gallagher's Canyon Golf & CC","Nicklaus North Golf Course","Olympic View Golf Club","Predator Ridge Golf Resort - Ridge Course","Talking Rock Golf Course","Tobiano Golf Course"],"image":"\/assets\/Uploads\/BCGMA_Talking-Rock_-15th-fescue-green-2048x1152__FillMaxWzY0LDY0XQ.jpg"},{"class":"Package","title":"Elite British Columbia Bucket List","price":"$3 PP","partners":["Bear Mountain Resort - Mountain Course","Big Sky Golf Club","Fairmont Chateau Whistler Golf Club","Nicklaus North Golf Course","Olympic View Golf Club","Predator Ridge Golf Resort - Ridge Course","Talking Rock Golf Course","Tobiano Golf Course"],"image":"\/assets\/partners\/BCGMA_Predator-Ridge-Resort-from-Commonage-Colin-Jewell-2048x1152__FillMaxWzY0LDY0XQ.jpg"},{"class":"Package","title":"Fairmont Chateau Whistler Golf Resort Package","price":"$725 PP","partners":["Fairmont Chateau Whistler Golf Club","Fairmont Chateau Whistler Golf Resort","Nicklaus North Golf Course"],"image":"\/assets\/partners\/BCGMA_Fairmont_Chateau_Whistler_Resort_Hi_CWR_24412888_CWR-275-2048x1152__FillMaxWzY0LDY0XQ.jpg"},{"class":"Package","title":"Sea-To-Sky Golf Loop - Vancouver Victoria Whistler","price":"$1 PP","partners":["Big Sky Golf Club","Fairmont Chateau Whistler Golf Club","Highland Pacific Golf","Nicklaus North Golf Course","Olympic View Golf Club"],"image":"\/assets\/partners\/BCGMA_Fairmont_Chateau_Whistler_1-2048x1152__FillMaxWzY0LDY0XQ.jpg"},{"class":"Package","title":"Vancouver - Whistler - Victoria Luxury Golf Loop Special","price":"$1 PP","partners":["Bear Mountain Resort - Mountain Course","Bear Mountain Resort - Valley Course","Big Sky Golf Club","Fairmont Chateau Whistler Golf Club","Nicklaus North Golf Course"],"image":"\/assets\/partners\/BCGMA_Bear-Mountain-Golf-Resort-Valley_18_JoshStrukoff_0946-Hole8-2048x1152__FillMaxWzY0LDY0XQ.jpg"},{"class":"Package","title":"Whistler Golf Escape - 2 Nights \/ 3 Rounds","price":"$1 PP","partners":["Big Sky Golf Club","Fairmont Chateau Whistler Golf Club","Nicklaus North Golf Course","Whistler Golf Club"],"image":"\/assets\/partners\/BCGMA_Nicklaus_North_Golf_Course_Hole_12-2048x1152__FillMaxWzY0LDY0XQ.jpg"},{"class":"Package","title":"Whistler Golf Getaway - 3 Nights \/ 4 Rounds","price":"$1 PP","partners":["Big Sky Golf Club","Fairmont Chateau Whistler Golf Club","Nicklaus North Golf Course","Whistler Golf Club"],"image":"\/assets\/BCGMA_FCW_3-2048x1152__FillMaxWzY0LDY0XQ.jpg"},{"class":"Package","title":"Whistler Golf Vacation Special - 5 nights \/ 4 rounds","price":"$1 PP","partners":["Big Sky Golf Club","Fairmont Chateau Whistler Golf Club","Fairmont Chateau Whistler Golf Resort","Nicklaus North Golf Course","Whistler Golf Club"],"image":"\/assets\/partners\/BCGMA_Whistler_Golf_Club_15-16-2048x1152__FillMaxWzY0LDY0XQ.jpg"},{"class":"Package","title":"Whistler Golf Week Special - 7 nights \/ 5 rounds","price":"$1 PP","partners":["Big Sky Golf Club","Fairmont Chateau Whistler Golf Club","Nicklaus North Golf Course","Squamish Valley Golf Club","Whistler Golf Club"],"image":"\/assets\/partners\/BC_Golf_BigSky-731-2048x1152__FillMaxWzY0LDY0XQ.jpg"}]}