Golf courses around British Columbia are dedicated to growing the number of players trying out this great sport and one of the areas seeing a lot of development is the women golfer category. To encourage women to try golf for the first time, or to return to a sport they haven't played in years, golf clubs throughout the province are creating fun, engaging and educational programs that get women onto the fairways, including enticements with BC wines, tasty meals and of course, great company. We've compiled a few of the many ladies-only golf programs available throughout British Columbia that are great for both locals and visiting golfers...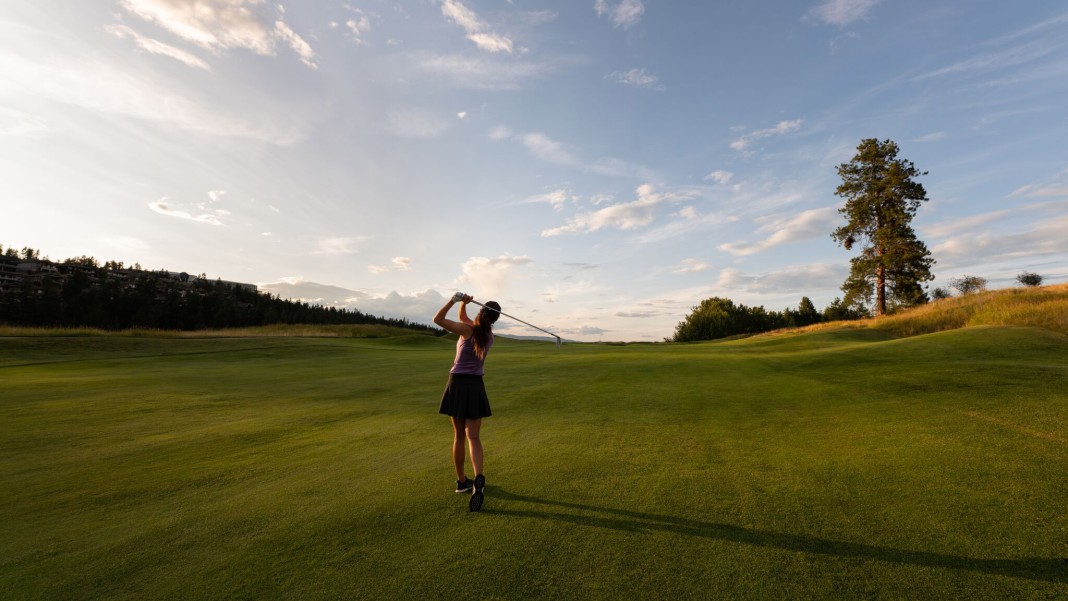 Region: Vernon
The Academy at Predator Ridge offers Swing Like A Girl instruction for every level of female golfer. Offering female-only clinics and 1-day camps taught by Kyla Inaba, a PGA of Canada CFM, Titleist Performance Institute (TPI) Certified Instructor and Mackenzie Barrie, former touring professional and experienced Swing Like a Girl instructor.
Region: Vancouver Island
A ladies-only coaching program designed for those that are new to golf or want to take a few introductory lessons to brush up their game. PGA Professional and Golf Academy at Olympic View Instructor, Alanna Deegan, will guide students through four 1-hour sessions incorporating irons, woods, putting, and chipping.
Ladies Lessons - Nicklaus North Golf Course
Region: Whistler
Spend your summer in Whistler as you learn to master the game of golf. Combine 4x1 hour lessons with complimentary practice facility access with use of TaylorMade rental clubs. Add on practice in the Cabin for just $10 (plus club rental) or two sunset green fees for a fabulous way to get out and put your practice to good use!
Region: Vancouver Island
This weekly clinic is a great introduction for women who are new to the game, each evening includes a 1.5-hour clinic and range balls, facilitated by a PGA of Canada instructor.
Region: Vancouver Island
A fun environment for women to begin golf or hone their skills. This 3-week program covers all aspects of golf fundamentals. After each hour-long session participants will convene in Creekside Grill and have a glass of wine.
Region: Shuswap
Offering beginner and intermediate 1-day ladies' golf camps to learn individual skill development in a fun group setting with a full day of instruction, lunch, and 9-holes of play accompanied by a coach.
Region: Vancouver
In a comfortable and social atmosphere, you will learn a sport that you can play for a lifetime. Whether you are a beginner who needs to learn the basics or a veteran who wants to meet new golf partners, check out this golf program located at their lovely golf course in Surrey, BC. Morgan Creek also offers a Ladies' Golf & Breakfast Club and Ladies' Golf & Lunch.
Region: Kelowna
Offering 9 clinics, each includes three 60-minute group lessons, one 90-minute on-course coaching lesson, rental clubs, a final lesson followed by dinner and glass of wine plus a complimentary 9-hole round for a future date!
Region: Kootenay Rockies
Each session begins with a lesson on the range followed by 9 holes of golf with a cart, let by LPGA instructor Shelley Thomsen.
Region: Whistler
Offering beginner, intermediate, and advanced options, the ladies-only golf lessons at Whistler Golf Club provide a social evening of instruction, focusing on the fundamentals of golf, including grip, posture, and alignment, basics in swing principles, putting, chipping, and etiquette for beginners, and fine-tuning the fundamentals for intermediate golfers to get you ready to hit the links with confidence. Ladies interested in lowering their scores through more individual teaching and analysis plus video analysis and individual swing correction are encouraged to sign up for the advanced classes.
Need More Information?
The above is only a sampling of the programs available. Are you coming to British Columbia for a golf holiday and want to incorporate a ladies-only golf program into your travel itinerary? Our full-service Reservations team will do the research for you and find the right destination and program to fit your needs and goals. Simply request a quote to get started.
This article was originally posted in 2014 and was last updated June 2022.