Although the four stellar Whistler golf courses of Big Sky, Fairmont Chateau Whistler, Nicklaus North and Whistler Golf Club (all named on top Canadian golf course lists) will undoubtedly keep you busy on a Whistler golf trip, there's so much more to see and do in Whistler, from craft beer tastings to outdoor adventure, dining, shopping, culture and more. We invite you to come and explore beautiful Whistler for yourself.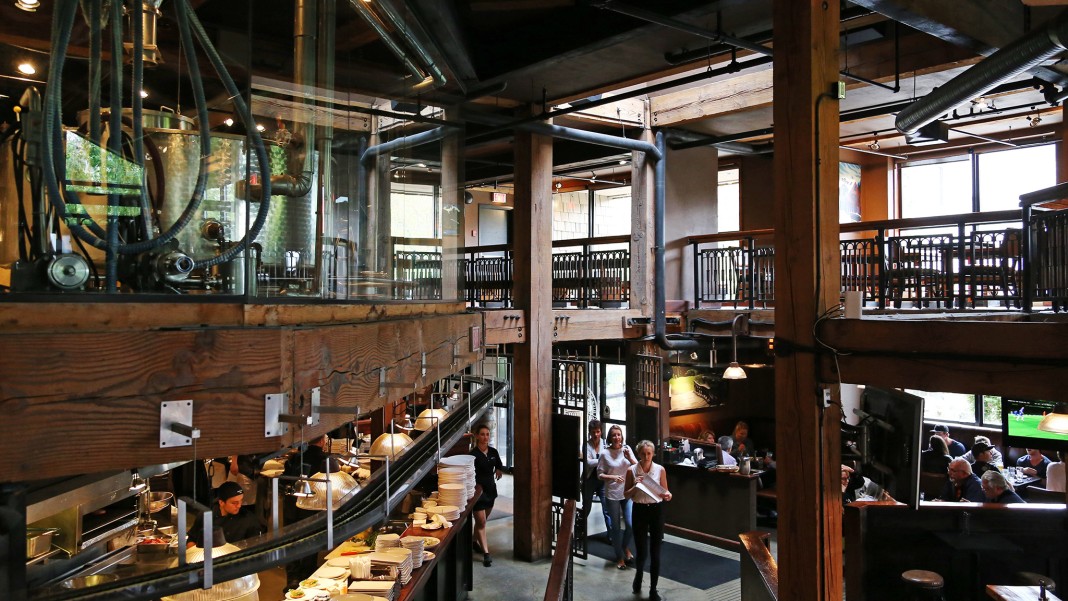 Craft Brews
Wet your whistle after a day of playing some of Canada's top golf courses at one (or more!) of these Whistler breweries:
We'd be remiss if we didn't also mention nearby Pemberton Brewing - an ideal stop for refreshment after a round at Big Sky Golf Club, or to cap off a day exploring local biking and hiking trails. This small craft brewery is located in the Pemberton Industrial Park with a comfortable tasting room where you can check out everything going on at the brewery and taste the beers.
Want more information on breweries in Whistler? Check out the Insiders' Guide: Craft Beer Breweries in Whistler.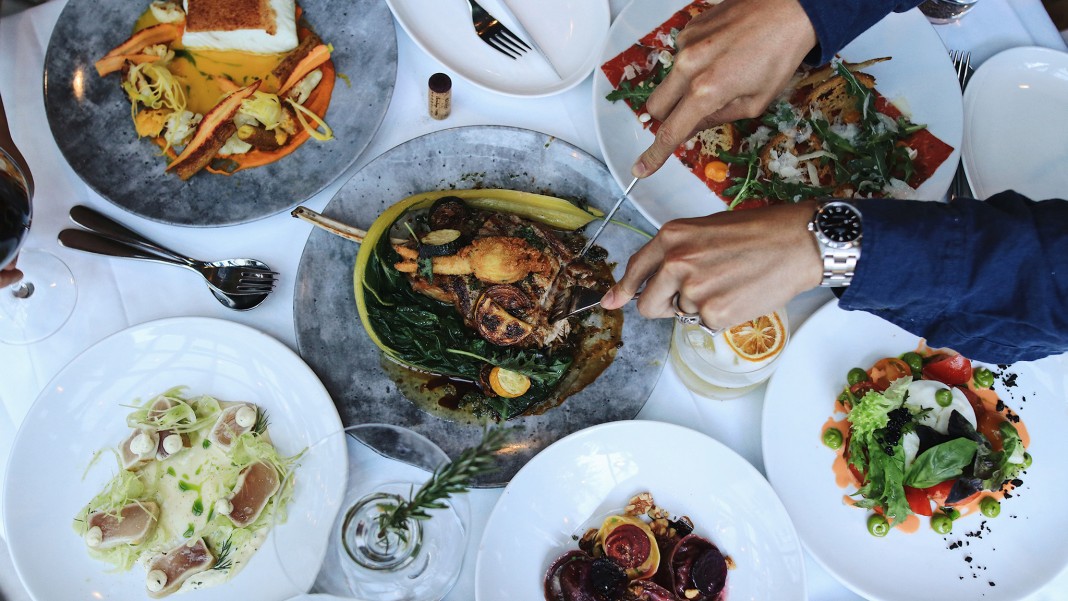 Exceptional Dining Options
Whistler's dining options are world-renowned and range from patio pub fare to world-class, award-winning fine dining. Check out whistler.com for a full list of options, divided into categories for an easy selection, or consider this list of favourites cultivated from online sources:
If you would prefer to dine greenside, consider Table Nineteen Lakeside Eatery at Nicklaus North, The Fairmont Chateau Whistler Clubhouse, Fescues Restaurant at Big Sky Golf in Pemberton, and Palmers Gallery Bar & Grill at Whistler Golf Club is open to golfers playing on the same day.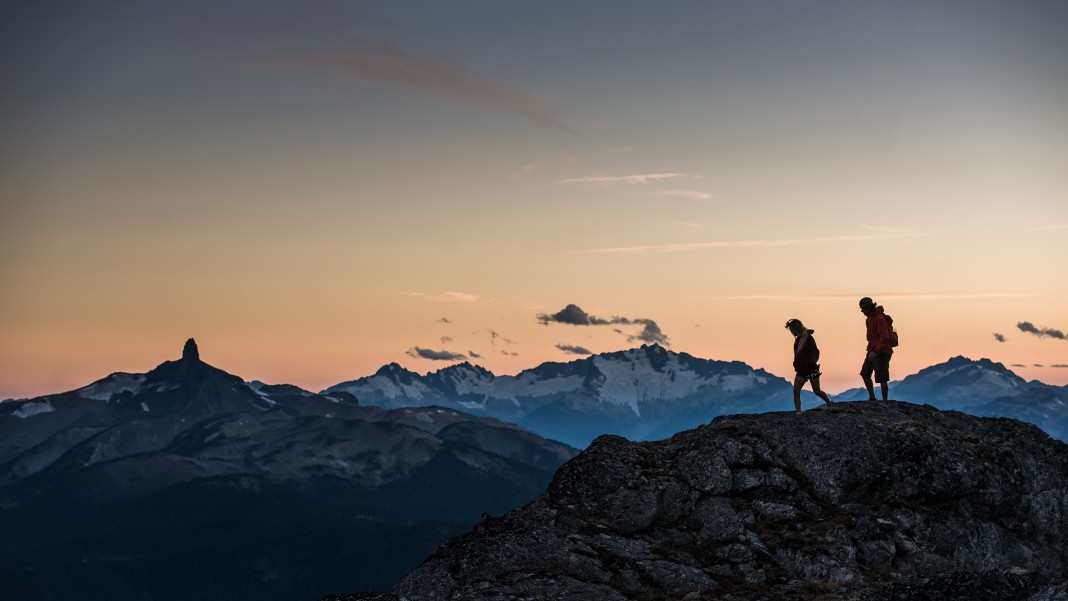 Adventure Pairings
There's probably no other place in the province that offers such a broad range of outdoor adventures options, including:
Hike, Bike, or Paddle
Explore local trails, including alpine hiking on Whistler and Blackcomb Mountains, or stick to flatter paths in the valley. Biking trails throughout the area offer a range of options, including the Whistler Mountain Bike Park, cross-country trails, or paved trails perfect for exploration by bike or e-bike. With Pemberton about 32 km away, a leisurely cycle or road bike trek could be just the ticket for an afternoon of enjoying the scenery.
Green Lake, adjacent to Nicklaus North, is also a popular spot on warm days where you can relax in the sun. Nearby Alta lake is the spot to rent and launch canoes, kayaks and stand-up paddleboards for water adventures. You can continue exploring the valley by taking the River of Golden Dreams that runs from Alta Lake to Green Lake, however, it's recommended to have a vehicle at your destination to return to where you started.
Find rentals for trails and lakes here.
Insider tip: Check out the Whistler Train Wreck Hike featuring relocated box cars from a 1956 wreck that are now a slightly spooky, graffiti art installation amongst the cedar forest.
Ski or Snowboard, in Summer too!
Horstman Glacier on Blackcomb Mountain is open from early June to mid-July (weather permitting) for adventurer-seekers looking for incredible summer conditions combined with soft snow and blue skies.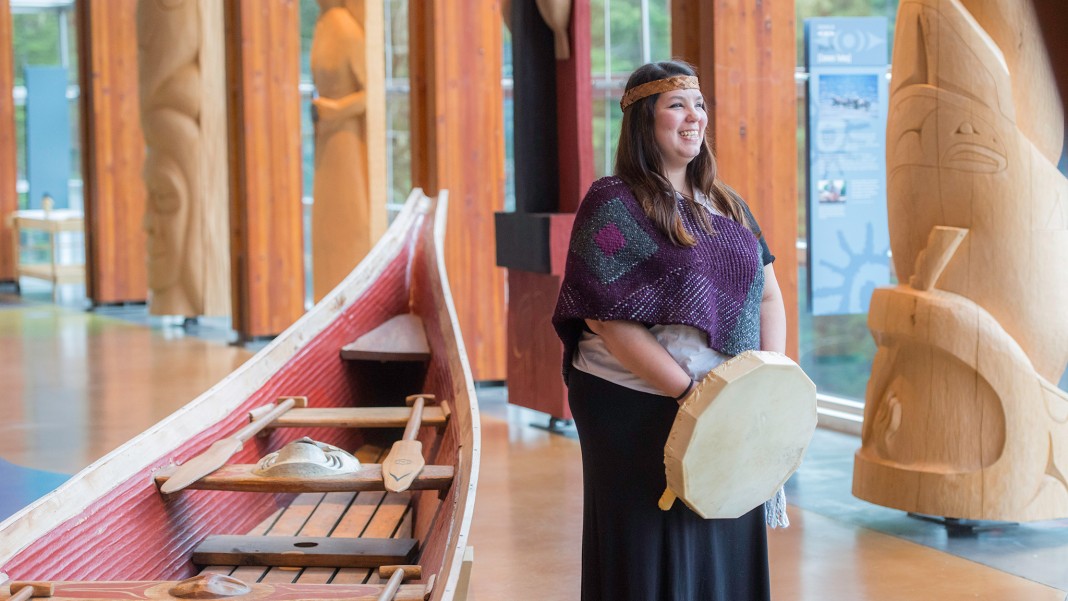 Arts & Culture
Whistler offers a vibrant arts and culture scene - including film festivals, culinary events, galleries, local art and tours. Browse self-guided tours through Whistler's Go Whistler Tours app for a range of tours, including the Cultural Connector that follows a pathway between six cultural institutions and uncovers the stories that enrich Whistler's culture.
The Squamish Lil'wat Cultural Centre (SLCC) is highly recommended as a stop while staying in Whistler. Two nations worked together to celebrate and share their cultures while creating employment opportunities for members of the Sk̲wxwú7mesh Úxwumixw (Squamish Nation, Coast Salish) and Líl̓wat7ul (Lil'wat Nation, Interior Salish) Nations. The SLCC embodies the spirit of partnership between two unique Nations who wish to preserve, grow, and share their traditional cultures with exhibits, live demonstrations, an outdoor Lil'wat Istken (earthen dwelling), Squamish Longhouse, and an interpretive forest walk.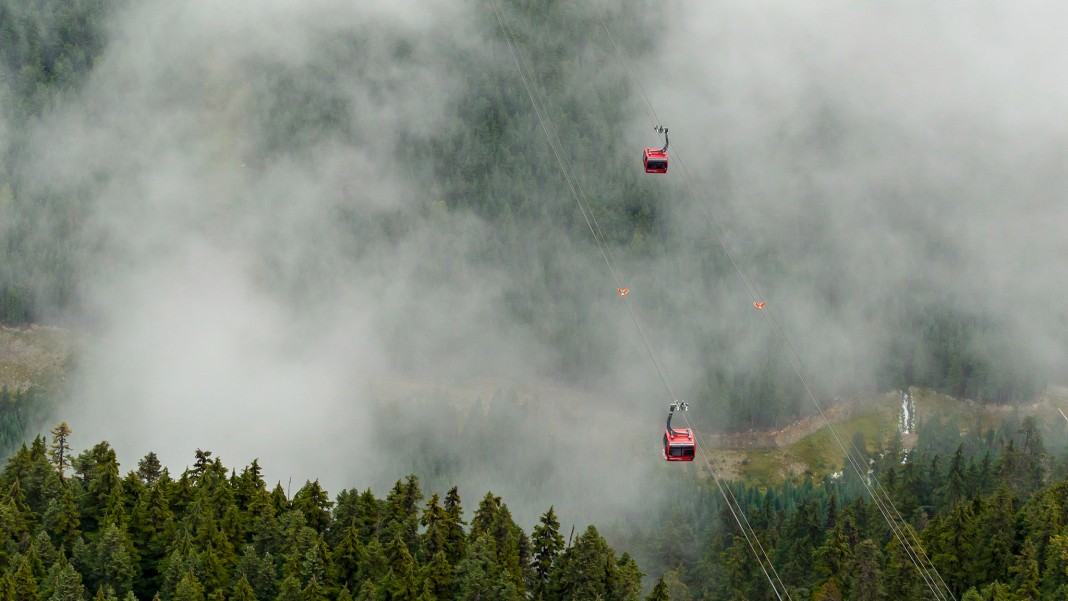 Adrenaline Thrills
The PEAK 2 PEAK 360 Experience reopens in late May. Take the gondola up the mountain for stunning 360-degree views of Whistler Village, mountain peaks, lakes, glaciers and forests and access 50+km of hiking trails.
Fly through the forest on an exhilarating high wire adventure with a Whistler Zipline Tours as you glide over creeks and through majestic old-growth trees, learning about Whistler's ecology and wildlife.

Experience the ultimate 19th hole at the top of Mt. Currie with a heli-golf experience above Big Sky Golf Club. Tee off from BC's highest tee with eco-friendly golf balls while taking in expansive views of the Pemberton Valley.
Whistler Floatplane Tours are considered one of the area's most spectacular activities, providing guests with a bird's eye view of the surrounding mountain ranges, glaciers, valleys, rivers and lakes, with the option to enjoy a picnic lunch on a crystal clear alpine lake. Tours are available daily from May to October.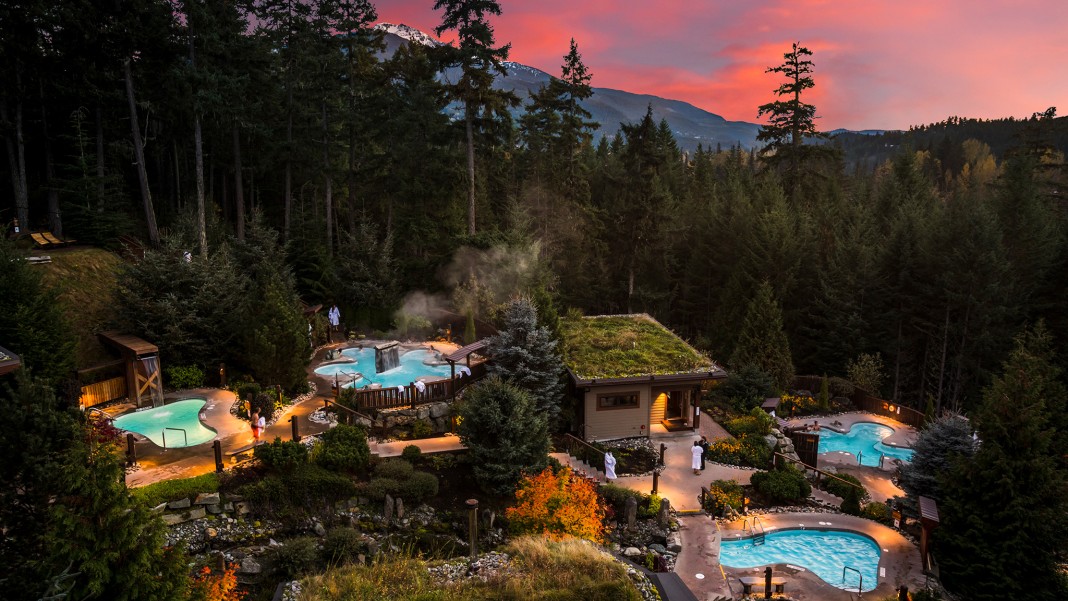 Relax and Recharge
While you're welcome to stay busy during a golf vacation to Whistler, feel free to plan some downtime too!
Scandinave Spa is Whistler's Nature Spa, combining rustic elegance with majestic scenery in a calm, quiet environment. Try the unique experience of age-old Finnish tradition of soaking in soothing outdoor baths, and consider adding a massage to rejuvenate tired muscles.
Indulge in some retail therapy by strolling through Whistler Village and the shops, where you'll find local artwork and fashion, jewellery, sportswear and equipment, luxury items and gifts for the family.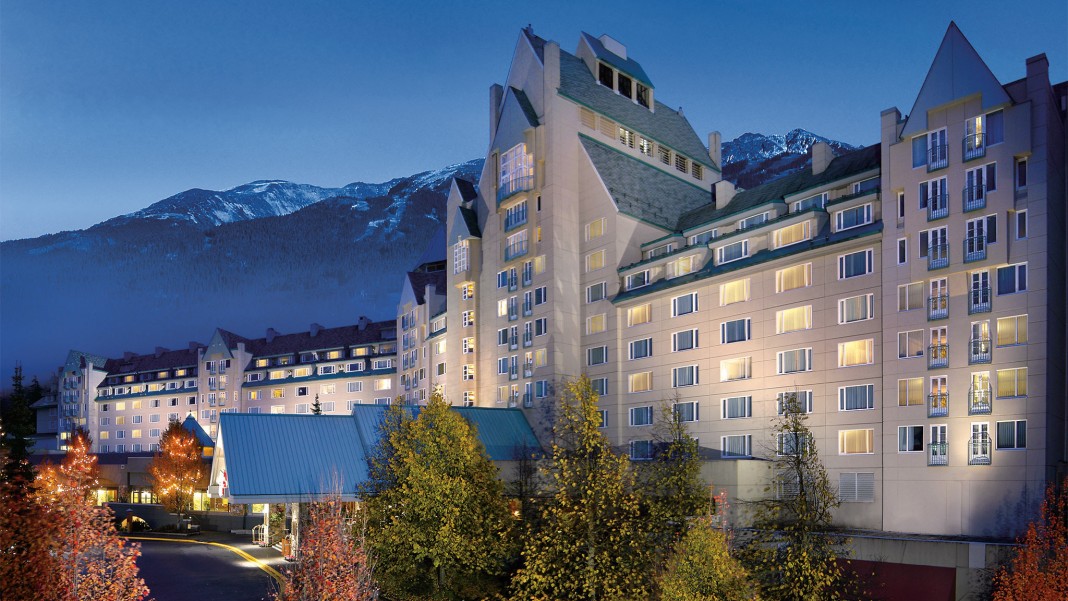 Where to Stay in Whistler BC
Spectacular Fairmont Chateau Whistler combines classic elegance and a modern alpine setting, exceptional dining and full resort amenities including a par 72, 18-hole Audubon-certified championship golf course. Select from 519 rooms with mountain or village views located at the base of Blackcomb Mountain.
Crystal Lodge embodies the soul of Whistler with warm welcomes, award-winning service, and a cozy mountain lodge feel. Spacious guestrooms range from single guest rooms to loft suites and a three-bedroom penthouse, and the lodge offers a heated outdoor pool and hot tub, and an unbeatable location.
The Westin Resort and Spa offers guests heavenly beds and is conveniently located near the Whistler Mountain Bike Park and the driving range of the Whistler Golf Club.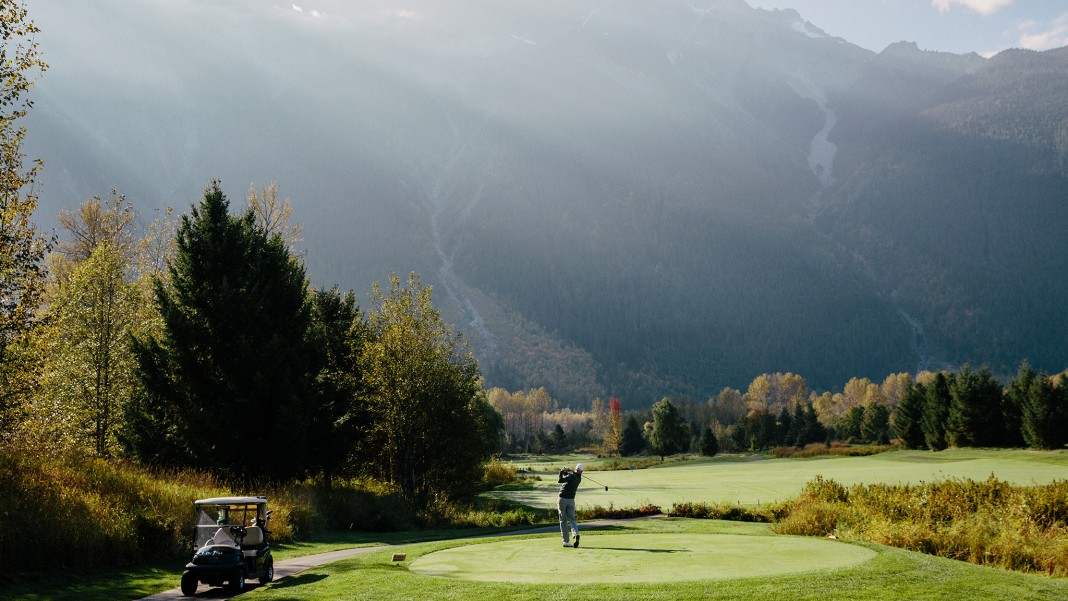 Don't Forget to Golf!
With so much on offer in Whistler, we don't want to forget the 4 incredible area golf courses - all of which are featured on SCOREGolf's Top 59 Public Golf Courses in Canada:
Golfers lucky enough to play here will have the opportunity to revel in the golf course's challenging par threes and unique bunkering, enjoying scenic golf holes along the shores of Green Lake.
Whistler Golf Club: Adjacent to Whistler Village, play the first course Arnold Palmer chose to design in Canada, complete with nine lakes, two winding creeks, rich rolling greens and dramatic views of Whistler and Blackcomb mountains and occasional bears wandering the fairways.
Fairmont Chateau Whistler: Experience North America's #1 Golf Resort (2019) and play the Robert Trent Jones design that climbs from the level of the hotel to a benchland on the side of Blackcomb Mountain 400ft up. While you catch your breath (literally and figuratively), take in views of the surrounding mountains and Whistler Valley.
Big Sky Golf Club: Located a short drive north of Whistler, take in this somewhat hidden gem set against spectacular Mt. Currie rising 8,450 feet above the fairways and marvel at Robert Cupp's design of bent grass from tee to green.
Check out another 10 Reasons to Tee Off in Whistler this Summer, view Whistler golf packages or get in touch with our golf travel experts for assistance creating your custom golf itinerary to stay and play in beautiful Whistler BC!