Home to over 40 golf courses and just a short ferry ride from the British Columbia mainland, Vancouver Island golf courses feature a vast array of golfing options. Your golf visit can take you from oceanside to mountainside, through fertile valleys and scenic vistas, as well as offering the chance to spend time in one of Western Canada's oldest and most scenic cities. Along the 250-kilometre (155-mile) Vancouver Island Golf Trail, running from Victoria to Campbell River, try your hand at 11 featured golf courses and keep your head up to enjoy these signature golf holes from each of the four regions as you travel north on the Vancouver Island Golf Trail: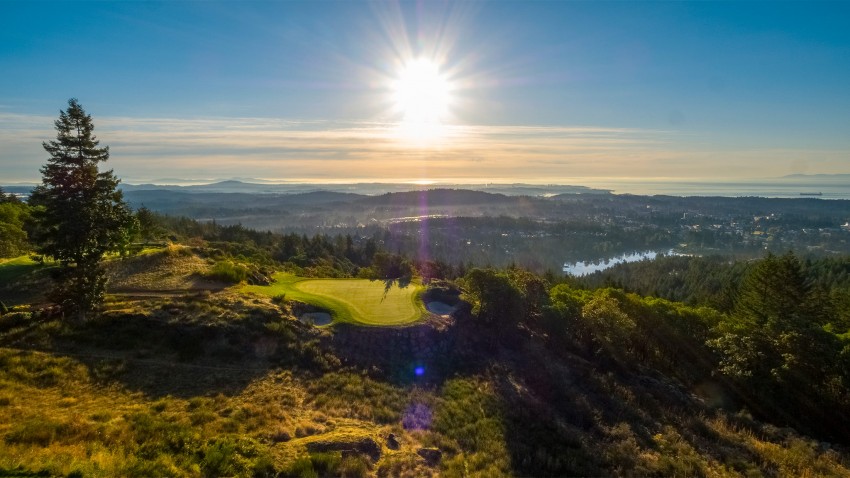 Bear Mountain - Mountain #14
Formerly known as the 19th hole, this gem on Bear Mountain Resort's Mountain Course was added by Jack Nicklaus himself, to capture the breathtaking views of the Strait of Juan de Fuca, the Olympic Mountains and the vibrant city of Victoria below. After re-routing the Mountain Course in 2014, this short but challenging par three is now Hole #14 and should be at the top of your Victoria golf bucket list.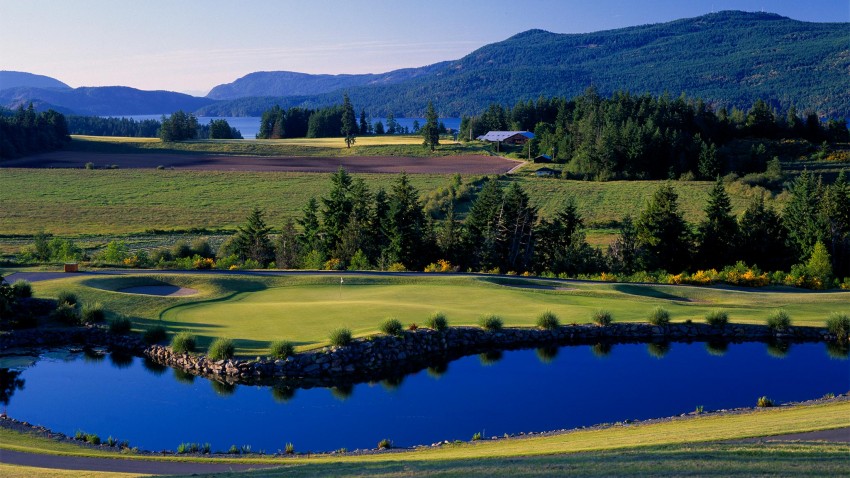 Arbutus Ridge #17
Try not to be intimidated by water on three sides of the green on Arbutus Ridge's signature Hole #17 - the peninsula green is actually quite generous. Avoid going out-of-bounds to the right, and shorter hitters should consider laying up. Although crosswinds can present an issue on this golf course, Hole 17 typically doesn't run into problems, but golfers should take heed just in case.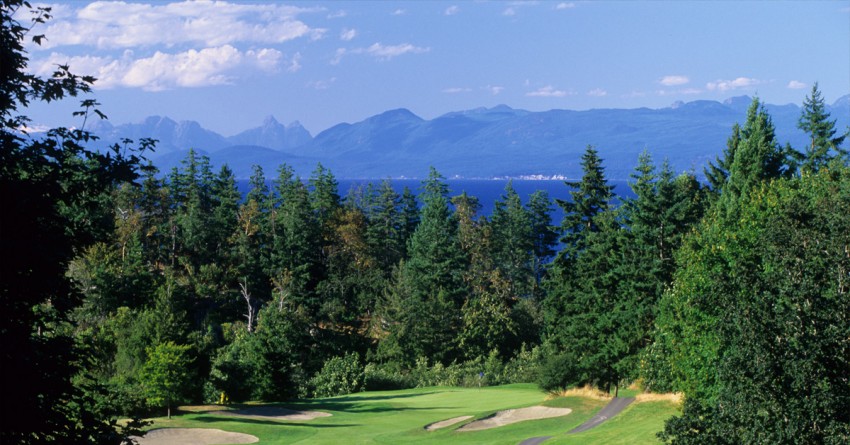 Fairwinds #16
This downhill Par 4 starts from an elevated tee box offering spectacular views of the water behind the green. Aim for a 220-yard tee shot to leave a 100-yard wedge to get on the green. With a pond on the left of the green and out of bounds on the right, aim true to achieve par on this scenic and challenging hole.
Storey Creek #17
Hole #17 at Storey Creek is known as the tournament breaker. With a moat running in front of the green your tee shot to this par 3 green is all carry. Be sure to read this multi-tiered, back-to-front sloping green several times to avoid a three-putt and be careful not to get too aggressive. A wise golfer will test the wind before choosing a club.
PLAY THE REST OF VANCOUVER ISLAND'S SIGNATURE GOLF HOLES:
Travelling from South to North, Olympic View #17 Highland Pacific - Pacific #8 Bear Mountain - Valley #3 Arbutus Ridge #10 Cowichan #10 Morningstar #12 Crown Isle #5 Campbell River #5 Quadra Island #9 So what do you think of our choices for Signature Golf Holes on Vancouver Island? Get in on the conversation on our social media channels and let us know:



Find a full list of Vancouver Island golf courses to peruse locations, architects, and details, or start planning your Vancouver Island golf vacation by browsing popular packages.