When one thinks of Kimberley, BC - images of a quaint Bavarian-themed town and great skiing immediately come to mind. Avid golfers may add Trickle Creek to that list. Now add two more golf courses, a fabulous mountainside hotel, hot tubs and some great restaurants and you have the makings of a fabulous mountain golf getaway! Bikers and hikers will also be thrilled to tackle Kimberley's nearby trails.
Trickle Creek Lodge is the perfect "home base" for the weekend - offering beautiful post and beam construction, spacious suites with kitchenettes, daily breakfast in the lobby, an outdoor pool, hot tubs, fitness center, hiking trails right outside your door, pet-friendly accommodation, barbeques, Montana's Cookhouse Restaurant and a convenient location only minutes to Trickle Creek Golf Course. Having long heard people boast of Trickle Creek Golf Course, our expectations were high and we were eager to play. Trickle Creek did not disappoint!
The Les Furber course was incredibly designed, impeccably manicured and each hole secluded, ie. just you and the golf course. We concur with others in voting Hole #11, a fantastic par 3 with incredible bunkering to be played from its elevated tee, as Trickle Creek's signature hole. Hole #17 though will always be memorable in our minds though as my sixteen-year-old son sunk a 30-foot putt for birdie on a very tricky green to bring him back to even for the round! He then parred the last hole to par Trickle Creek on his first time ever playing it. I too shot my handicap only him shooting his on such a spectacular golf course was so much prettier to watch! Superb service was the icing on our Trickle Creek cake as we were greeted on the 18th green by a jovial Aussie who cleaned our clubs, invited us to the Clubhouse and wished us a great day. A truly fabulous finish to a great day at Trickle Creek Golf Course!
'Tis a great Trickle Creek story, only to be challenged the next day at Bootleg Gap, with a story of its own. While hopeful to meet General Manager Trevor Simkins while in the area, it turns out he was getting married on the mountain top that day. Instead, we learned of Bootleg Gap's story from long-time employee, Candy. Candy beamed as she proudly toured us around 'her track' to the signature 12th hole - again an elevated par 3 of which Les Furber had done a fabulous job! The 12th tee box also offered the best views of Puddingburn Mountain on the left, Bootleg Mountain on the right and St. Mary's Gap between them where bootleggers competed to control the Whiskey trade into Canada from Montana. Great stories and great golf continue at the third of the Kimberley trio, Purcell Golf. A group of miners designed and established the former Kimberley Golf Club as a nine-hole golf course in 1924 and Norman Woods brought the back nine to life in 1982.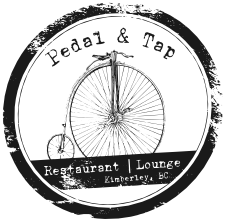 Apres golf in Kimberley is best enjoyed on the trails, in the hot tubs and in the fabulous restaurants! Montana's Cookhouse chicken and ribs paired with local micro beer were perfect on the night of arrival only a pitching wedge from our room. Kimberley's famous Platzl was calling our name the second night, where we enjoyed fabulous fare at the Pedal & Tap! 'Twas a 45-minute wait to get in, but so worth going! Cheers to kickin' it up on a great weekend golf getaway to Kimberley!
Explore Kootenay Rockies Golf Packages