Peaceful lake views, towering trees and endless greens and blues herald the Shuswap golf region, where days can start with a long drive off the first tee and end on a houseboat or at a quaint lakeside cabin. Featuring over 1500km of shoreline, finding a beach to relax on, or a place to cast a line is easy - deciding to go home is the more difficult task.
Discover your next golf vacation adventure with a host of hidden gems and some major players in the Shuswap golf region:
Mara Hills Golf Resort
Salmon Arm Golf Club – Champions Course
Shuswap Lake Golf Course at Blind Bay
Shuswap National
Talking Rock Golf Course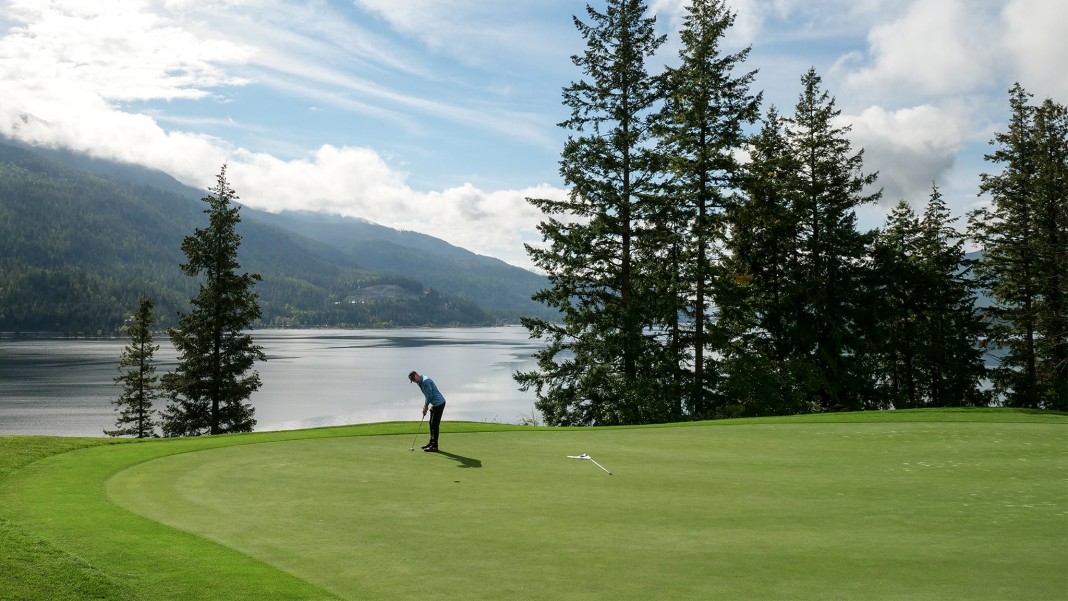 Mara Hills Golf Resort
Enjoy the unique experience of docking your houseboat and taking a free shuttle up to Mara Hills Golf Resort (formerly Hyde Mountain), where you'll discover a challenging golf course that will have you using every golf club in your bag. Wind through lush evergreens, meander across ravines and stop to appreciate the natural beauty of this Les Furber-designed course. Stay for lunch or dinner on the patio overlooking Mara Lake before you head back lakeside or hit the road to discover more exceptional Shuswap golf and après-golf adventures. Just a few kilometres north of the golf course, stop in at Crazy Creek Suspension Bridge and take a gentle hike up to the two-stage waterfalls, or visit their hot pools for a soak after your round. If you're feeling a thirst, the After Dark Distillery in Sicamous offers tours and tastings of their small-batch, handcrafted moonshine and other spirits.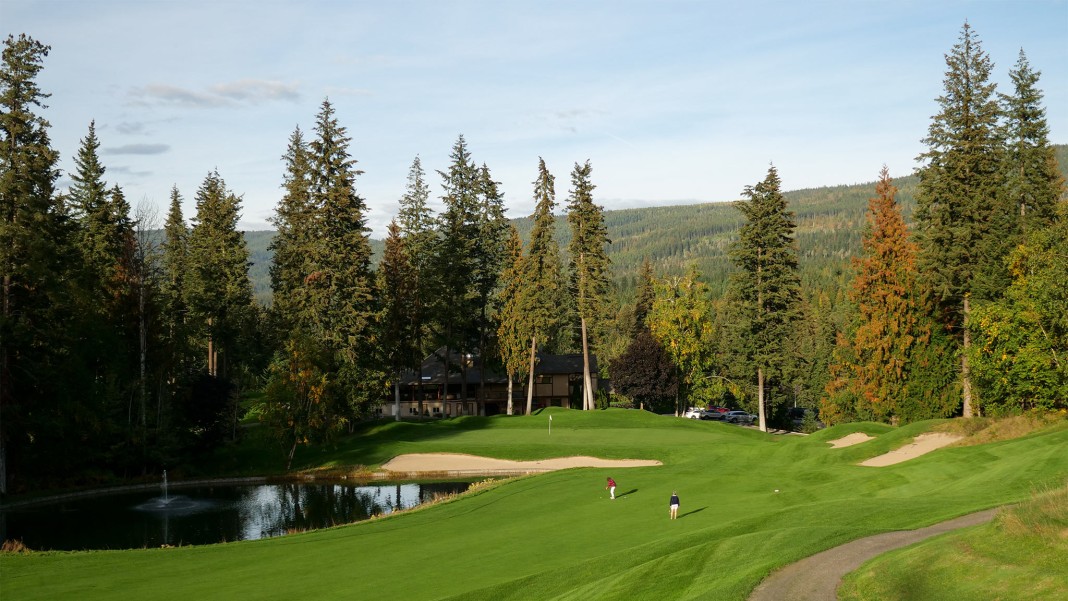 Salmon Arm Golf Club - Champion's Course
Enjoy the meticulous terrain of a classic Les Furber design at the Salmon Arm Golf Club, just minutes from town. Breath in fresh, pine-scented air as you navigate strategic bunkers and water hazards amongst stately cedars, pines and fir trees. After your round, head to Salmon Arm for boutique shopping, farm-to-table fresh food, or stop in at Smugglers Cove, Salmon Arms' eccentric furniture and antique store to discover a new piece for your home as a memento of your golf trip. Lake lovers might be interested instead in a fishing tour with Bucktail Adventures, where they can take in a half-day fishing tour for a chance to catch Trout, Char, Kokanee and Chinook salmon.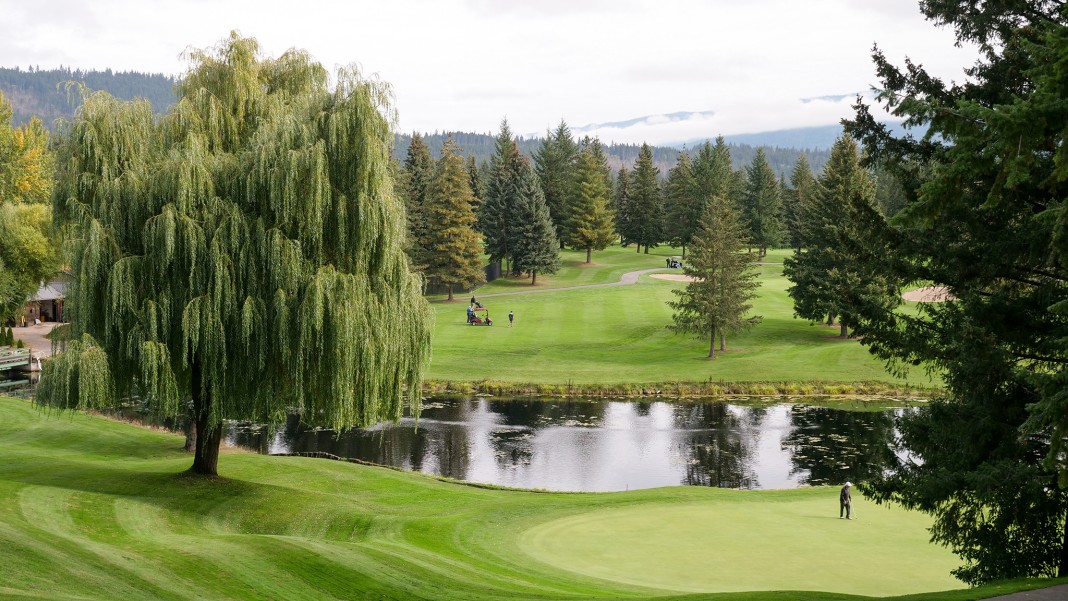 Shuswap Lake Golf Course at Blind Bay
The relaxed atmosphere at Shuswap Lake Golf Course at Blind Bay still offers a challenge to all levels of golfer, just minutes from Shuswap Lake's two most popular beaches. Take in a round complete with undulating greens and four beautiful lakes with three sets of tees to choose from for an enjoyable golf experience. Just up the road is access to the Trans-Canada Highway which can take you on to your next destination, or head to Crannóg Ales in Sorrento - Canada's first Certified Organic farmhouse microbrewery and a stop on the Triang-ale Trail portion of the BC Ale Trail.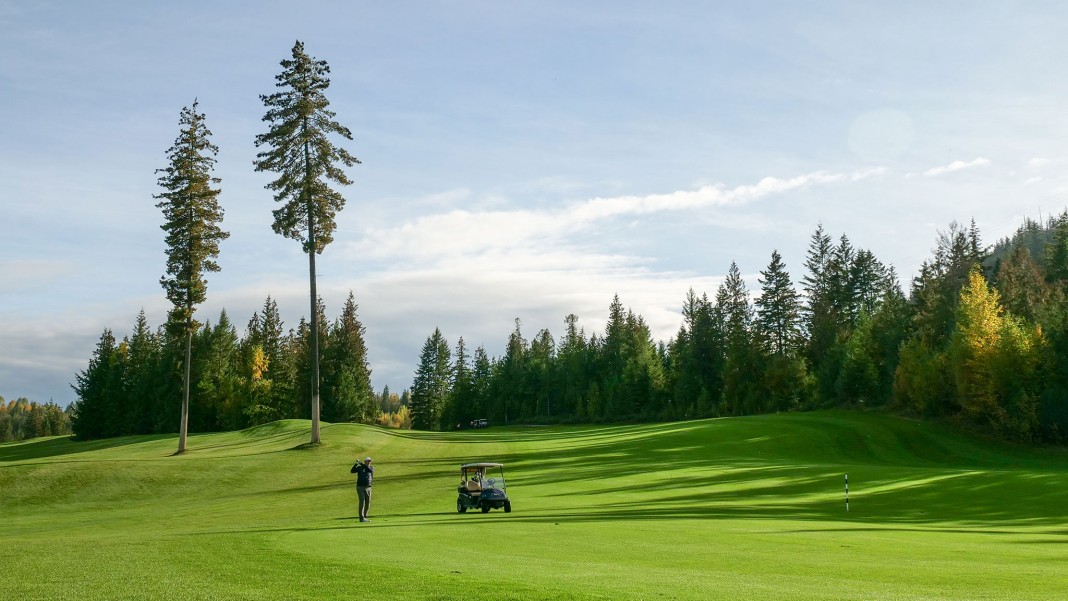 Shuswap National
"Unique and eclectic" is how this golf course is commonly described, as Dave Barr's first signature course design featuring open, fescue-covered fields and rock outcroppings as well as magnificent water features, a timber frame clubhouse, and a natural setting including untouched wetlands. Visit one of three nearby wineries for après-golf enjoyment, or hop on the Salmon Arm leg of the "Triang-ale Trail" for delicious craft brews and delectable dining.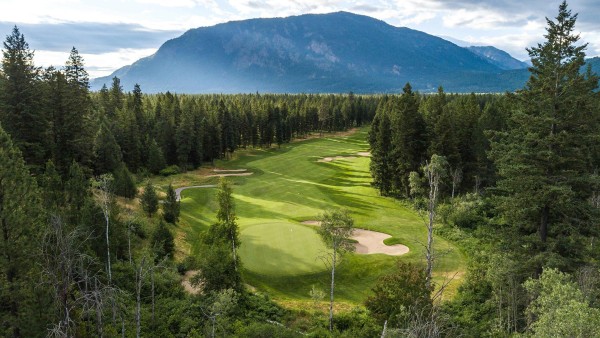 Talking Rock Golf Course
Recently named the #1 Favourite Golf Course by British Columbia Golf Members, it's easy to see why Talking Rock leaves such an impression on players who visit this breathtaking, Graham Cooke design course set on the shores of Little Shuswap Lake. Visit for the golf, but also take in their dedication to preserving Indigenous culture of the area, Talking Rock provides an opportunity to do more than just golf - you can learn about the region, its peoples, and their history, as well as partaking of their incredible restaurant embracing locally-sourced, traditinal Indigenous food.
While in Chase, if you're timing is right you can stop and take in the memorable Adams River Salmon Run - where millions of sockeye salmon make their return home to spawn in late September to mid-October.
The Shuswap golf region offers not only a range of fantastic golf experiences, it is also a terrific location for a BC golf road trip - find a Shuswap golf package today and start planning!