A Mountain Golf Mecca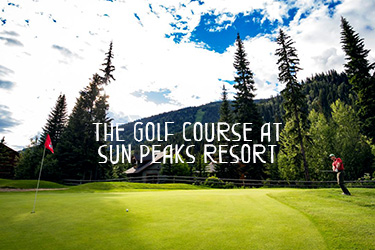 British Columbia is known for its many beautiful golf courses, and when it comes to spectacular mountain golf experiences, BC has the best selection out there. With major mountain ranges running the length of the province from the Rocky Mountain hugging Kootenay Rockies in the East, the highland benches in the Thompson Okanagan region surrounding Kamloops to the massive Coastal Range around Whistler, British Columbia is a mountain golf mecca awaiting your arrival. The impressive natural surroundings are obviously attractive for golfers, as top golf course designers have chosen to weave signature courses across slopes and over canyons in all corners of the province. Nicklaus, Cooke, Carrick, Trent Jones Jr. and Furber have all placed ribbons of green on these magnificent mountain ranges.
The Peak of Golf In British Columbia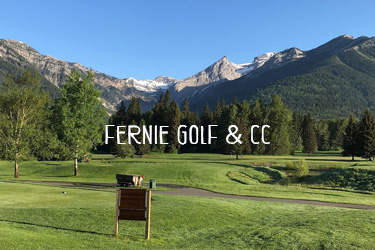 When talking about mountain golf courses, the first question is often "which one is the highest?" several of BC's highest golf courses are within 100 meters (320 feet) elevation of each other and all nestled conveniently in mountain resort communities offering all of the amenities and services a discerning golfer could ever want. The title of "Highest Golf Course in British Columbia" goes to The Golf Course at Sun Peaks Resort near Kamloops. Teeing off at it's highest point of 1,332 meters (4,371 feet) above sea level, golfers will notice their ball will fly further than it does on lower elevation courses, so remember that when it comes to playing a 125 yard shot, golfers may just want to pick one club higher than normal.
The Kootenay Rockies region is home to fantastic mountain views from both valley and hillside courses. The Fernie Golf Club comes in at a comfortable 1,011 meters (3317 feet), perfect for an introduction to elevated golfing and is easily accessible from Canadian Rockies International Airport (YXC) in Cranbrook. Majestic mountains surround your play, along with luscious greens, silica sand bunkers, and varied terrain on this par - 70, 6,556 yard long course.
Heading west from Fernie, the mountain community of Kimberley is home to Trickle Creek Golf Resort at Kimberley Alpine Resort. With the highest point reaching 1,249 meters (4,099 feet), this Les Furber designed course will keep you on your toes as you wind your way along the slopes of Northstar Mountain. The signature par 3, hole #11 presents a spectacular view East over the Rocky Mountain trench and looking to the Rocky Mountains in the distance. Sunrises from this vantage point are incredible, but it's the alpenglo of the sunsets that really make this hole a treat in the late summer evening.
While you're in the Kimberley-Cranbrook area, you'll find an abundance of golf, including Bootleg Gap Golf, named after the popular bootlegging route through Bootleg and Puddingburn Mountains, where smugglers competed to control the Whiskey trade from Montana. In Kimberley, visit their mountainside Bavarian-themed city centre for mid-century European flavour, complete with a giant cuckoo clock, terrific dining options, and unique stores. Nearby Shadow Mountain Golf - aptly named as it sits in the shadow of the immense Purcell Mountain Range - offers a chance for golfers to tee off and watch their ball sail to the fairway - 125 feet below. Quite an experience!
Further north, you'll find exceptional golf in the Columbia Valley with more incredible mountain views, challenging and inclusive golf, as well as plenty of hot springs to relax in after an incredible day on the course! Start at Fairmont Hot Springs Golf Resort at 976 metres (3,202 feet) and their Mountainside course, with a soak in the natural hot springs a perfect way to cap off the day. Further north, Panorama's Greywolf Golf Course beckons with a max elevation of 1311 metres (4,301 feet) and is home to "Cliffhanger" - arguably one of Canada's toughest golf holes.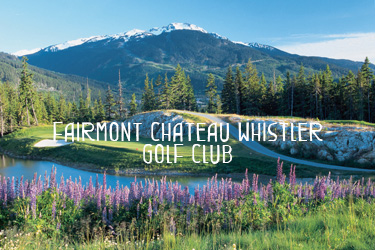 Any mountain golf course summary would not be complete without discussing the mountain activity hub of Whistler. Whistler is home to the impressive Whistler Blackcomb Ski Resort in the winter, however when summer arrives, the snow melts away, alpine flowers bloom and incredible golf courses emerge from their winter hibernation. The highest of the Whistler golf courses, the Fairmont Chateau Whistler Golf Club summits out at 792 meters (2600 feet). This mountain golf course traverses ponds, creeks and winds through ancient Douglas fir forests. Golf Digest magazine has rated this course "Four and One Half Stars". An honourable mention goes out to Big Sky Golf Club. Offering impressive views of Mt. Currie (and, of course, amazing golf), the course offers a unique opportunity - golfing right from the top of the mountain! Their Heli-Golf experience takes golfers up to the "19th hole" for some tee practice (with biodegradable golf balls) before returning to the course to finish the round. Truly a memorable experience!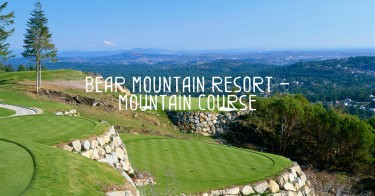 One final mountain golf course mention goes out to the lowest on the elevation scale, summiting out at 270 meters (886 feet), but one of the highest on the must-play list. The Nicklaus Design Mountain Course at Bear Mountain Golf Resort on Vancouver Island is a mountain of a course, just outside Victoria, BC. Vistas overlooking the Straight of Juan de Fuca and Victoria will be enjoyed with awe from the signature par 5 hole #13 and par 3 hole #14 before descending to the clubhouse 300 feet down the mountain.
One thing that is clearer than the crisp mountain air enjoyed at these courses is the undeniable fact that British Columbia is home to some incredible mountain golf courses. It's time you answered the call of the mountains and golf in British Columbia.
Please note: This is a 2018 update on an article originally posted May 2014