Each of British Columbia's 300+ golf courses offers incredible scenery to complement the enjoyment of the game, however here are our top pics of BC's most scenic golf holes and the courses on which you will find them. Our list of top golf course holes in British Columbia, based on their scenery: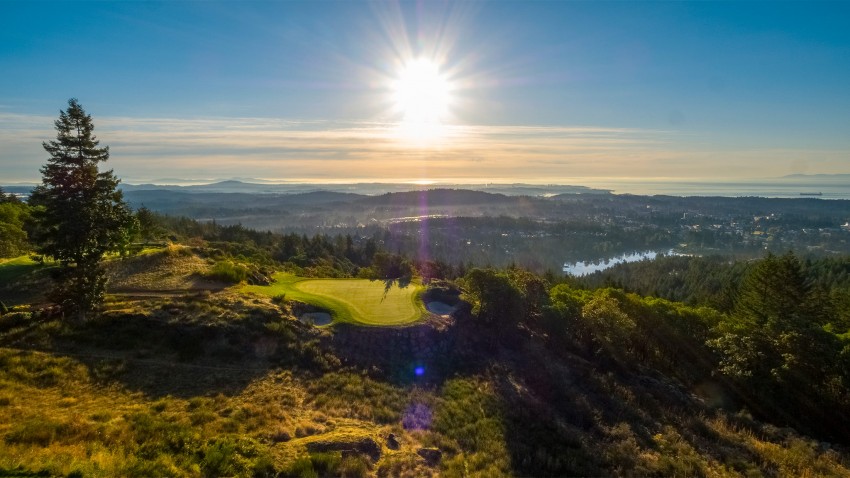 Bear Mountain - Mountain Course Hole 14
The Jack and Steve Nicklaus co-designed Mountain Course offers many incredible scenic golf viewpoints, but the 14th is certainly their signature hole. Carved into the mountainside, the former "19th hole" par 3 offers panoramic views of the Strait of Juan de Fuca, the Olympic Mountain Range and British Columbia's capital city, Victoria.
View Vancouver Island Golf Vacations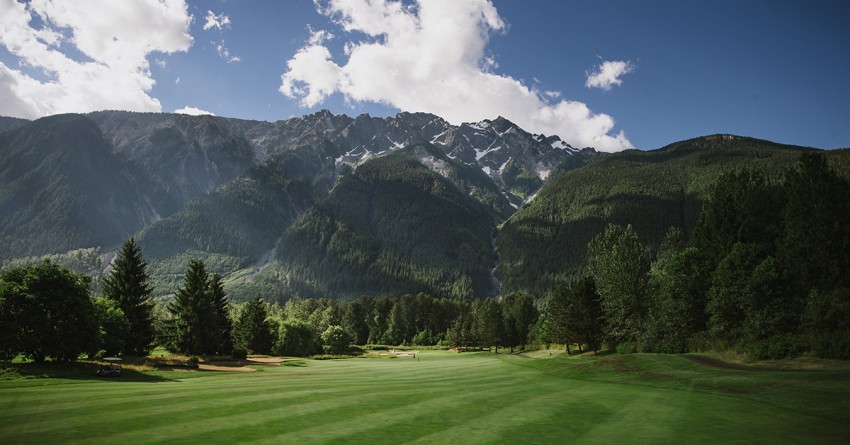 Big Sky Hole 14
No golf trip to Whistler is complete without playing Big Sky Golf Club. Hole 14 at Big Sky, in nearby Pemberton, is the clear choice when it comes to awe power. Where else do you get to tee off into the face of a mountain? With the 8000' high summit of Mount Currie looming overhead as you prep your shot, try not to let it intimidate you. In fact, if you really want to step up for some incredible scenery, try the amazing Heli Golf experience where you hit from the peak!
View Whistler BC Golf Packages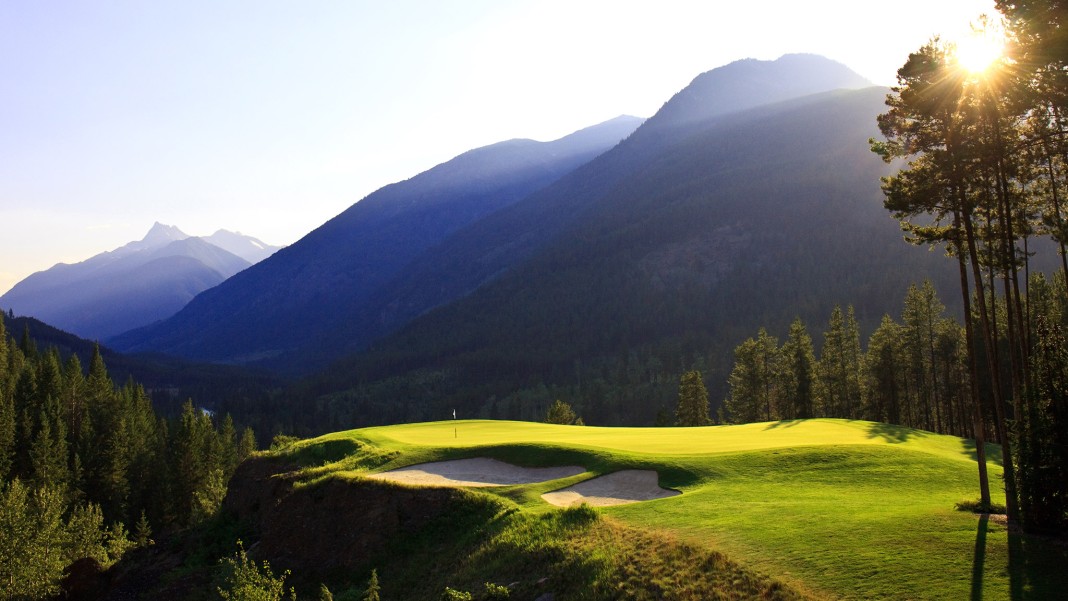 Greywolf Hole 6
While you may want to merely take in the sheer beauty of Greywolf's "Cliffhanger," you'll need all of your concentration if you also wish to achieve par on this world-famous hole, considered one of the most difficult in Canada. You'll want to select one club less on the blue, white and black tees and take a moment to consider the swirling winds from the Toby Creek Valley before taking a shot, preferably to the right side of the green as vertical rock cliffs guard the other three sides.
Nicklaus North Hole 17
Ah, Whistler...glacier-capped Coast Mountains peaks, beautiful Green Lake and Jack Nicklaus's namesake Nicklaus North's signature hole #17 awaits. You'll have to make an effort to pull your eyes back earthward to tend to the bunker-guarded par 3 before you.
View Whistler BC Golf Packages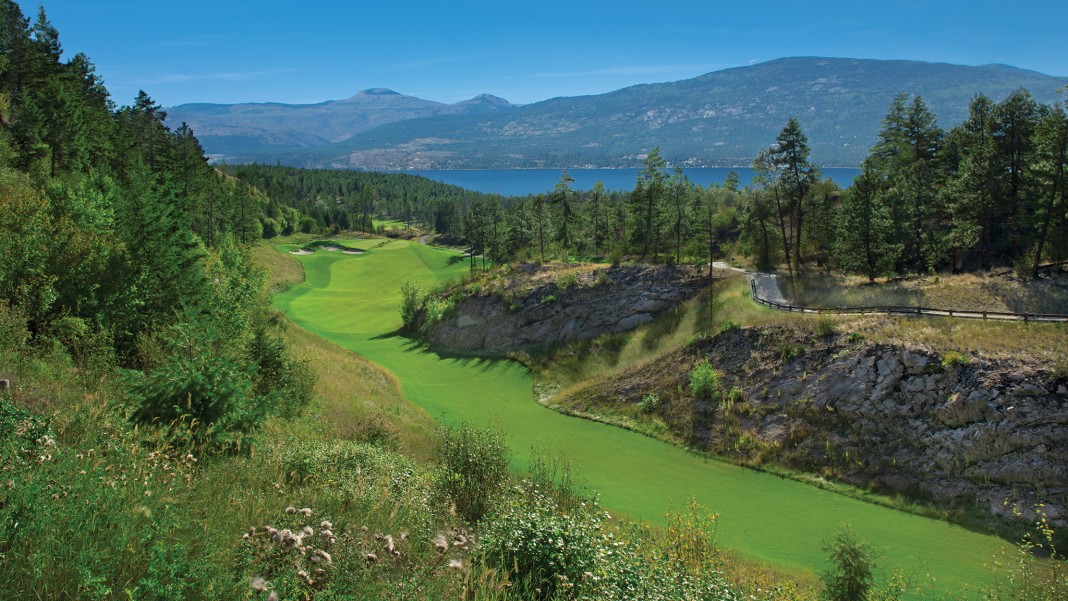 Predator Ridge - Ridge Course Hole 6
Doug Carrick's spectacular 6th hole on Predator Ridge's Ridge Course offers panoramic views of Okanagan Lake and the surrounding valley. On the right, you'll have a dramatic rock face to contend with while you prepare for a significant elevation change from the tee - only a long iron or hybrid needed here!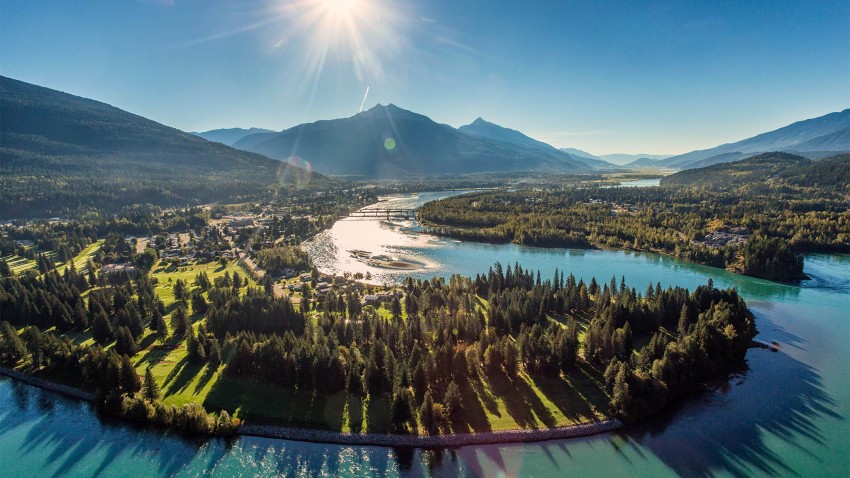 Revelstoke Hole 9
Framed by the Monashee and Selkirk mountain ranges, Revelstoke Golf Club is one of British Columbia's hidden gems worth discovering. Hole #9 is flanked by the mighty Columbia River, while Mount Begbie looms as a backdrop of this challenging par 5.
View Kootenay Rockies Golf Packages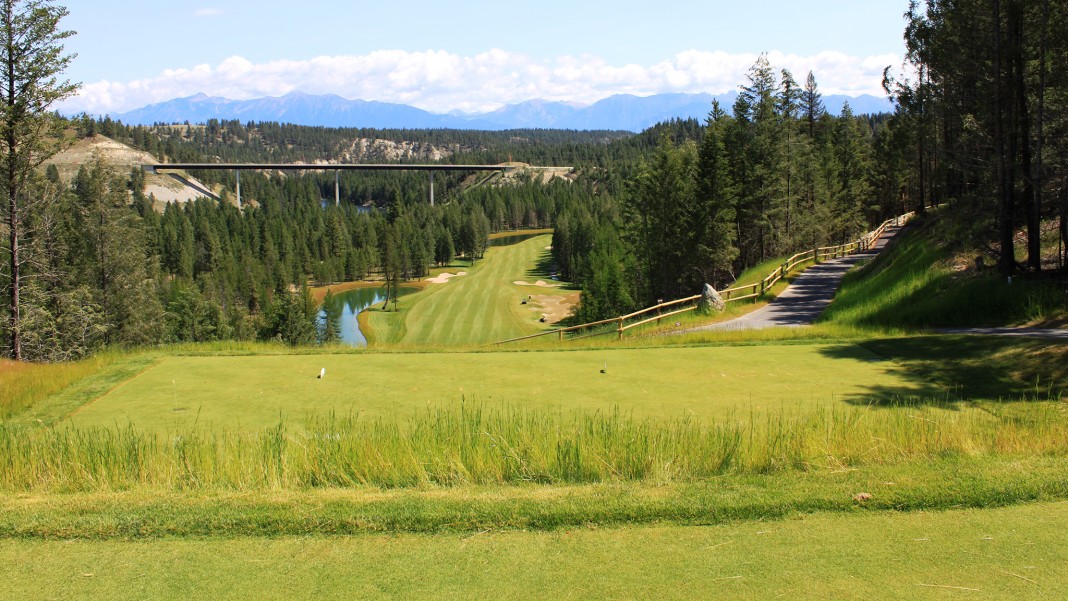 Shadow Mountain Hole 17
Aptly named "The Monster" at 606 yards of brute length on Shadow Mountain's Hole 17, you'll have a playful challenge as you partake of the incredible Kootenay Rockies mountain scenery offered in the Cranbook & Kimberly area. Do try to keep focus as you navigate the narrow fairway, bordered by two ponds, numerous bunkers, and trees as you wind your way along the par 5. Playful indeed.
View Kootenay Rockies Golf Packages
Talking Rock Hole 15
Every hole at Talking Rock Golf Course is picturesque, but the par 3 15th takes the cake. Stunning views of Little Shuswap Lake plus contrasting fescue define Talking Rock's signature hole. The elevated tee shot will require accuracy to avoid the bunkers left and right.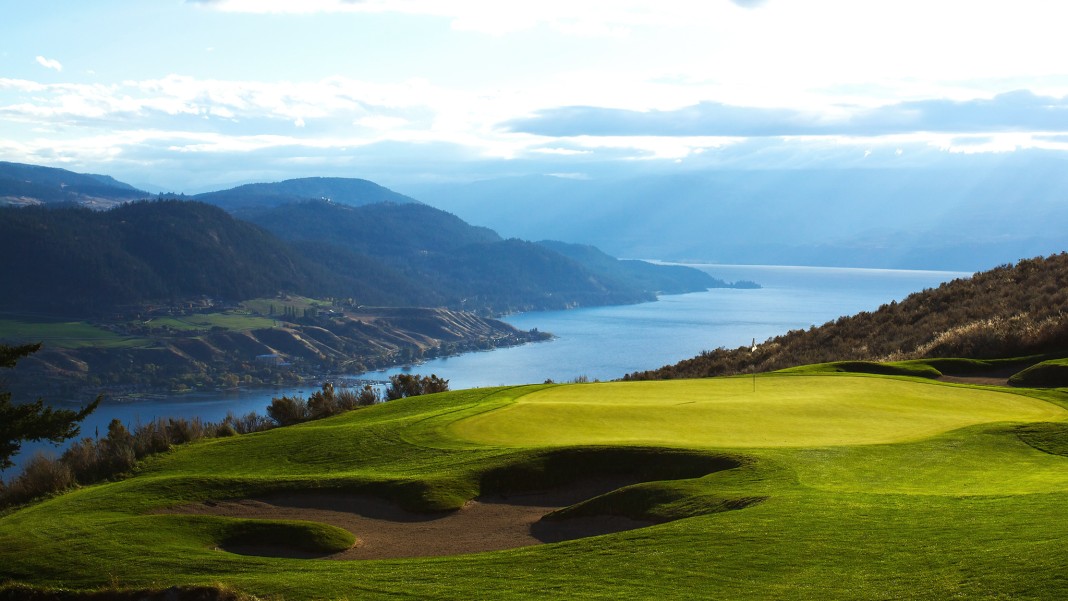 The Rise Hole 17
Vernon's The Rise offers players picturesque views of Okanagan Lake from 12 of its 18 holes, but 17 stand out above the rest. At 438 yards, this challenging hole demands accuracy and distance, particularly when you factor in that this hole offers the least generous landing area of the course's par-4's. We recommend a conservative approach, as well as taking a minute for some photos on the green!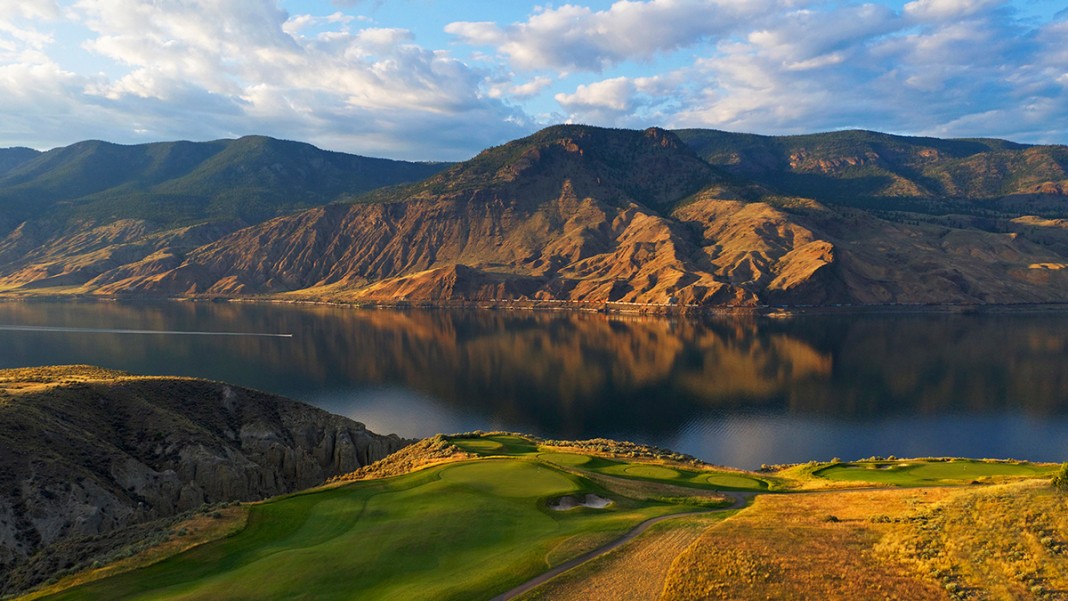 Tobiano Hole 15
It's truly difficult to choose the most scenic golf hole at Tobiano, as they are all rather awe-inspiring! The par 3 15th hole gets our vote alongside Kamloops Lake, where the hole has been compared to Pebble Beach and the vistas stretch all the way to Kamloops.
View Kamloops BC Golf Packages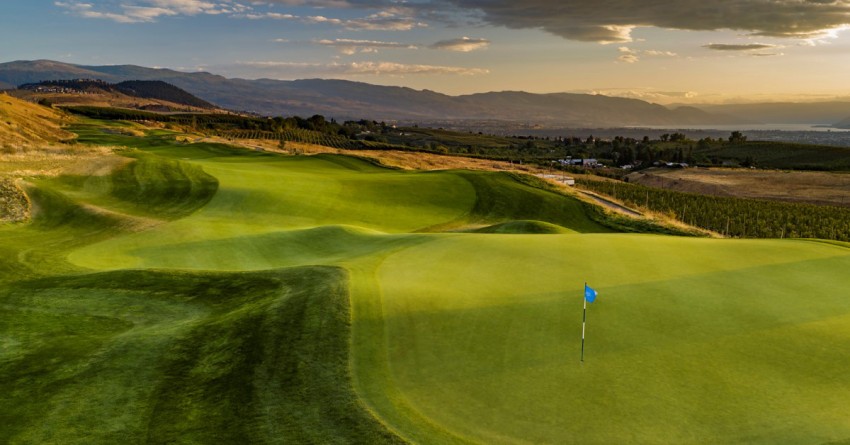 Tower Ranch Hole 17
Boasting 360 degrees of wow, panoramic views of Kelowna and the Okanagan Valley are nothing short of breathtaking as you traverse Thomas McBroom's Hole 17 at Tower Ranch Golf Club. You'll have a fairly straight shot off the tee of this 583-yard par 5, but as you approach the green you'll be hard-pressed to refocus your attention to the ball.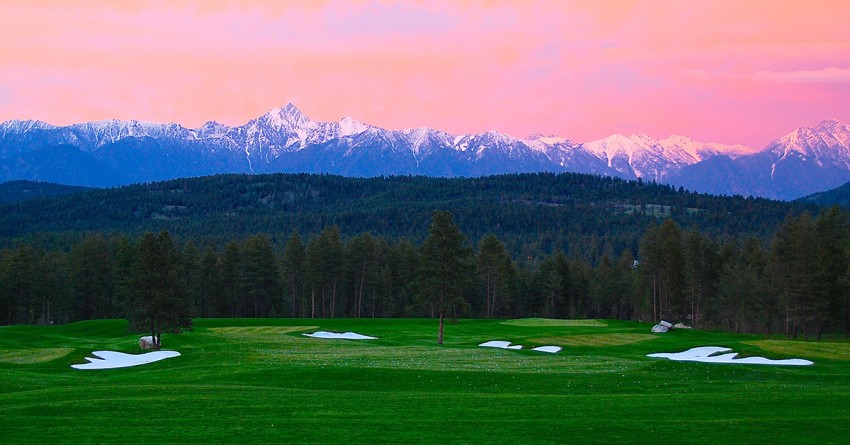 Honourable Mention - Most Scenic Driving Range: Wildstone
We couldn't end our list of most scenic holes on BC golf courses without giving a nod to Wildstone's most incredible driving range! Tee off and see if you can hit the majestic Rocky Mountains on your next visit to this incredible Kootenay Rockies golf region.
We've had our say on the most scenic golf courses in BC; now you can have yours - show us your most epic golf holes in British Columbia - simply post your photos on Twitter or Instagram and tag #yesgolfinbc *By using #yesgolfinbc, you agree to Golf in British Columbia's use of your images on our social channels and website, with credit given.