Terrific views, unique experiences, world-class amenities, relaxing spas, plus incredible golf - British Columbia's marquee golf resorts await in the heights of the Kootenay Rockies and Whistler, the rolling hills of the Thompson Okanagan, and the fresh ocean air of Vancouver Island.
Terrific Views & Amenities
Surrounded by mountains, lakes, oceans, rivers and more, it's not surprising that BC golf resorts are known for offering stellar views.
At Predator Ridge Golf Resort, you'll have a panoramic view of the golf course from the lodge and cottage accommodation options, as well as the entire Okanagan Valley as you play the Ridge Course, hike or bike on Predator Ridge's plentiful trails or centre yourself on one of three outdoor yoga platforms. Chef Sanjaya Mangalagama's globally inspired cuisine awaits in The Range Lounge and Grille, as does their bountiful Okanagan wine list. Taste and tour at eight wineries on the Scenic Sip Trail wine route and take a free shuttle to Kalamalka Lake (the "lake of many colours") to explore the Okanagan Rail Trail.
Views above it all are par for the course at Sun Peaks Resort, where the 1,100 units of hotel lodgings including luxury suites and chalets are surpassed only by the mountain golf conditions at The Golf Course at Sun Peaks Resort. With greens located at 1,200 metres above sea level it's British Columbia's highest elevation course, and is easy walking distance to the mountain village replete with restaurants and activities.
Impressive Rocky Mountain views await in BC's Kootenay Rockies Region, as you step back into nature at Trickle Creek Lodge and the nearby Trickle Creek Golf Resort, embracing the surroundings on the slopes of North Star Mountain, and all the amenities of Kimberley Alpine Resort. You'll truly feel you're having an "above it all" golf experience as Trickle Creek boasts a 4.5 Star Golf Digest rating, perched at over 4,000 ft elevation.
On Vancouver Island, the Villas at Crown Isle Resort & Golf Community offer incredible views of the first fairway and Coast Mountain range, in-suite hot-tub options, plentiful amenities in their 48,000 sq ft clubhouse, as well as provide golfers peace of mind knowing they'll never be late for their tee time or dining reservation, as they simply need to step outside.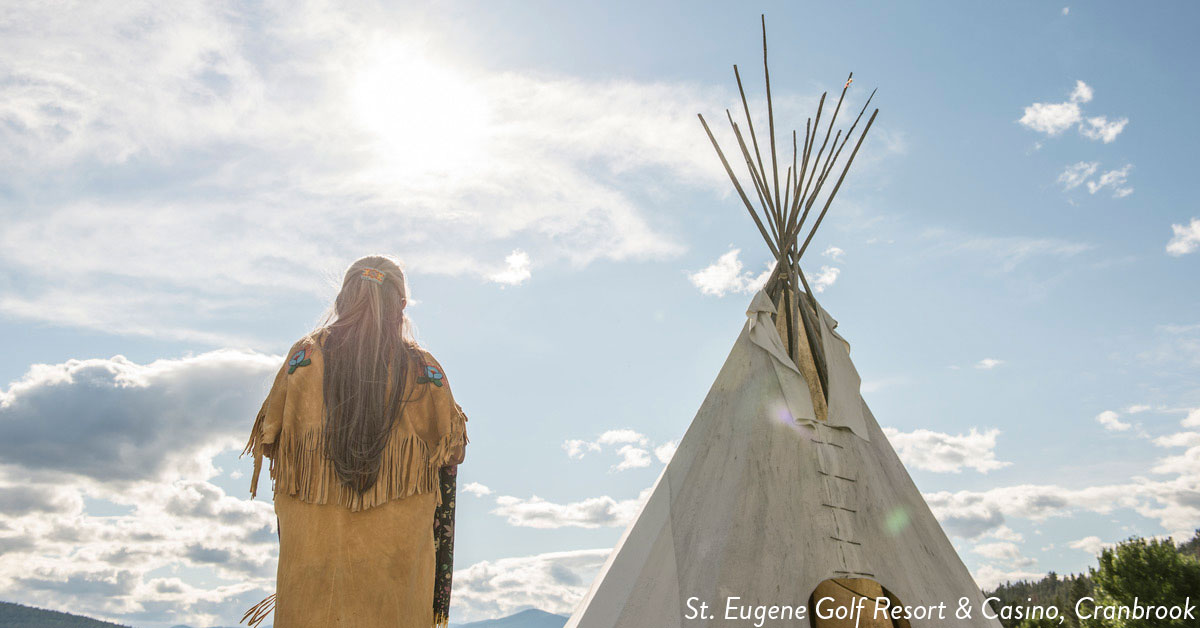 Experiences, Culture & History
Steeped in history and culture, British Columbia golf resorts are embracing the province's indigenous roots with unique experiences, while incorporating culture and history into their resort through art, food, design and more.
St. Eugene Golf Resort and Casino, crafted from a 100-year-old Spanish-colonial building that was formerly a residential school for First Nations children, today offers a glimpse into the history and culture the Ktunaxa ("k-too-nah-ha") Nation. Pair St. Eugene's unique Ktunaxa Activities (indigenous experiences), with exceptional golf boasting Rocky Mountain views of Fisher Peak, gaming fun at the Casino of the Canadian Rockies and for sustenance, partake of classic Ktunaxa Nation fare at the St. Eugene Smokehouse.
In the Shuswap, calm and tranquillity await at Quaaout Lodge and Spa at Talking Rock Golf Resort. Located on the traditional territory of the Secwepemc ("Se-KWEP-umk-wh") people, here you can golf alongside Little Shuswap Lake, feast on clay-baked local salmon prepared in a traditional fashion at Jack Sam's Restaurant, take in the lodge's carvings and art, take in an interpretive tour of a kekuli (traditional underground housing), embark on berry-picking excursions to learn about the region's flora and fauna or just relax at the Le7ke ("La (pause) Ka") Spa.
Read more of indigenous golf experiences in British Columbia.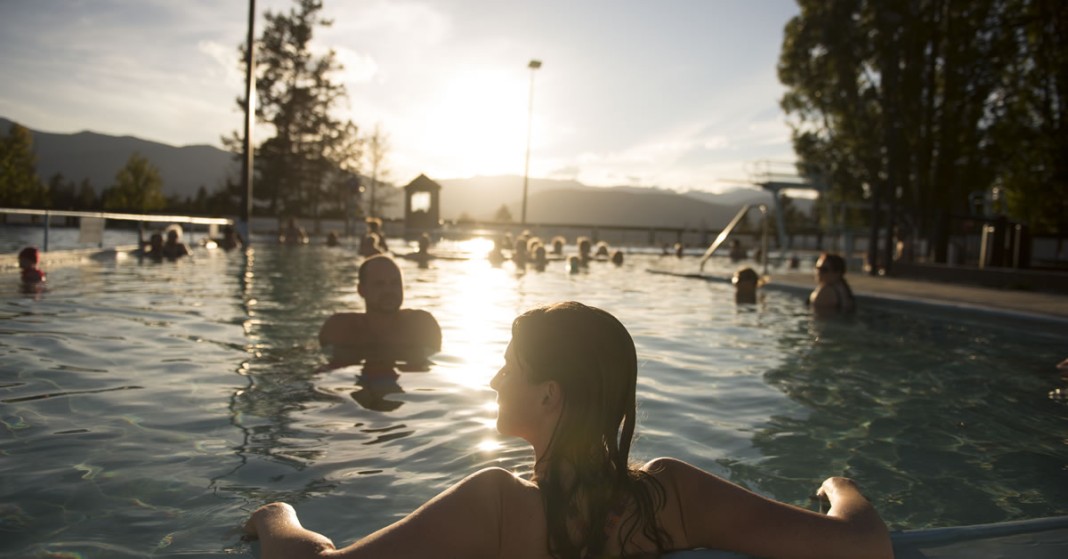 Relaxation
After a day on the links, nothing feels more luxurious than a spa treatment to soothe any aching muscles, or a perhaps a mineral bath soak to take all your cares away. Golf and spa is a featured pairing at many British Columbia golf resorts including Bear Mountain on Vancouver Island and Fairmont Chateau Whistler.
In the Columbia Valley, golfers can enjoy a day exploring golf courses throughout the valley, and end with a restorative soak at Fairmont Hot Springs Resort, host to Canada's largest hot springs. Sink into the legendary natural hot springs and experience the beauty of the Rocky Mountains!
Read more about golf and spa pairings in British Columbia.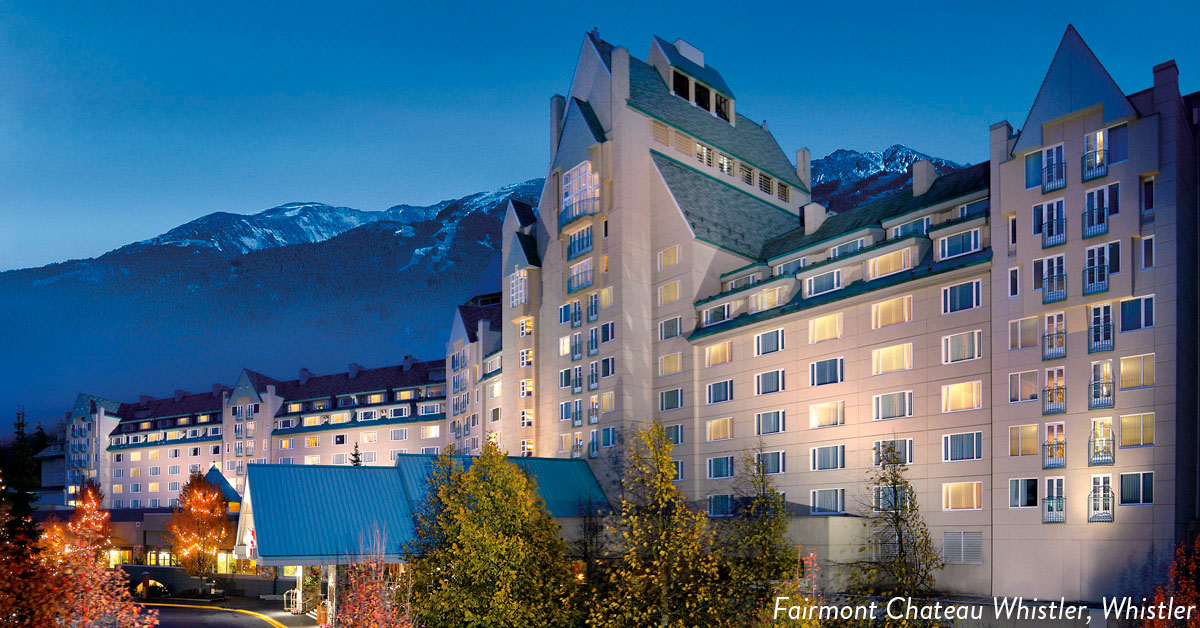 Best of the Best
Looking for the "crème de la crème" of BC golf resorts for your golf getaway... look no further than Whistler - Canada's number one golf destination by Golf Digest and the International Golf Tour Operators Association's North American Golf Resort of the Year, Fairmont Chateau Whistler Resort! Whistler's four championship golf courses provide an unparalleled mountain golf experience, Scandinave Spa a completely immersive spa experience and the Fairmont Chateau Whistler incredible views, world-class service and amenities.
Explore our BC Golf Resort Vacation Packages and prepare for an incredible time golfing, exploring, relaxing, and enjoying all the amenities and experiences on offer.