Autumn is an ideal time to consider a British Columbia golf vacation. As the warmth of summer fades and the leaves transform into a rich tapestry of colour, this time of year provides the opportunity to experience remarkable golf combined with crisp air and serene landscapes for an idyllic golf getaway. One of the most compelling reasons to visit British Columbia for a fall golf trip is the weather, a golfer's dream, offering refreshing mornings, warm afternoons, and cool evenings - perfect for morning coffee in a local cafe, a relaxing round, and fun activities while you explore all that British Columbia has to offer.
Golf in BC Visual Story
Click the graphic to learn more about BC golf courses via a visual story, or keep scrolling for more information.
But the weather is not the only reason to visit British Columbia in the fall. The province is home to some of the most beautiful scenery in the world, and the fall season only enhances that beauty. As the leaves change colour and the mountains are dusted with snow, golfers are treated to stunning vistas at every turn. And with fewer crowds in the fall, golfers can take their time to soak it all in.
Of course, the main draw for any golf trip are the courses themselves, and British Columbia has no shortage of world-class options. From the renowned courses in Whistler to the hidden gems on Vancouver Island, there is a course to suit every golfer's taste and skill level. And with fall being the shoulder season for golf, many courses offer reduced rates or special packages, making it an affordable time to play some of the best courses in the world.
Where should you head on your British Columbia fall golf excursion? Consider these fantastic fall golf destinations: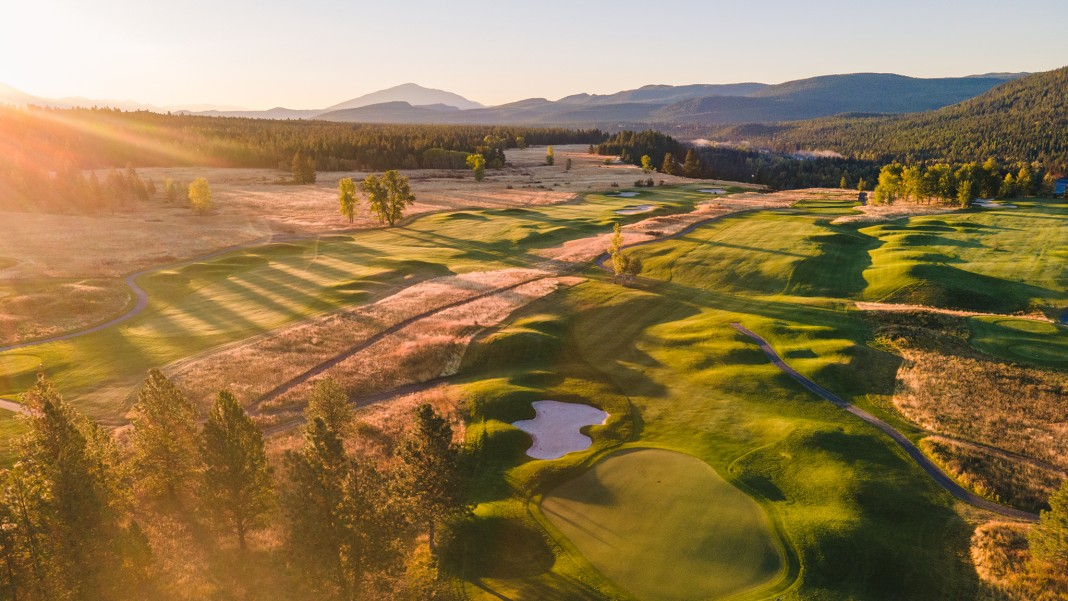 Kootenay Rockies
Nestled against glacier-capped mountains and along valley bottoms, the vast expanse of the Kootenay Rockies, located in eastern British Columbia, offers remarkable scenery and some of the country's finest golf offerings. The Columbia Valley Golf Trail is home to a range of golf courses that appeal to all types of golfer: from beginner duffers to those looking for a true challenge. Add to that hot springs, hikes into the alpine to view the golden larches, delicious food and drink, plus a friendly community, and you might never want to leave!
Further south, the Kimberley Cranbrook area offers seven championship, 18-hole golf courses, all within a 24-minute drive, as well as the opportunity to take in the golden hillsides with alpine hikes in the mountains on uncrowded trails. Visitors are also encouraged to enjoy unique cultural experiences, whether Indigenous history and culture at St. Eugene or at Kimberley's Platzl, where you can clink beer steins at Oktoberfest, and discover what makes fall such a special time to visit.
If your fall golf vacation has you road-tripping BC highways, feel free to bookend your trip with rounds at Golden, Revelstoke, Fernie and Kokanee Springs.
Explore golf courses in the Kootenay Rockies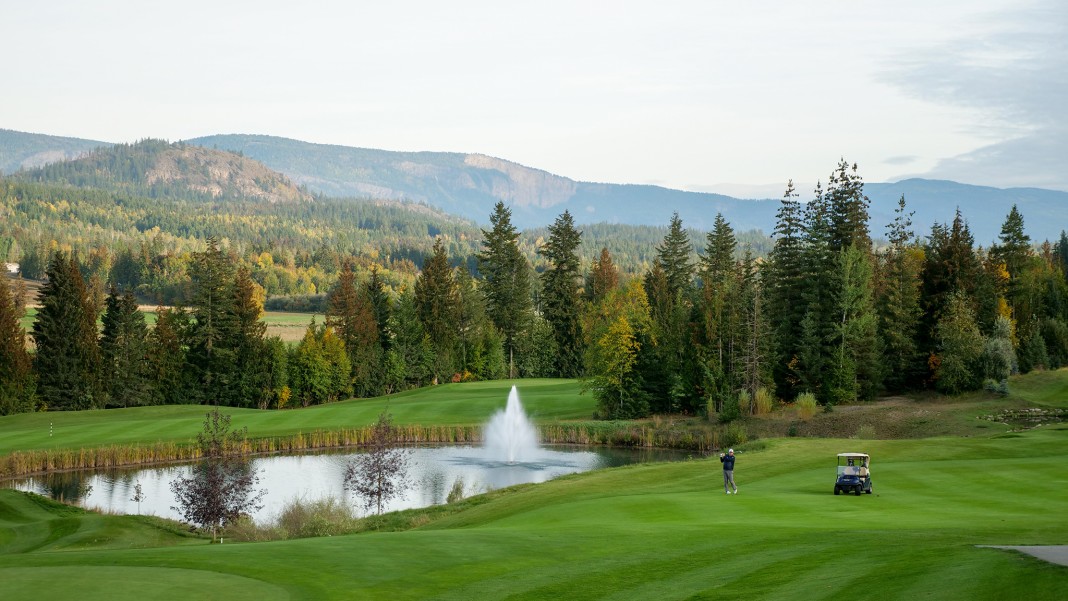 Shuswap
Serene lakes, rolling hills, and vibrant foliage are the hallmarks of a golf vacation in the Shuswap, where true splendour is unveiled during the fall season. As the leaves go through their annual metamorphosis and the air turns crisp, golf enthusiasts are treated to a visually stunning experience on the fairways. Home to some of the province's top hidden gem golf courses, this is a fantastic spot for a laid-back golf vacation. Also considered the house boating capital of the province, rent a craft to complement your visit and explore the mirror-calm waters of Shuswap and Mara Lakes during the fall season.
Explore Shuswap Golf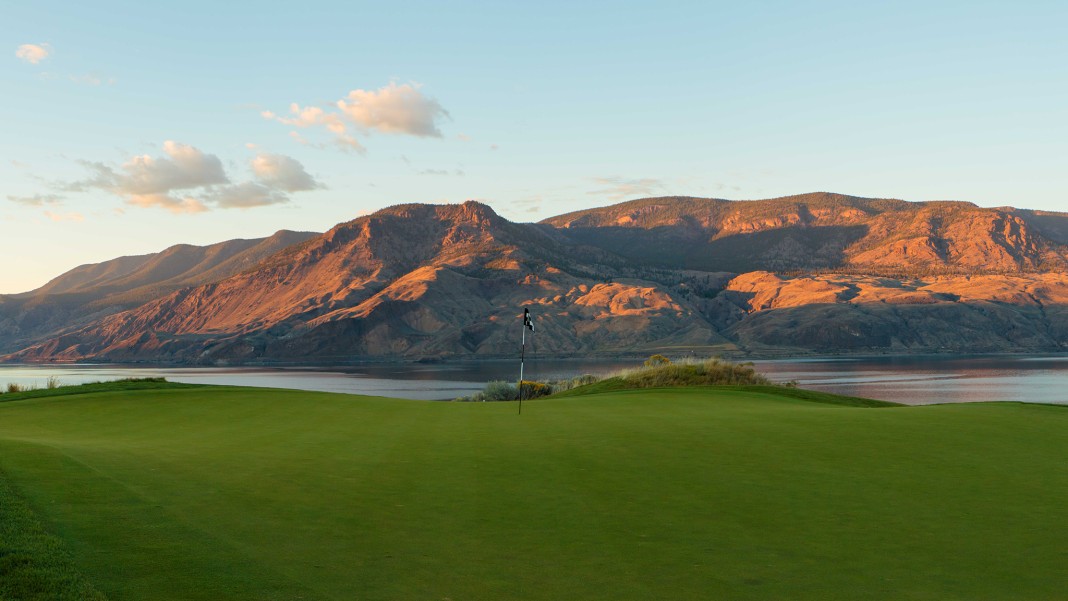 Kamloops
The desert climate of Kamloops is perfect for fall golf, as the local golf courses come to life when the heat abates. Golfers to this destination can expect a myriad of fall colours set against sagebrush and hoodoos, combined with well-kept fairways and firm greens on a range of golf courses, including Canada's Best Golf Course, Tobiano (World Golf Awards, 2020-2022). Off the golf course, discover a burgeoning craft-brewing and winery scene, plus endless outdoor activities on an off the water.
Explore Kamloops Golf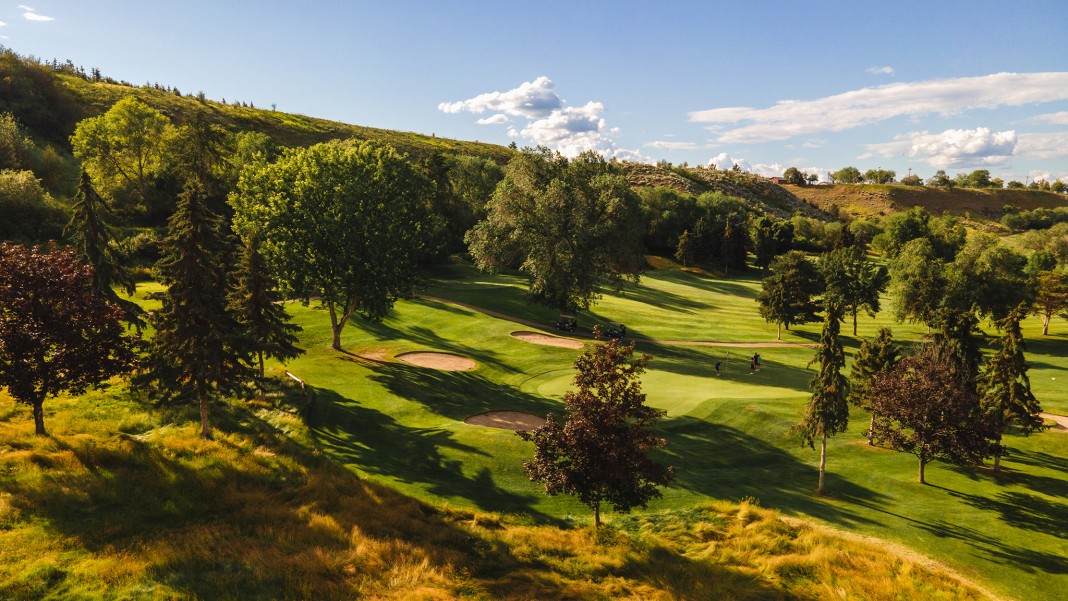 Vernon
Renowned for its natural beauty, feel summer warmth gracefully transition into the crisp embrace of autumn while enjoying the captivating canvas of fall colours combined with an exceptional golfing experience on Vernon golf courses. With a selection of options, from two of Canada's best to a few hidden gems and local favourites, a golf vacation to Vernon can be thrilling and relaxing at the same time. Outside of memorable golf, hiking trails throughout the area are picturesque and lake activities are still popular well into October.
Explore Vernon Golf
Kelowna
Abundant fall colours are on full display along tree-lined fairways and throughout the forested hills surrounding this bustling metropolis. With 15 golf courses in this part of the Okanagan Valley, options are as varied as the apres-golf activities available - including walking the lake-side promenade, checking out craft breweries and a range of dining possibilities, or exploring Okanagan Lake on a sunny fall afternoon.
Explore Kelowna Golf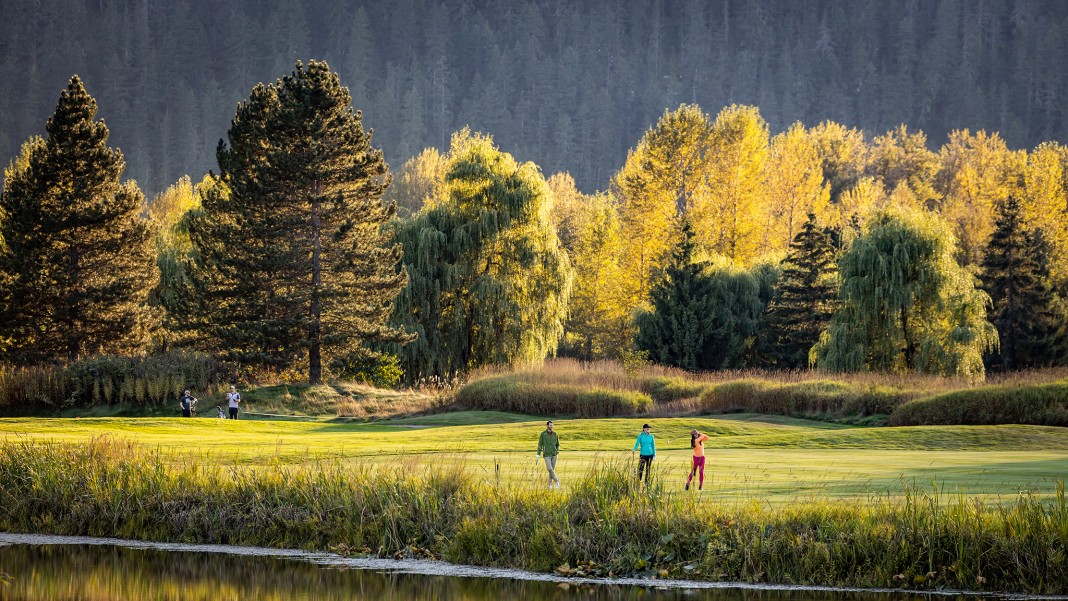 Whistler
As if the spectacular backdrop of Whistler and Blackcomb Mountains couldn't get any better (and don't forget Mt. Currie to the north), the mountains pop with vibrant colour in the fall as you take on four of Canada's top golf courses. And the off-course activities here are plentiful - from craft brew explorations to some of the country's best restaurants, plus plenty of trails to walk, bike, or hike. Regardless of where your explorations take you, the odds are that at some point you'll have a chance to spot Whistler's resident bruins who come down to forage.
Explore Whistler Golf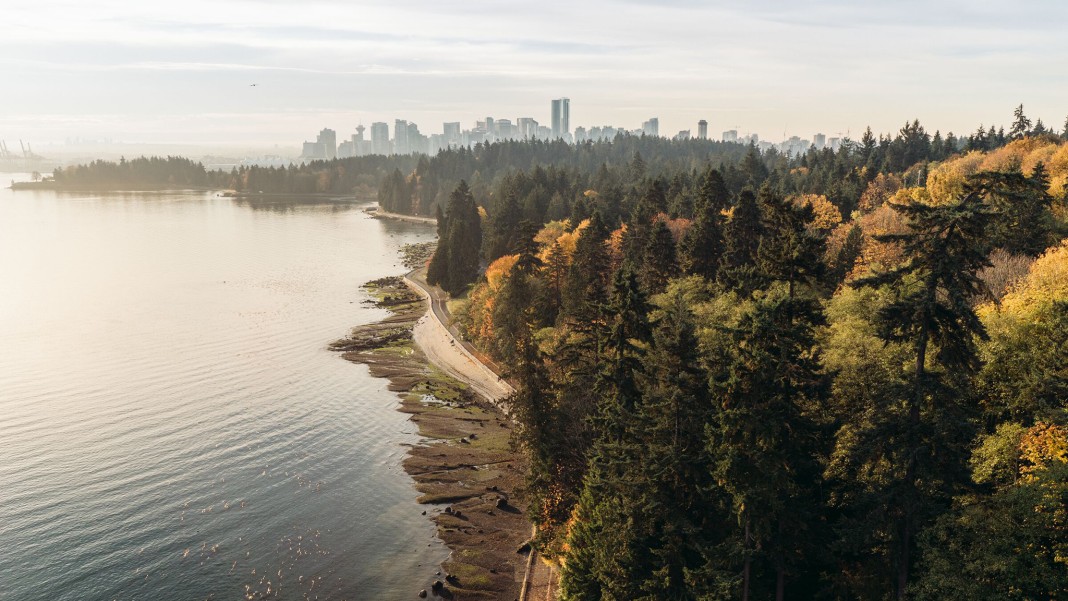 Vancouver
Temperate year-round, a Vancouver golf trip is ideal for those looking to capitalize on warmer afternoons, yet avoid the summer bustle. With September average highs of 19℃, you can comfortably stroll the Stanley Park Seawall, browse the shops at Granville Island, or take in refreshments on a downtown Vancouver patio and enjoy the view. More adventurous travellers are encouraged to head to local mountains or try out Richmond's dumpling trail for a culinary experience.
Explore Vancouver Golf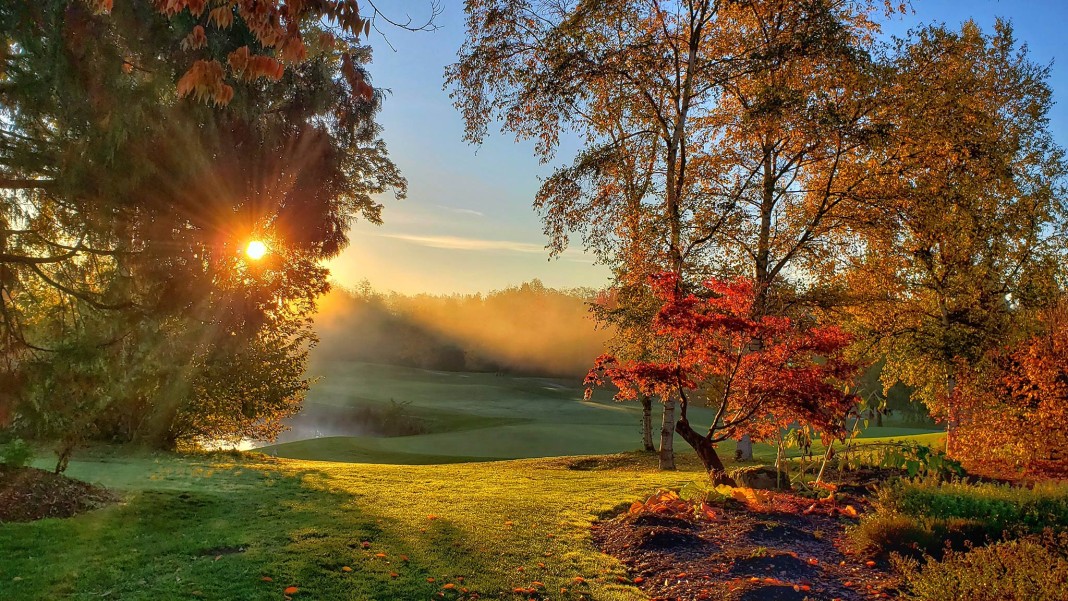 Surrey
Much like its neighbour to the north, Surrey's fall climate is fairly temperate and home to a variety of lush golf courses. With fairways framed by deciduous trees, the surroundings are made even more magnificent with the backdrop of coastal mountains. And the food is just as colourful as you explore any of the flavours and international influences along the Surrey Spice Trail.
Explore Surrey Golf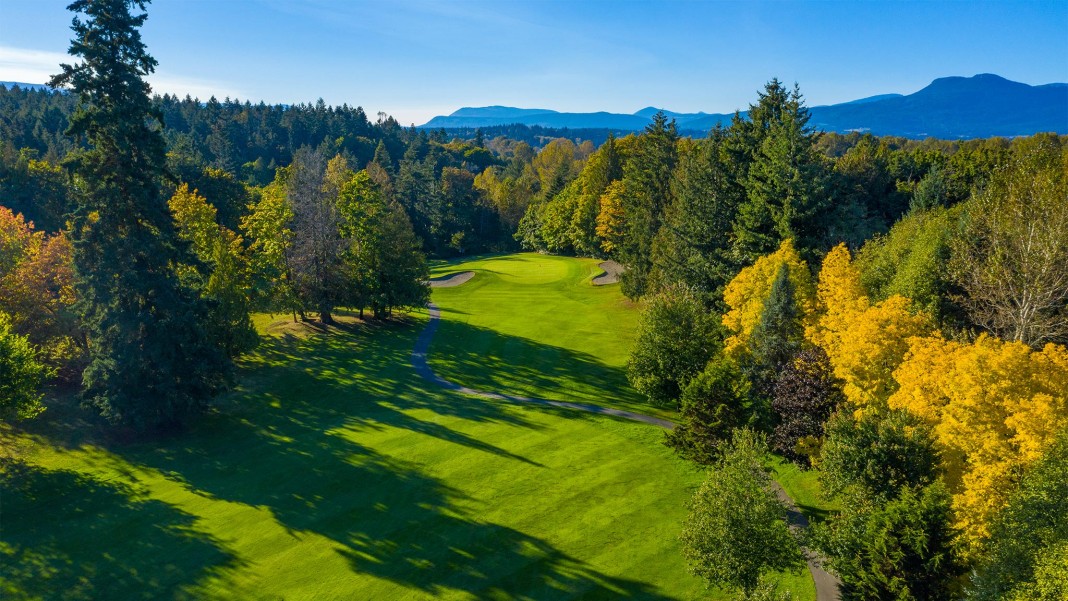 Vancouver Island
Autumn on the Vancouver Island Golf Trail is simply spectacular, with deep the greens of local fairways complemented by the changing leaves and backgrounds of ocean and mountain. Skip the crowds as you explore part (or all) of the trail, extending from Victoria in the south up to Campbell River. Along the way, you'll find fresh seafood, opportunities for whale watching or fishing, discover craft breweries, distilleries and wineries, and generally take a relaxed approach to a fantastic fall golf vacation.
Explore Vancouver Island Golf
British Columbia's fall golfing destinations offer golfers the perfect blend of challenging play and breathtaking scenery. Whether you're teeing off against a backdrop of mountains, vineyards, or coastal vistas, each course promises an unforgettable experience. As the leaves change and the air becomes crisp, these golf courses invite you to embrace the autumn palette while indulging in your passion for the game. So, grab your clubs, explore the vibrant landscapes, and savour the magic of fall on these remarkable fairways.