When it comes to golfing in beautiful BC, there is the unique opportunity to tee up some wildlife viewing along with your golf ball. Read on for a sneak peek of just some of the creatures you may encounter on and off BC's fairways - bears, whales, moose, coyotes....Time to pair your woods with woodland life.
Woods and Whales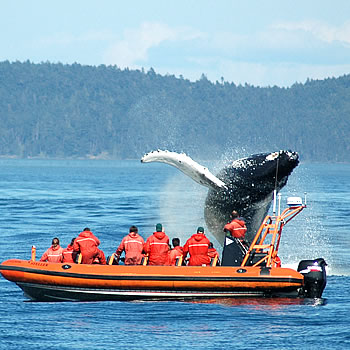 Whale watching in Victoria is on many a traveller's bucket list. It has become one of the most popular attractions on Vancouver Island, and you only have to witness an Orca breach once to see why. Now imagine an entire pod of whales in action, while enjoying the views of Victoria and the Olympic Mountains from your guided boat - you're surrounded by wilderness yet in the city. And all this after an unforgettable round of golf at one of more than five nearby championship golf courses. Woods and whales - it really is a golf and wildlife viewing pairing opportunity of a lifetime. Bonus round: How about some fins and skins? Golf in the morning, fishing in the afternoon, and repeat. Combine incredible Vancouver Island golf with a fishing expedition in the internationally recognized "Salmon Capital of the World" - Campbell River, BC.
Bears, Bears Everywhere
If you go down to the course today, you better go in disguise. If you go down to the course today, you're in for a big surprise. Because every bear that ever there was may just be there, playing as if their lives depended on it. Like the little guy in the video below, filmed having the best round of his life at the Fairmont Hot Springs Golf Resort in the Kootenay Rockies. Bears are also spotted fairly frequently on the Whistler golf courses - golfers have become quite accustomed to the oddly furry player holding up play just ahead. Our advice? As cute as they are, it's probably best to let the bears play through. Bonus round: Bear watching in BC is not limited to greens and fairways. Anything but. Book a bear and wildlife watching tour in any number of BC cities for the wildest après golf activity yet.
Sleepy Bighorn Sheep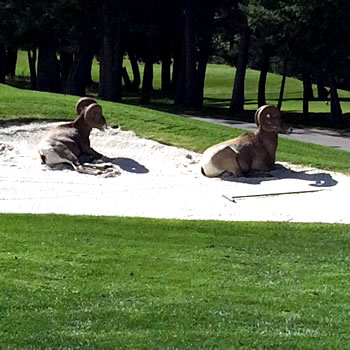 Golfers are not partial to a bunker. Yes, we end up in there more frequently than we'd like to admit, but we'd really prefer to stay out of the sand. Not so Bighorn Sheep. Those guys like nothing more than to settle in for a snooze on a soft, sun-warmed patch of sand. And don't expect them to rake when they wake either. Bighorn Sheep are a well-known additional feature both on and off the golf courses in the South Okanagan, the Kamloops region and the Kootenay Rockies. Just think of them as extra incentive to avoid the bunkers - a Bighorn Sheep roused from sleep is not one you hope to meet. Note: when travelling between courses on the Columbia Valley Golf Trail you are more likely to pass Bighorn Sheep than cars. Please drive slowly.
Wily Coyote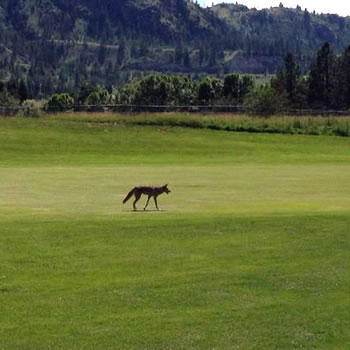 Coyotes aren't thought of as wily for nothing. They're curious, yet cautious, opportunistic yet shy. And they are lean, hungry, running machines. Coyotes can also live, and thrive, anywhere, but they do prefer wide-open prairies and semi-desert regions, which makes the wide-open spaces found on golf courses in semi-desert regions perfect for coyote sightings. Like the golf courses in the Kamloops region, on the northern tip of the Sonoran Desert. Here you will find a location which yields the kind of conditions you'd expect from the desert: warm summer temperatures, long, hot days yielding extra hours of golfing, an eight-month plus golf season, and the perfect running track for coyotes.
Moose on the Loose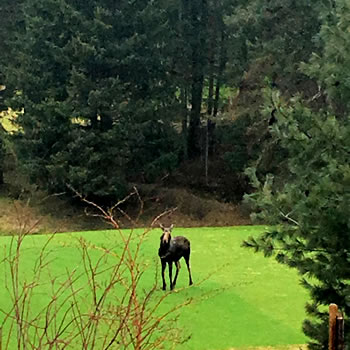 While not nearly as common as deer - which are abundant on both Okanagan and Vancouver Island golf courses especially - it's not entirely shocking to encounter the odd moose on the loose when golfing in British Columbia. Salmon Arm Golf Club in the Shuswap reported a moose on their course right after opening day this season. Clearly, local golfers weren't the only ones excited to hear they were open for play. Moose are also fairly frequent visitors at Kootenay Rockies courses - although no doubt they find those cumbersome antlers quite the handicap.
Ogopogo Sighting!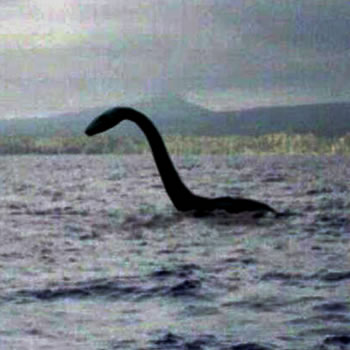 Finally, if you're really lucky - or did a bit too much après golf Okanagan wine tasting - you may just get to see the legendary Okanagan Ogopogo. A lake monster reported to live in Okanagan Lake, legend has it that the Ogopogo is a 40 to 50-foot-long sea serpent with the head of a horse. Or is it a snake? No, make that a goat... Sightings date back to the 19th century, with the most recent sighting being reported in 2011. There are certainly Okanagan golf courses aplenty with fantastic lake views. Whether those views become fantastical rather than mere fantastic is completely up to you.
Don't Just Take Our Word for It!
Check out our gallery of Instagram user posts & videos on and around BC golf courses! Whatever wildlife you come across during your BC golfing adventures, please be sure to keep your distance and let all animals play through.