Enveloped by orchards and vineyards in the heart of British Columbia's Okanagan Valley, Kelowna is a picturesque place to find top golf courses, lakeside relaxation, and winery tours. Discover golf courses surrounded by towering pine trees, with sweeping views of the valley and Okanagan Lake as you take on signature golf holes in Kelowna that encapsulate exceptional golf and incredible scenery.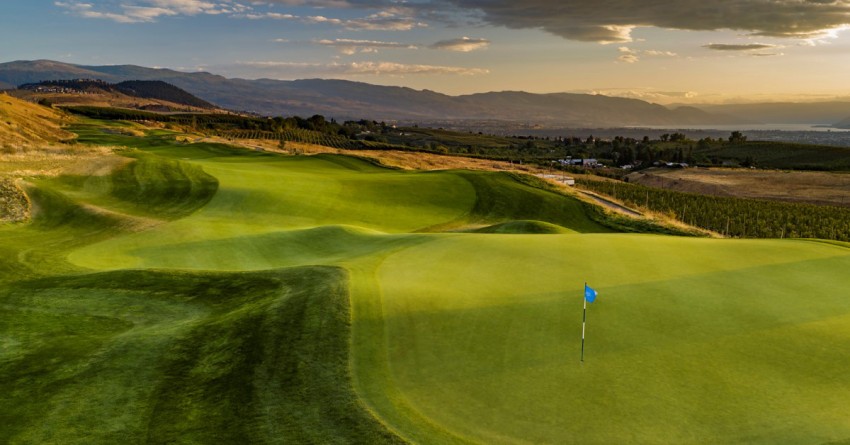 Tower Ranch - Hole #17
The penultimate hole on the Thomas McBroom designed Tower Ranch offers 360-degree panoramic views of the Okanagan Valley, the city, and Okanagan Lake shimmering in the distance. Keeping your ball in play is the key to success when playing this three-shot par 5, with an elevated green that slopes from back to front, for a strong and demanding hole that will require your full attention - although you'll want to take a moment to enjoy the pleasant surroundings. An honourable mention goes out to Tower Ranch's hole #6, considered one of the most challenging holes on the golf course according to local players!
Gallagher's Canyon Hole #6
Favour the right centre of the fairway as you tee off on this deceptively reachable par 5, with trees lining both sides of the fairway requiring golfers to stay on the straight and narrow. A shorter approach shot should land softly on the firm plateau of the green, however, keep in mind that a large berm in the middle of the fairway will require some forethought. Take in the magnificent view of the Okanagan Valley once you've completed play, including surrounding orchards and a glimpse of Okanagan Lake off in the distance. Gallagher's Canyon Hole #1 is also worth a mention, where golfers can choose to take their tee shot from an elevated tee box on the roof of the Clubhouse's first floor. The long par 4 requires length off the tee while approaching the uphill green for a solid start to a memorable round of golf.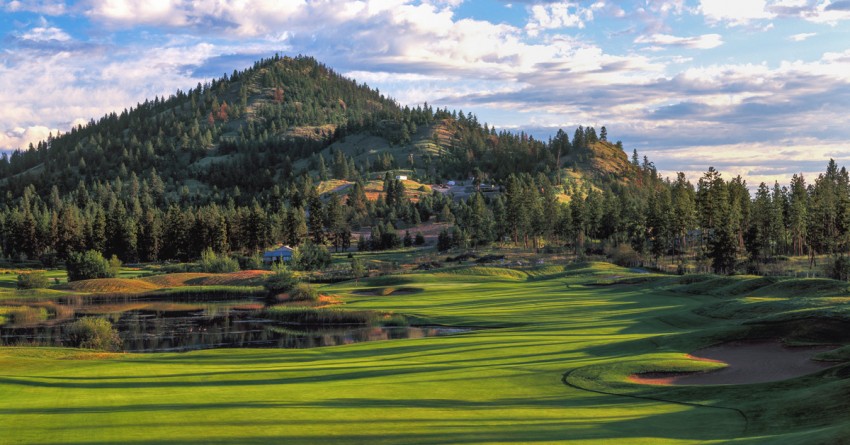 Okanagan Golf Course - The Bear Course - Hole #13
Tee it high and let your ball fly on this beautiful 531-yard par 5 with water coming into play on the left. The narrow fairway between the hazard and out of bounds offers a challenge, but accuracy is rewarded by reaching the two-tiered green in just two shots. Take in the mountainous backdrop and idyllic surroundings as you finish off the hole. Golfers will also require accuracy on the honourable mention at Okanagan's Bear Course, Hole #3, a 453-yard par 4. Here a well-hit tee shot will leave you to use your mid-iron to reach the green.
Play the Rest of Kelowna's Signature Golf Holes:
Black Mountain Golf Club #5
Harvest Golf Club #17 or #7
Kelowna Golf & CC #12
Kelowna Springs Golf Club #17
Michaelbrook Golf Club #9 & #18
Mission Creek Golf Club #15
Okanagan Golf Club – Quail Course #18
Shadow Ridge Golf Club #3
Shannon Lake Golf Club #8
Sunset Ranch Golf & Country Club #17 or #18
The Pinnacle Course at Gallagher's Canyon - Hole #1 Two Eagles Golf Course & Academy - Hole #11
Browse Kelowna Golf Courses Ready to experience Kelowna's Signature Golf Holes for yourself? Browse Kelowna Golf Packages for your perfect fit!