Located just 30 min north of Kelowna (YLW), the once-sleepy city of Vernon has become a provincial hotspot when it comes to the combination of terrific golf and exceptional activities. Surrounded by lakes, hills and mountains, golf enthusiasts can take advantage of hidden gems as well as award-winning tracks boasting incredible views, and indulge in a plethora of apres-golf activities.
Vernon as a golf destination is anchored with Predator Ridge's two golf courses in SCOREGolf's Top 59 Canadian Public Courses for 2021 and The Rise designed by Fred Couples, waiting to be combined with some of the province's best-valued tracks at Spallumcheen and Vernon Golf & Country Club, and boasts apres-golf activities including wine touring and tasting, cidery, brewpub and craft distillery visits, excellent dining options, as well as boating, stand-up paddleboarding, hiking, biking and more. This terrific mix of fantastic golf courses and abundant destination experiences begs your consideration of a Vernon golf getaway. Without further ado, we invite you to get to know Vernon golf courses better and pair your golf with some of the top things to do in Vernon.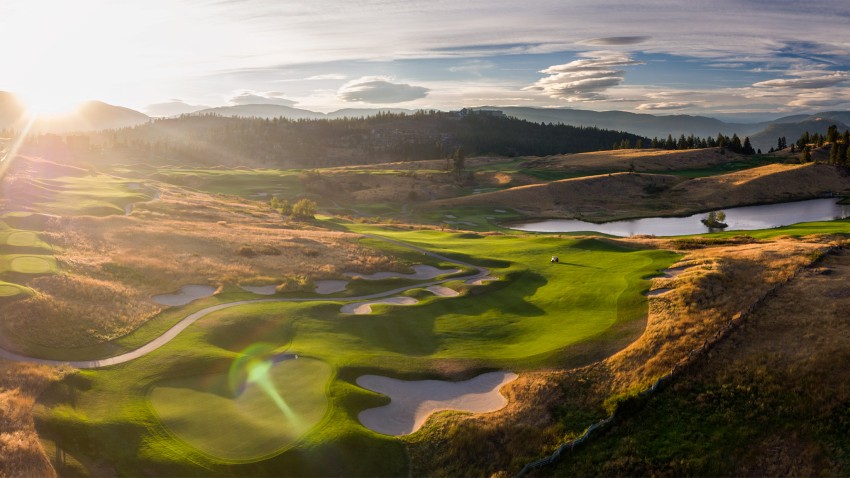 Predator Ridge - Predator Course
Designed by legendary course architect Les Furber, The Predator Course offers a links challenge for every level of player and is one of the best offerings of golf in Canada (indeed, it regularly ranks on SCOREGolf's top golf course listings). The rolling hills, long fescue grasses and undulating greens make playing here truly unforgettable, which is why you should plan to return to play the Ridge Course as well during your visit to Vernon.
Once you've completed a very memorable round of golf, The Range Lounge & Grill at the resort offers an upscale casual restaurant featuring globally-inspired fare created using simple ingredients and one of Vernon's top patios. Feel free to indulge with dessert - created by the Predator's own professional pastry chefs. We also highly recommend staying right on the property in your choice of lodge or cottage accommodations so you easily make your tee time, while taking in the plentiful amenities of this amazing Vernon golf resort including hiking, biking, wine-touring excursions, yoga and often live entertainment!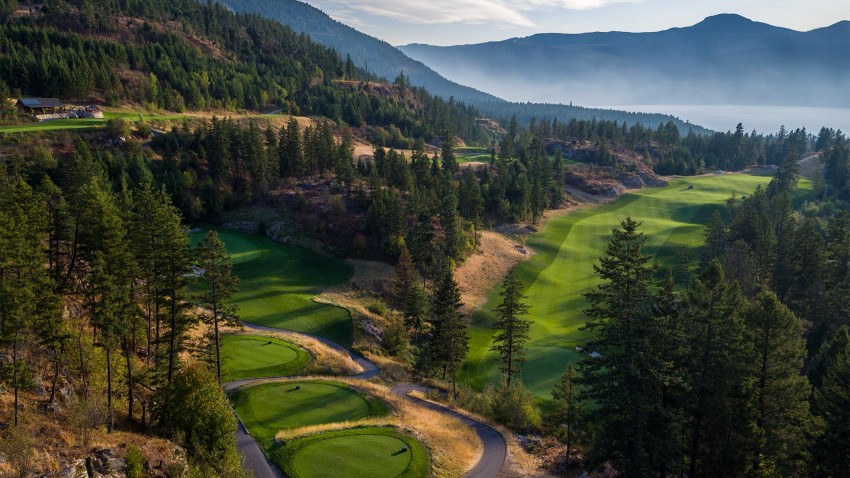 Predator Ridge - Ridge Course
Opened in 2010, the Ridge Course was designed by renowned course architect Doug Carrick and quickly rose to one of Canada's best golf courses - in fact, in 2021 is was the #2 public golf course in British Columbia based on SCOREGolf's Top 59 Public Golf Courses in Canada. A challenging but playable course taking advantage of the natural topography of the area, the Ridge Course is defined by incredible vistas, long, scenic fairways and beautiful granite rock outcroppings.
Whether you're staying on-site for your visit, or just stopping by for the day, feel free to explore the extensive trail network surrounding Predator Ridge. Hike or bike trails encircling the property, or head over to Okanagan Lake via the Ellison Connector, which will bring you to the trail network of Ellison Provincial Park and offers some fantastic views along the way. For an easier tour, consider renting a bike from the resort and riding or catching the free shuttle to the Okanagan Rail Trail along Kalamalka Lake.
If you wish to enjoy the views along local lakes from a different perspective, consider a wine or spirits tour with a local operator - Vernon has quite a few tour guides that can pick you up at your hotel and tour the surrounding region to visit some of the Okanagan's best wineries, breweries and distillers.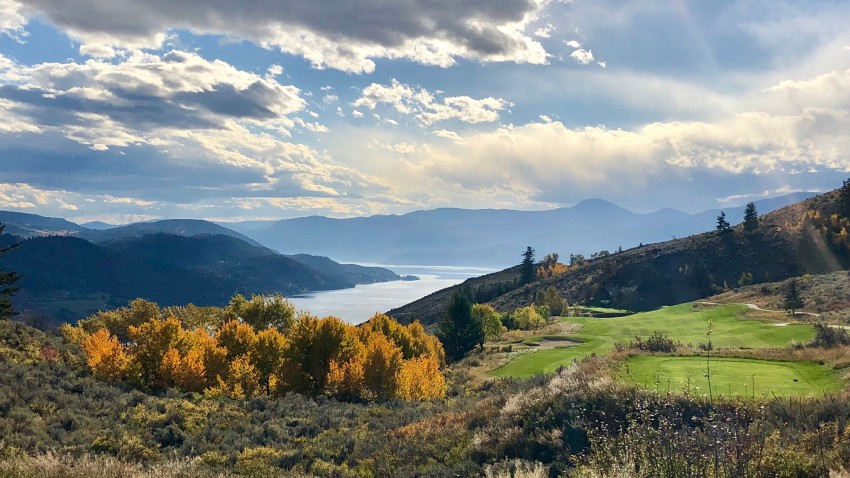 The Rise
Situated 1000 feet above Okanagan Lake, the views at The Rise couldn't highlight the exceptional beauty of Vernon any better, and the golf is fabulous too!
Designed by the renowned player/architect team of Fred Couples and Gene Bates, this spectacular championship golf course provides enthusiastic golfers with a dynamic layout, generous landing areas, and five sets of tees at every hole for all levels of player. Each hole has its own unique character, and 12 of them showcase incredible views of Okanagan Lake below.
After your round, head to Freddy's Bistro & Patio for a bite on-site or down to Okanagan Lake's Kin Beach - where you can relax lakeside or go for a swim. Better yet, consider a dinner cruise on the lake with Cruise Okanagan - featuring amazing food, spectacular regional wines and local craft beer as you tour Okanagan Lake and take in the spectacular sunset.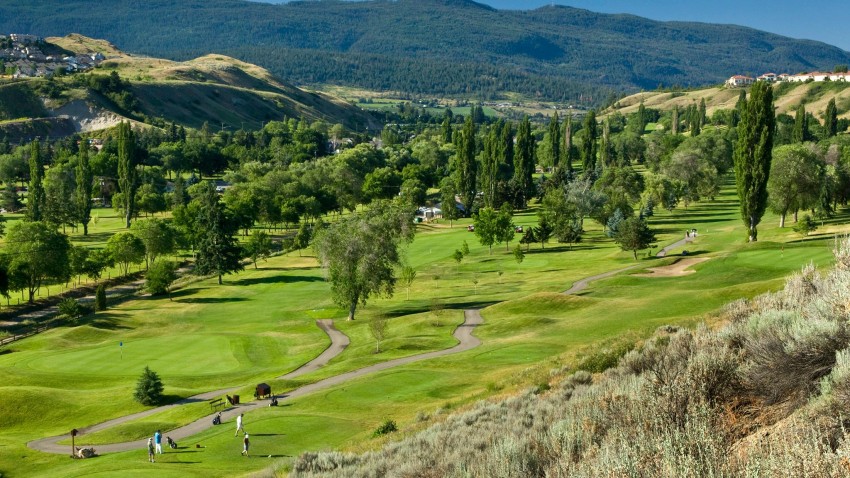 Vernon Golf & Country Club
In its current location since 1922, Vernon Golf & Country Club is a local favourite that offers golfers a quiet, parkland setting that includes beautiful hillside views and a creek trickling through the property. Take in a peaceful, yet challenging round on the traditional championship par 72 surrounded by towering Lombardi poplars and mature weeping willows. First-time players to VG&CC are advised to stay alert on the course as the inside five is widely known to have one of the strongest finishes of Okanagan golf courses.
Just down the road from this Vernon golf course, find beautiful Kalamalka Lake and a popular white sand beach for some relaxing time soaking up the Okanagan sun. Stop by Kalavida Surf Shop to rent a paddleboard, or head to the opposite side of the beach for kayak rentals. Kalavida also offers bike rentals (standard and motorized) if you'd like to explore along the Okanagan Rail Trail by bike. The Rail Trail Cafe next door offers refreshments and food - feel free to take a few snacks on your tour of the trail, picnic on the beach, or enjoy their patio for a leisurely meal just across from the lake.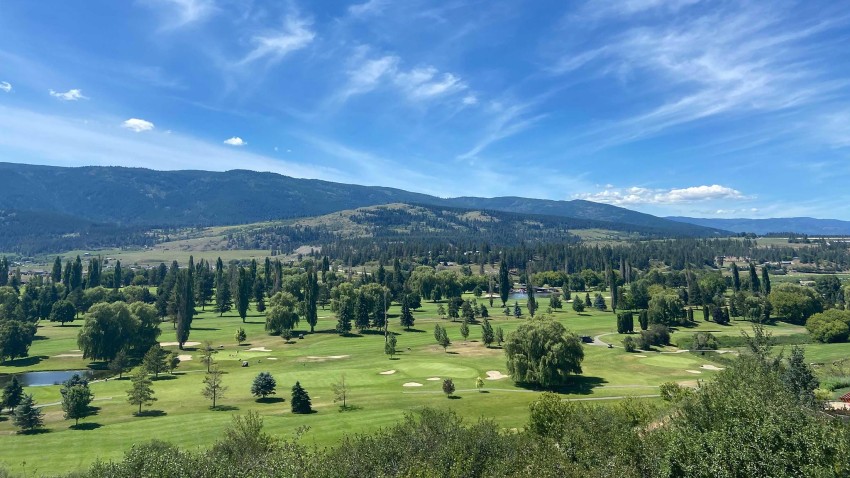 Spallumcheen Golf & Country Club
Located just north of Lake Okanagan, Spallumcheen offers golfers two opportunities for a challenge - with the choice of a 9 hole, par 34 course at 2643 yards, and an 18 hole championship layout of 6423 yards. At par 71 of intermediate challenge, the championship course can entertain golfers of any calibre, with broad, accommodating fairways and an excellent assortment of hazards. With water in play on 12 of the holes as well as 60 bunkers throughout, you'll need to bring your "A" game to stay on top of the scorecard.
Just across from the golf course you'll find Historic O'Keefe Ranch, founded in 1867. In the burgeoning days of settlement in the Okanagan Valley, the ranch was located at the end of the wagon road and was the site of the local stagecoach depot that developed into a small community. Today, it offers a glimpse of history with many original buildings still on site, as well as hosting fun activities and events all year long.
If that's not your cup of tea (they have tea too!), then consider a tour of local libations throughout the city - home to craft breweries and cideries, mead made from orchard honey bees, and award-winning distillers open for a tasting.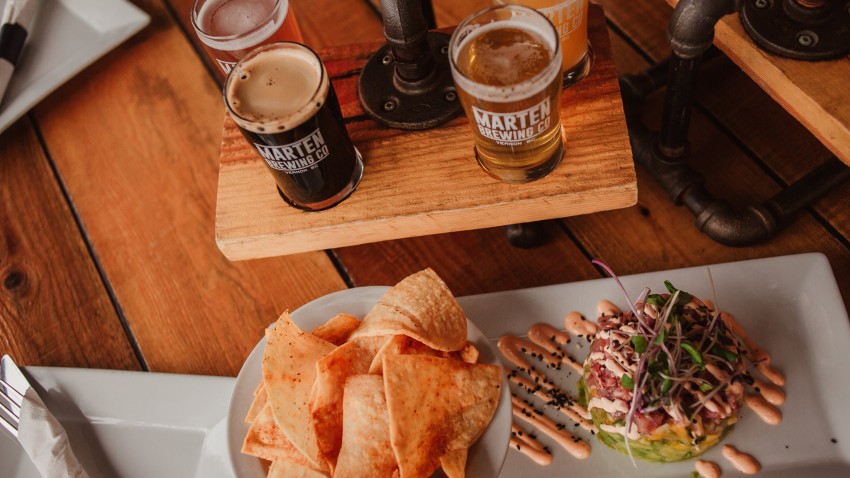 Lastly, here is our insider's top 10 list of favourite Vernon restaurants to complement the golf course and chain restaurants and further tempt your palette. Rankings are according to Trip Advisor:
1. Bamboo Beach Fusion Grill (Take out only until further notice)
3. Range Lounge & Grill at Predator Ridge
6. Phoenix Steak House and Bar
11. Kawakubo (Take out only until further notice)
33. Marten Brew Pub
35. Italian Kitchen
And from May long weekend through the end of September, the Lobster Pot draws us locals at least once a month!
If you're now eagerly awaiting your next golf vacation to Vernon, start by browsing Vernon golf packages , download a BC golf map or talk to our golf travel experts for assistance with creating your own custom Okanagan golf itinerary!